Three on D: Echols, Fatukasi, Riley
After each game, we've been highlighting three defensive and three offensive players and looking in detail at their performance. We'll begin today with the defense:
Bloomin' Ech'
Rookie Brandin Echols has made some headlines over the past few weeks. After his recent pick-six against Miami, he picked off his second pass in three games on Sunday.
It's good to see Echols start to make some impact plays but overall the rookie still has some areas where he needs to grow.
All season, Echols' problem hasn't been his coverage skills, so much as his awareness. He's been guilty of giving up contain on outside runs, or being too preoccupied with a coverage assignment to realize the ball has been handed off to a player he could potentially tackle. On Sunday, it was his awareness in coverage that let him down as he lost sight of his man right by the first down marker on 3rd and 20.
Echols has to be aware of the situation and remain tight to his man close to the marker. There's nothing to be gained by getting an extra 5-10 yards of depth here. This proved to be a pivotal moment in the game, as the Jets were up 14 and might have permanently broken the Bucs' resolve if they forced them to punt it back to them at that point.
Instead, the Bucs ended up pulling within a touchdown on this drive with the other key play on the drive being another 32-yard pass play over the top as Breshad Perriman beat Echols.
Aside from the two key plays on that drive, Echols only gave up three catches for 16 yards and no first downs and was in coverage on four plays where he was targeted unsuccessfully, including on the interception. He also had a missed tackle, but this came on a play where he slowed up a receiver in the flat and someone else came across the make the play.
He did, however, have one other costly play go against him, as his grab on Mike Evans gave rise to a defensive holding penalty that negated a Nathan Shepherd sack.
He did make a nice read and tackle to blow up this play in the flat though.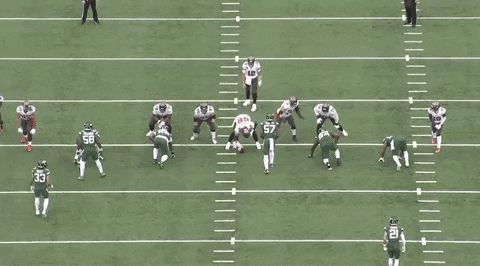 Echols has had an up and down season and hasn't really established himself as a reliable enough starter to ensure that the Jets won't be looking to upgrade in the offseason. Whether they'll opt to spend significant money on a veteran or draft capital on a high pick or adopt the same approach of letting several cheaper guys compete remains to be seen.
The Fats of the Matter
After missing last week's game, Folorunso Fatukasi was back in the line-up and made a good impact against the run. Fatukasi stuffed two runs for a short gain and blew up two in the backfield.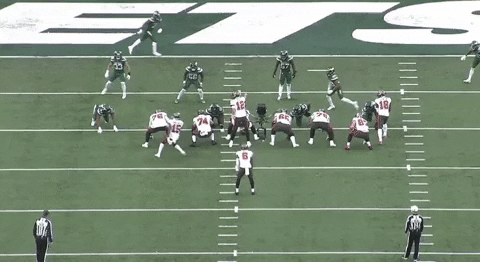 Fatukasi's overall grade wasn't as good because he played 36 snaps and the Bucs passed the ball on about two-thirds of these. Predictably, he didn't generate any pressure as Tom Brady will typically get rid of the ball quickly at the first sign of any interior pressure.
With that said, Nathan Shepherd and Sheldon Rankins did combine for three pressures on him and John Franklin-Myers also had one on an inside stunt.
Fatuakasi's main role has been as a run stopper and, of course, the Jets have done statistically poorly at that this season, although they've been better over the last two weeks (ironically with Fatukasi out of the line-up due to Covid-19 last week).
This calls into question whether he's a good fit for the system or are those failings due to other players in their respective roles? Seeing him blow up a handful of plays this week makes you wonder if maybe it's just taken some time for him to adjust to the system and if he returned next year that might mean he's going to hit the ground running and be as dominant as he had been over the past few seasons.
With his pending free agency, this is a difficult decision. He's not likely to be cheap and it comes at a time when Rankins already has a high cap number for 2022 and Quinnen Williams' contractual status is up in the air. Sunday certainly provides food for thought, though.
BONUS: His two tackles for loss were shared in this tweet as Fatukasi was clearly looking like he was back to his best:
Folorunso Fatukasi made some big plays in his return to the lineup including 2 tackles for loss.#Jets held Bucs to 62 rushing yards on 21 carries (3.0 avg). pic.twitter.com/y1puRg2Bxe

— Ethan Greenberg (@EGreenbergJets) January 3, 2022
Riley or Wrongly
The Jets rotated four safeties on Sunday with Elijah Riley, Will Parks and Ashtyn Davis all in the starting lineup. Jason Pinnock also played 50 snaps, more than Davis and Parks combined. It was Riley who saw the most action though as he was in 84 percent of the time.
Of course, Riley's day will be remembered for the blown coverage on the game winning touchdown pass. He also gave up a 24-yard first down over the middle to Rob Gronkowski.
On the whole, though, Riley didn't fare too badly. He didn't give up anything else in coverage and was in position on a couple of pass plays. He also made a few good contributions against the run, including on this play: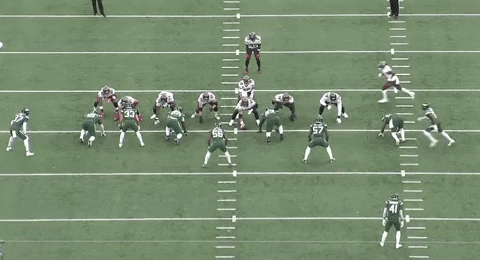 The Jets deliberately engineered a situation where they had a bunch of young talent competing for time at the cornerback positions, which has hopefully at worst given them some cheap depth heading into 2022.
At the safety position, however, this wasn't the plan. They planned to have two veterans - Marcus Maye and Lamarcus Joyner - starting and filled out their depth with low cost veterans like Sharrod Neasman, Jarrod Wilson and Adrian Colbert. However, they've inadvertently ended up in a similar position at safety too because they had so many injuries.
Instead of being the one young player they hoped would step up and take a role, Davis has ended up being one of a handful of young safety prospects all of whom could be in the mix next year. Again, maybe they invest in an upgrade at the top end of the depth chart - whether that be re-signing Maye, bringing in a free agent or drafting one with a high pick. However, we'll have to see what plans they have for these guys and it seems like Riley is one they'll want to see more from.
We'll be back with the 3-on-O tomorrow...