Three on D: Fatukasi, Davis, Zuniga
After each game, we've been highlighting three defensive and three offensive players and looking in detail at their performance. We'll wrap up today with the defense:
Fats the way (uh-huh uh-huh) I like it
Last year, when the Jets traded Leonard Williams, Folorunso Fatukasi stepped up in a big way. This year, after they traded Steve McLendon, Fatukasi looks set to repeat the trick. Sunday's game was his best of the season so far as the Jets held the Chiefs to just 50 rushing yards.
Fatukasi was credited with a season-high five tackles, all of which came on running plays where he stopped the runner for a short gain, although three of these did come on the Chiefs' last drive.
Perhaps bigger than any of those plays was Fatukasi's contribution to the Jets' fourth down stuff in the third quarter. Fatukasi shot the gap between the center and the right guard and penetrated to prevent Le'Veon Bell from being able to cut upfield as early as he would have liked.
Fatukasi also had an impressive bull rush to generate pressure on Patrick Mahomes, although he was called for a ticky-tack roughing call after making incidental contact up high.
Having developed into a solid low-cost contributor, Fatukasi has shown he can be the team's starting nose tackle from here on out. However, next year is the final year of his rookie deal so the team will soon have to decide whether to commit to him long-term.
Ashtyn back down to earth
With Bradley McDougald now on injured reserve, rookie Ashtyn Davis has a good chance to make the starting free safety role his own. He didn't make a very good first impression though, with his highest-profile play seeing him stumble and fall as Tyreek Hill blew past him for a long touchdown.
He was also involved in the first touchdown as he overpursued to the outside, enabling Mecole Hardman to cut back and run past him in the open field.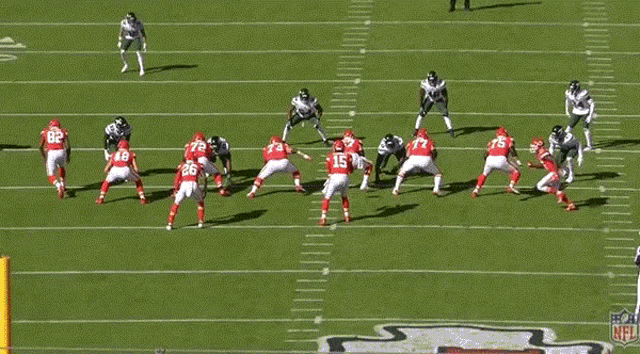 On this play, Tarell Basham is fooled and Bless Austin finds himself isolated on the outside against two blockers. Hardman has a potential walk-in touchdown if he takes it to the outside, so Davis correctly has to be aware of the outside contain and ensure he can still get outside leverage to force Hardman to cut back inside.
Unfortunately, Avery Williamson reacts late and gets sealed to the inside and Neville Hewitt gets cut to the ground by another offensive lineman so there is no support to the inside. Hardman reads this and times his cut well so that Davis can't recover.
So, on the face of it, this looked like a bad play by Davis which might see some analysts seeking to criticize him, but actually there wasn't much else he could have done.
There wasn't much positive that you could point to from Davis' performance though. He was in a good position on one incompletion, and was in on a couple of open field tackles. However, three of his four tackles came beyond the first down marker and he was late or out of position in coverge a few other times.
The Jets don't really have any other options, so Davis is likely to stay in the line-up. Hopefully he will start to make plays as the season progresses.
Zu Car Smell
Jabari Zuniga's NFL debut was eagerly-anticipated but it's difficult to read too much from it because he only played nine snaps. He entered the game three times for one snap each before the fourth quarter, then played for a handful of snaps in a fourth quarter sequence. The rookie didn't register any statistics.
Zuniga's first NFL snap was a bit of a welcome-to-the-NFL moment as he was cut to the ground by a pulling lineman, although he did hustle back to his feet to try and get in on the tackle: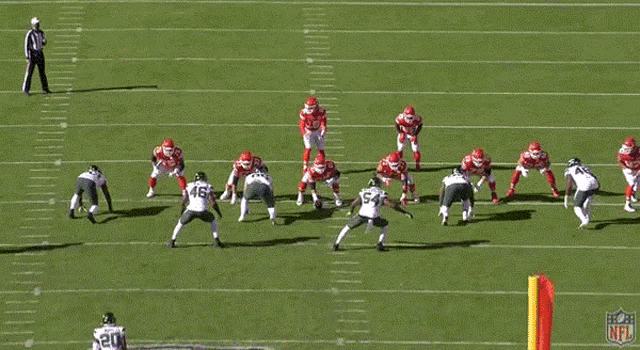 His next snap was a pass rush rep where was double-teamed and Mahomes threw a long touchdown pass. In fact, his first few pass rush reps all saw him doubled. And then, when it finally looked like he might get a chance to go one-on-one, this happened:
Later in the game, he did get a chance to go one-on-one with Eric Fisher and got some initial traction on a bull rush, but Mahomes threw a long pass before he could get to him. The outcome? Another touchdown.
Zuniga had one other play where he was blocked by a pulling lineman, although this time he at least stayed on his feet and again hustled back into the play. A sign he's capable of adjusting to the jump in talent level, perhaps.
He played hard, but that's about all you can say from this performance. We'll see if he is able to get more reps and make an impact in the weeks to come.
Previously - Three on D: Herndon, J.Smith, Becton