Three on D: Hall, Williams, Langi
After each game, we've been highlighting three defensive and three offensive players and looking in detail at their performance. We'll wrap up today with the defense:
A future Hall-Pro?
Bryce Hall's first career start saw him give up a few plays as rookie Justin Herbert racked up almost 300 yards by halftime. However, the team fared a lot better in the second half, holding Herbert to 89 passing yards on 18 attempts.
In the final reckoning, Hall gave up seven catches but only three of these went for first downs. He also had a pass interference penalty as he grabbed the receiver at the top of a dig route - something he later did again but got away with it.
He was in a good position on three incompletions, one of which he disrupted nicely on the outside, and ultimately ended up with seven tackles.
Where Hall really impressed was on two plays where he sniffed out a receiver screen and reacted immediately to blow up the play near the line of scrimmage before a blocker could get to him. The closing speed on this play is outstanding and a good sign that Hall is fully healthy after his injury last season: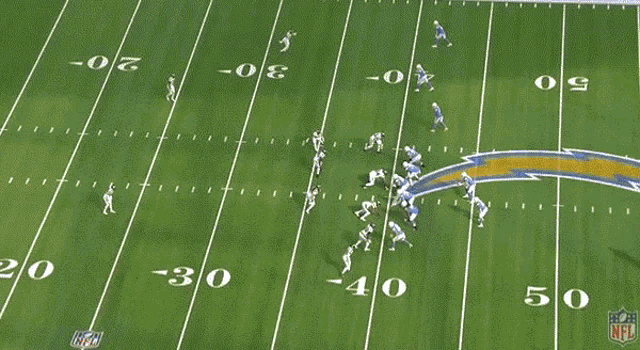 As long as Hall isn't selling out so that a fake receiver screen allows receivers to leak out downfield, this kind of play is impressive and he tackled securely like this all day.
Despite Herbert's big day, the majority of the damage was done against other players so it's fair to say that Hall held up pretty well. Hopefully he has the makings of a potential starter.
Give that man a Q-pie doll
Quinnen Williams continues to impress on the interior, and although he only had three tackles, two quarterback hits and half a sack in this game, it was another disruptive performance displaying his continued development.
Let's start with a look at his pass rushing. In this game, Williams racked up seven total pressures, the most he's had in his career. That gives him a total of 22 on the season - three more than he managed all of last year.
Williams created pressure in number of ways, using his quick get-off to penetrate gaps, driving the center back on the bull rush and working his hands to free himself to get to the quarterback. On this play, he stunts outside and completely overpowers the left tackle: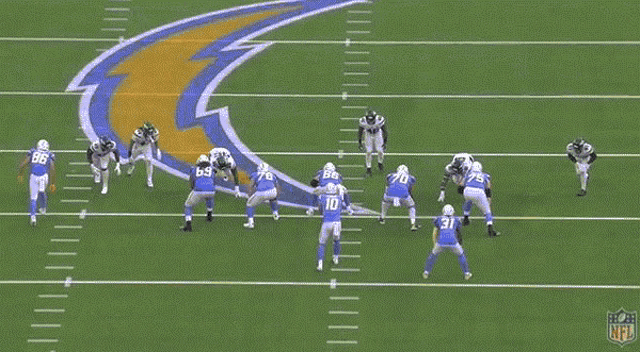 In the running game, Williams was only credited with two stops - on plays that went for one and two yards - but he contributed to an effort that led to Chargers backs being held to 46 yards on 23 carries.
Williams did have one play where he chased out to the flat and the runner cut back and eluded him to get upfield for positive yardage. However, that was pretty much the only negative play he had all day.
If you can go the whole gave without a negative play in the trenches, that's the kind of stuff Muhammad Wilkerson was doing as he began his ascent to becoming a pro bowl level performer. Williams is right on course as he seeks to do the same thing.
Harvey told you lately that I love you?
Despite Patrick Onwuasor at last being activated by the Jets for his first game of the season, Harvey Langi remained in the starting inside linebacker role alongside Neville Hewitt. Once again, he had mixed results there.
Langi racked up 11 tackles, including nine within five yards of the line of scrimmage. However, he also missed two tackles and was called for illegal contact as he leaned on Hunter Henry going down the seam.
In coverage, he gave up seven catches on seven targets but only two of those went for a first down as Langi was blocked out of the play on two screen passes but otherwise did a good job of limiting yardage.
It's notable that the Jets had Langi dropping off into zone coverage and he got close to disrupting a few passing lanes in this game. With a few tweaks to his positioning and perhaps a bit better pressure on the throw, he might get a few chances to break up or intercept passes if they continue to use him this way and he seems capable of moving well enough laterally to be effective at it.
It was another energetic performance from Langi, who displayed his athleticism on this spectacular blitz.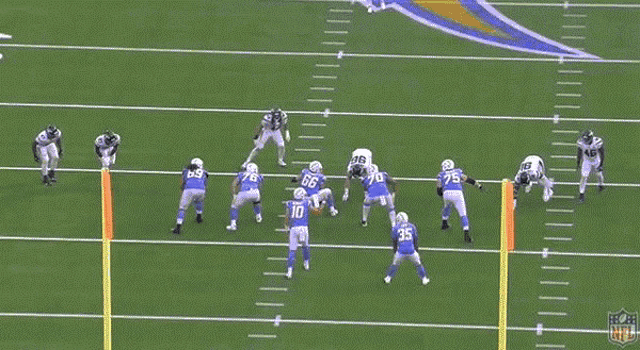 Onwuasor is a player we'll be interested to get a look at but the Jets are also clearly interested in evaluating Langi who they arguably know less about in this role. He's probably not the person who gives them the best chance of winning, but the potential is apparently there for him to develop into a future contributor.
Previously - Three on O: Mims, Herndon, Becton