Three on D: Lawson, Ward, Fatukasi
After each game, we've been highlighting three defensive and three offensive players and looking in detail at their performance. We'll begin today with the defense:
Love Shaq?
The Jets moved quickly during the offseason to add Shaq Lawson, but to date his contributions have been modest at best.
Lawson, who has started the last seven games, has just one sack, one fumble recovery and one interception this year although he does have five tackles for loss, a total he's only exceeded once in his career.
He has had a couple of sacks negated due to flags, as he actually leads the team with seven defensive penalties.
On Sunday, Lawson made two tackles on runs that went for a short gain, although one of these was a first down anyway. He also picked up a half sack:
Lawson didn't have many negatives, although he was kicked out pretty easily to create a running lane for a decent Alvin Kamara gain and didn't generate any pressures other than the half sack. Overall, he's failed to demonstrate much in the way of explosiveness or production all year and the chances of him being back in 2022 - especially on a $9 million salary - seem extremely slim.
Ward (Uhh!) - What is he good for?
At the other end of the scale, the Jets added Tim Ward at about the same time as Lawson, as they reacted to the loss of Carl Lawson and Vinny Curry.
Ward represents a young athletic player with a lot of potential rather than being a slow veteran with experience and past production and Chiefs fans were disappointed to lose him.
Has Ward displayed any signs that he's going to deliver on this potential though? Not really.
Ward had been inactive since the Colts game, where he was on the field for a few big running plays. He would have been inactive on Sunday too, had Ronnie Blair not been ruled out at the last minute due to injury.
In his return to action, Ward played 20 snaps but didn't make any kind of positive impact. He was credited with two tackles but these were eight and 19 yards downfield. He also got handled pretty easily in the running game.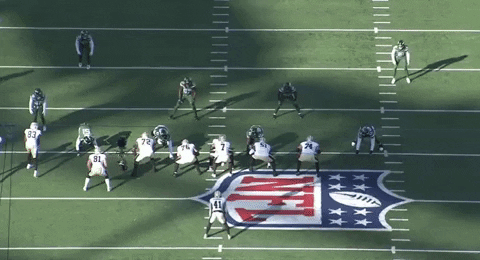 Ward didn't get close to registering any pressure and, after initially impressing with his get-off, only has one pressure in 69 pass rush attempts this season - and that was in the opener. He did bat down two passes in the Falcons game in London, but otherwise hasn't really contributed at all this year.
Does Ward still have a future with these Jets? If so, they might continue to stash him on the roster and keep him inactive as they've been doing with rookie defensive tackle Jonathan Marshall. However, with Bryce Huff set to return and Blair and Kyle Phillips having provided a clear upgrade over Ward, it's possible he could be released from the active roster as early as this week.
The Fats Domino Effect
One player the Jets have been able to rely on is Folorunso Fatukasi. However, his future with the team is also uncertain because he's out of contract at the end of the year.
Sunday was Fatukasi's most impactful game for a while. In fact, PFF gave him his highest grade of the season. Fatukasi was in on five tackles, two of which went for a loss with the other three all being short gains of three yards or less.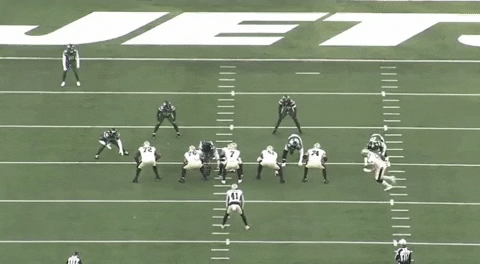 In addition to his solid work against the run, Fatukasi also registered two pressures as a pass rusher and blew up a screen pass.
While the Jets' run defense hasn't been as good as over the past few years with Fatukasi anchoring the line, he has quietly been more statistically productive than in the past. The veteran has already set career marks for quarterback hits and total pressures and will probably set his career bests for total tackles, defensive stops and defensive snaps this weekend.
At the same time, the collective success of the line and his overall grades indicate he's perhaps less effective in the attacking role as he was when he was doing more two-gapping. Could this mean he's not seen as an ideal fit for this system and prevent the Jets from making the financial outlay it would require to retain him?
We'll be back with the 3-on-O tomorrow...