Three on D: Marshall, Neasman, Huff
After each game, we've been highlighting three defensive and three offensive players and looking in detail at their performance. We'll begin today with the defense:
Marshall Heart
A late positive Covid test for Foloronso Fatukasi forced Jonathan Marshall back into the lineup and then Quinnen Williams' shoulder injury forced the rookie into an even bigger role.
In the end, Marshall played 30 snaps - more than he had in the rest of the season combined. And the Jets had held Miami to 3.8 yards per carry in the first half but the Dolphins ended up with 183 yards as they averaged over five yards per carry in the second half, so Williams' absence defensively had a negative effect.
We've observed throughout Marshall's time with the team that he is routinely controlled at the point of attack or driven off the line and this continued to be the case on Sunday.
Duke Johnson's first touchdown saw Marshall driven badly off the line and out of the middle to set up an easy cutback lane after Johnson was initially bottled up in the hole. Marshall was also controlled at the point of attack on another successful run up the middle and sealed off easily on Myles Gaskin's 30-yard run; the longest of the day.
However, Marshall did actually make a few positive contributions this week. We'd already seen in preseason that Marshall is capable of using his quickness to be disruptive in the passing game: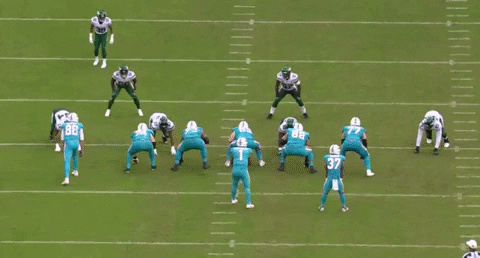 However, this week, he actually made a couple of run stops. One came as he stayed home and cleaned up after Nathan Shepherd penetrated to blow it up, but the other was the best we've seen from him so far. Again initially dominated by the double team, this time he was able to fight it off and get back across to fill the running lane: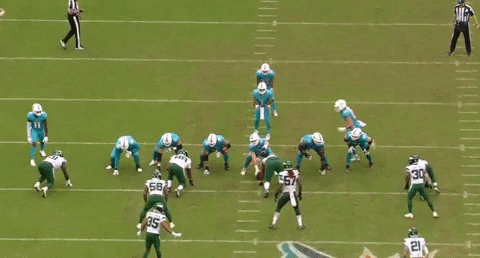 We still need to take this with a pinch of salt because he made these plays against arguably the NFL's worst offensive line. However, anything positive from Marshall is a step in the right direction given how he's looked since camp opened.
On balance, Marshall is still virtually unplayable, especially in run defense situations, but the fact he's started to sprinkle in a few positive plays here and there are a good sign that he's developing and will hopefully be a lot more useful next year.
Inanimate Carbon Sharrod
After Elijah Riley's scary-looking injury, Sharrod Neasman was called into action at the safety position; his first significant defensive reps since week five.
In terms of important positive or negative contributions, there wasn't much to report, but it was still interesting to review Neasman's work in that role.
When he came into the game, Neasman played mostly in the box, but his four tackles all came at least seven yards downfield. He was also in on the 3rd-and-short stuff before the failed fake punt.
Neasman's biggest negative was probably on Johnson's second touchdown run as he was in on the stop at the two yard line but allowed Johnson to drag him into the end zone.
He also had a missed tackle at the end of this run, although he was far from the only player to miss the tackle - and the run was called back for a hold anyway: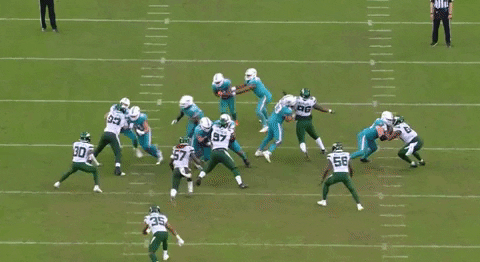 It was noticeable that Neasman was a little slow to react on a few plays. One caused him to get sealed outside on a first down run up the middle, another caused him to take an overaggressive angle on Gaskin's 30-yard run (although he did hustle well to chase him down from behind) and he arguably could have stopped DeVante Parker at the goal line on the winning touchdown if he'd got over quicker.
In terms of positives, Neasman wasn't otherwise out of position in coverage and did make a couple of tackles at full stretch that prevented much bigger gains. However, if he's forced back into a starting role, the Jets will need him to read and react quicker otherwise he'll get exploited from time to time.
Once bitten, Bryce shy
The Jets were excited to get Bryce Huff back this week but obviously his presence didn't help that much, especially in the running game.
However, Huff may have been on a pitch count, because even though he started, Huff only played 29 snaps and Ronnie Blair got more of a starter's workload instead. That was despite the fact that Kyle Phillips was re-deployed as a part-time defensive tackle with Williams out.
Generally speaking, more of the successful runs seemed to come with Blair in the game and, although Huff's only tackle came on a four yard run, he did help blow up another run with good penetration. Huff was blocked out of a couple of plays though and did have one missed tackle.
Huff didn't provide much of a boost to the pass rush either, which is understandable given how quickly Tua Tagovailoa was getting rid of the ball. He did dip past Liam Eichenberg for this pressure, but didn't get there in time to affect the perfect throw:
What was also interesting about Huff's return was the fact that it relegated Shaq Lawson to healthy scratch status. That shows how deep the Jets' defensive end position has been, even without Carl Lawson and Vinny Curry. Clearly there's no chance Shaq won't be cut after the season.
As for Huff, hopefully he will be a full go on Sunday and can get some pressure on Trevor Lawrence as the Jets seek their fourth win of the season.
We'll be back with the 3-on-O tomorrow...