Three on D: McDonald, Amos, Reed
After each game, we'll be highlighting three defensive and three offensive players and looking in detail at their performance. We'll start today with the offense:
Will Power
After a game of being inactive, Will McDonald was back in action this week, albeit only for 10 snaps. With one more player to rotate, the Jets mixed and matched their defensive end partnerships rather than having a defined first and second unit as they often have in the past.
This could actually create a problem. Some defensive linemen have expressed frustration at constantly having to come out of the game and therefore not having enough snaps in a row to get into a rhythm, get used to the guys blocking them and so on. The Jets forced New England into 19 third downs on this game, which meant that most of the ends that rotated into the game were forced to come back out after just two plays if they weren't in the third down package.
While the rotation usually sees players rotating out after four snaps, this is clearly a maximum and when they have so many players to rotate, the only way you're going to get to stay in for four plays is if you give up two first downs or a first down on the second play. It essentially disincentivises a player who doesn't want to come out of the game to want his team to get a stop.
Turning back to McDonald, he didn't have any stats, but made an impression on some of his snaps. As a pass rusher, he had no chance of registering pressure on three of his four pass rush snaps as the Patriots threw two quick passes and double-teamed him on another play. However, he was able to showcase his bend to get around the edge on Vederian Lowe and flush Mac Jones from the pocket.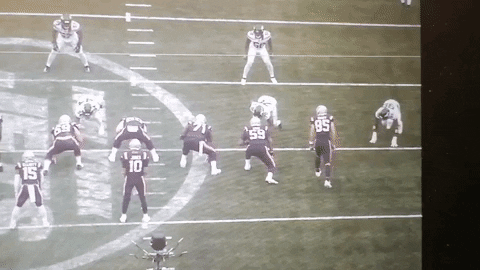 He also held up okay against the run too, although most of his run plays saw the run go away from his side. He was dominated by Trent Brown on one play, but there were two where he got in on the tackle - one as he fought off a Hunter Henry block well and another as he moved downhill well laterally. He did not get credit for either though.
We'll be watching McDonald's progress closely all season but this was an encouraging display.
Lifestyles of the Rich and the Amos
Adrian Amos got the start this week with Tony Adams out and he did a solid job without many negative plays. Mike Gesicki did lose him on an out-breaking route to pick up 18 on 3rd-and-6 early in the game though.
In the second half, Amos made a real impact as a run stopper. He was in on five tackles on running plays that went for four yards or less. That's despite the fact he lined up deep more than he had when getting snaps in the previous games.
Here was a good stop on a play where he lined up as an extra linebacker though:
Amos made one other good play as he closed to bear hug Hunter Henry as the ball arrived and prevent him from making a third down catch. That was good timing by Amos on that play.
Despite failing to beat out Adams for a starting role, Amos showed his value this week as the defense didn't really miss a beat. It seems like the Jets have him in their plans and will operate with three safeties at times even when Adams returns.
Reed-ing the Way
DJ Reed has made an excellent start to the season after his solid 2022 season. He had another good game against New England.
Much like Amos, he only really had one negative play. This was when he got turned around and gave up a first down catch to DeVante Parker on 3rd-and 15.
He did much better on this play against Parker though.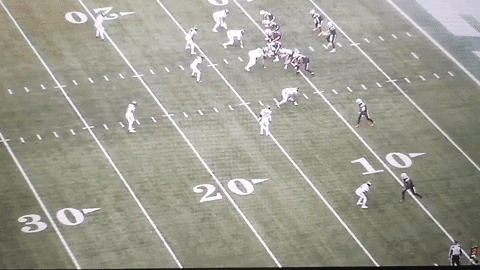 Lined up in press position, Reed absorbs the push from Parker, which arguably could have constituted offensive pass interference. He then shows off his excellent short-area recovery speed to hold the catch to a short gain.
One of the concerns with Reed was that his lack of size would prevent him from covering bigger players like the 6-3, 219 pound Parker. That's why it seemed so perfect to pair Sauce Gardner with him and have someone who could handle those bigger receivers. However, Reed's ability to hold his own in these assignments means they can just stay on their own side.
One impact of this, of course, is Jeff Ulbrich's reluctance to deviate from this when they have a player like CeeDee Lamb moving around so he never has to deal with Gardner and putting up big numbers against their zone coverages. Much like the defensive line rotation, there is a downside to this and smart teams are going to find ways to exploit it.
Against the run, Reed also made one play, staying disciplined on the edge to stop the runner for a short gain when he bounced it outside - with CJ Mosley helping to bring him down.
Reed still needs to intercept more passes - he hasn't had one since the opener last season - but he's proved himself as a solid starter and the Jets are lucky to have him.
Three-on-O will follow tomorrow.