Three on D: McDougald, Anderson, Austin
After each game, we've been highlighting three defensive and three offensive players and looking in detail at their performance. We'll start today with the defense:
Blame it on the Doogie
The Jets were hoping that getting veteran Bradley McDougald in the Jamal Adams trade would somewhat offset the loss of their defensive standout. McDougald is regarded as a smart player with good leadership abilities and instincts.
Unfortunately, it hasn't panned out that way. McDougald has struggled all year and is starting to lose time to rookie Ashtyn Davis.
McDougald had two tackles in Sunday's game, one of which was downfield on a 12-yard run with the other being on a short pass underneath. He also broke up a third down pass down the field.
Otherwise, his performance was characterized by mistakes. He missed two tackles, badly overran one play, vacated his lane on a running play that went for a 26-yard gain and gave up three first downs in coverage, including this one: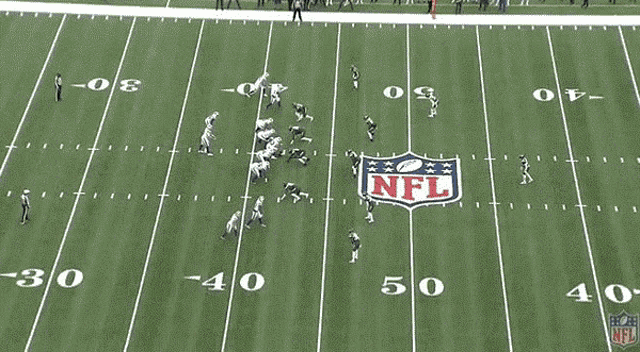 On the play, Blessuan Austin passes the tight end off to the safety support behind him but McDougald, vacates that side of a field to jump a route over the middle. Clearly this is a mistake because Marcus Maye has the deep middle covered. This would lead to a touchdown if not for the fact that Tyler Kroft stumbles after making the catch.
This is the kind of coverage breakdown the Jets would have hoped wouldn't happen with a smart player like McDougald stepping into the lineup.
Right now, McDougald doesn't look like a player who is part of this team's immediate future and we can probably expect him to continue to be phased out as long as the other safeties remain healthy.
Getting Anderson's bat going
Henry Anderson has been a disappointment since signing his contract extension and seemed like he was going to be another player that could be phased out over the rest of the season.
However, Kyle Phillips' season-ending ankle injury may have changed the Jets' plans in this area. Anderson is probably the Jets' best option to line up on the edge and play the run, other than Phillips, whose role might have been set to expand following some good recent performances. Now that Phillips is out, does this ensure that Anderson will continue to have a role on the edge?
Of course, Anderson didn't get an extension worth $8.4 million per season solely based on his ability to be a rotational run stopper. He had also been productive as a pass rusher, averaging three pressures a game in the 2018 season. However, he has only managed to rack up three pressures in any single game twice in the last 22 games.
Sunday's game was no different, as Anderson made three stops against the run, including one for a loss and one for no gain, but only managed to record one pressure as a pass rusher.
On his best play as a pass rusher, he used a quick first step and then leveraged his way around Ike Boettger. However, he missed the chance to record a sack when Josh Allen slipped away from him, although he did draw a holding penalty.
Against the run, Anderson is still a disciplined run defender who can take on a double team and doesn't get manhandled at the point of attack very often. In Sunday's game, he didn't have any negative plays and blew up Boettger's attempt at a reach block to stuff this run in the backfield: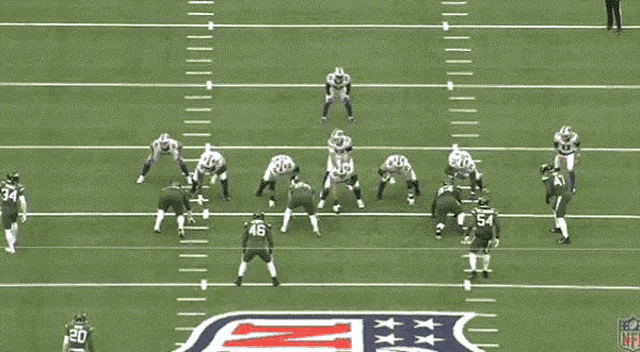 Although Anderson might be the best option the Jets have as a run defender on the edge who can occasionally play inside, they still have plenty of young edge defenders that deserve a longer look and their original plan may have been for him to play inside more following Steve McLendon's departure. That was the case on Sunday, so perhaps Phillips' reps will go to another edge defender instead.
If the Jets can get any value for Anderson, they should cash in while they can. However, with about Anderson set to earn about $4 million over the remainder of this season and a non-guaranteed $8.2 million next year, it's unlikely anyone will view him as anything more than a depth addition.
Bless me with your beauty
Austin was one player who held up well in Sunday's game and may be starting to settle into his role following a shaky start to the season.
Other than the big play by Kroft, which appears to be McDougald's fault, Austin only gave up one short catch in coverage, although it did go for a Cole Beasley first down. On two other plays where he was targeted, he broke up the first with a hit and then almost intercepted the other in the end zone.
Austin had five tackles, albeit that only one of these was short of the first down marker. These included a stop for a short gain as he crashed down on an Allen option keeper, but Allen still got to the marker. He's at least improved his tackle efficiency as he has just one missed tackles over his past three games having led the league with eight in the first three.
However, there was one bad mistake that he got away with due to a Bills penalty. Austin bit on the pump and go from Allen here, allowing Gabriel Davis to get behind him for an easy touchdown.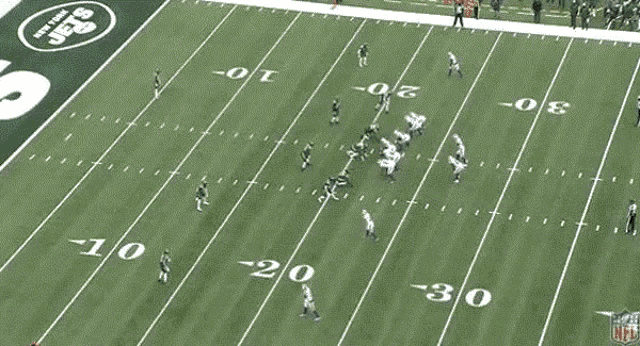 In addition to this, he made one other mistake in zone coverage where he and Ashtyn Davis were communicating before the snap but still left a receiver wide open underneath for an easy first down, and also lost contain on an outside run when he followed the receiver across the field and didn't react fast enough to the run.
Austin has been in Gregg Williams' doghouse before but hopefully he's earning his confidence with his recent performances. However, plays like these can undermine this so he needs to retain his focus.
We'll be back with the 3-on-O tomorrow...