Three on D: Mosley, Curry, Quinnen Williams
After each game, we'll be highlighting three defensive and three offensive players and looking in detail at their performance. We'll start today with the defense:
Mose Def
CJ Mosley continues to lead the Jets, both in terms of the example he sets on and off the field and in terms of his production as a tackler. After racking up 11 tackles in Sunday's game, Mosley moved to 62 on the season, 29 ahead of Jordan Whitehead in second place.
The Jets' run defense is so much better this year - they actually rank fourth in the NFL for the lowest yards per carry average - but the one thing that hasn't changed is Mosley.
As we've predicted in the past, the run defense was always going to get better if they improved the edge setting on the defensive line and the run support from the secondary. While the linebackers may have seemed like the issue at the time, a review of most of the longest runs of last season showed that Mosley was constantly in the right gap but other players were failing to carry out their roles.
Now that the Jets have improved in these areas, Mosley looks a lot better, but it's a product of the fact he isn't having to chase down plays that aren't his responsibility or seeming to be blocked out of a play when he's taking on a block that should create space for someone else to fill in.
There are some areas where Mosley seems to be better this season though. His consistency is better, which is perhaps a product of being on a better defense. It's easier to stay dialled-in when everyone is doing their jobs. He's also faring better in coverage statistically, which is likely a product of the pressure up front meaning he's isolated in space against a faster player less often. His tackle efficiency is also better, which is probably a sign he's not chasing down plays and having to make diving tackle attempts as much.
Sunday's game saw Mosley rack up 11 tackles, as he was re-joined by Quincy Williams in the starting line-up. Six of these were within three yards of the line of scrimmage and two came short of the marker on third down. He looked particularly sharp on this play.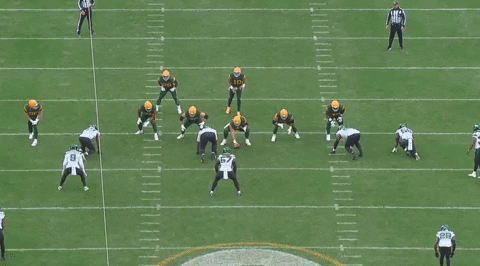 In coverage, Mosley did a good job of limiting yardage, as he gave up just 23 yards on six targets, although Allen Lazard did get a first down against him. He also got called for illegal contact on third down against Marcedes Lewis, but had a good pass break-up over the middle in the first quarter.
Mosley is dependable and will hopefully continue to be an integral part of a unit that is playing well at the moment. His longer term future remains up in the air but he has two years left on his contract after this season and it seems unlikely the Jets will be keen to move on from someone so important even with the high cap numbers pending.
Curry That Weight
Vinny Curry finally made his Jets debut on Sunday, almost 19 months after he first signed for the team. He announced himself early when he burst into the backfield unblocked to blow up a run for a loss.
Other than that, it was a pretty quiet day from Curry, who played 17 snaps. He made one other good play against the run, coming downhill to drag down the runner on a run up the middle that went for five but could otherwise have been a bigger gain. In all, he was credited with three tackles, but did not register any pressure, or get particularly close, on 10 pass rush attempts.
Despite being in on three tackles in seven run defense snaps, Curry was controlled at the point of attack a few times. This play saw him cut to the ground by the tight end pulling across the formation to set up a six-yard gain.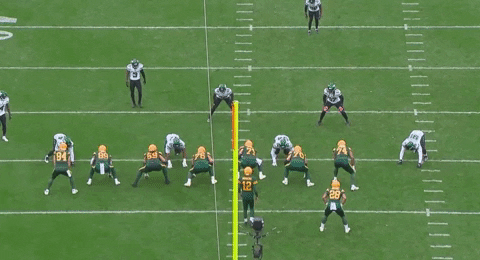 On this play, the tight end double teamed Curry with the right tackle and they drove him out of the middle to create a running lane. Fortunately, Williams and Mosley made a good play to keep this to a short gain.
There was also another run where Curry was controlled by Elgton Jenkins at the point of attack.
It's not unexpected for a player in a situation like Curry to need a little time to shake off the rust. Curry, who is now 34 and listed at 279 pounds, is looking absolutely huge, so the team might even give some consideration to giving him some reps inside. In this game he played one snap inside but was outside the tackle on every other play.
The Jets were never likely to release Curry even though he was injured in the offseason. He's a very popular player here and regarded as a high character individual and another good leader. Realistically, the Jets are deep enough not to need him and probably don't want to limit their youngsters' reps to get him in the rotation. Jermaine Johnson's injury provided a short-term opportunity to get Curry in the mix, but going forward he may not play much. He should still remain a key voice in the defensive line room, either way.
A Q-mongous Performance
Quinnen Williams had a monster game and is having a monster season this year. He not only had two sacks, a forced fumble, a tackle for loss on a running play and a blocked field goal, but he was a constant disruptive force both in the running game and as a pass rusher.
Williams' total pressure count, including sacks and hits, was seven - a career high - as the Packers struggled mightily to stop him from getting into the backfield.
While his run stuff in the backfield was due to a blown assignment and his first sack came as the ball slipped out of Aaron Rodgers' hand, there was nothing cheap about his other sack which saw him split two defenders on 3rd down to drag Rodgers down. Will Parks scored when the ensuing punt was blocked.
There was nothing cheap about his other two run stuffs, either. On this one, he uses his quickness to get a leverage advantage and then drives his outside shoulder into the left guard's chest to keep the hole plugged. A younger Williams might have tried to shoot the gap and created a cutback opportunity by giving the lineman a chance to seal him off.
This one sees Williams take on the double team to prevent the left guard from climbing to the second level and then ends with him tossing pro bowler David Bakhtiari aside so he can stuff the run in the hole.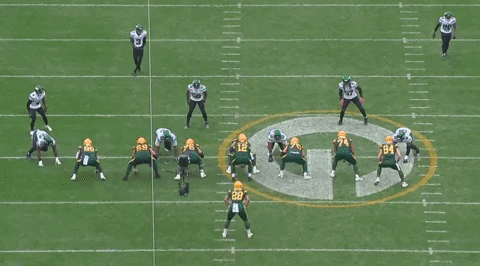 People are taking notice of Williams because he has five sacks in six games, but they should be taking notice of him anyway, because even when he's not sacking the quarterback, he's the anchor of a dominant Jets' front, and finally contributing to some wins on a regular basis.
We'll be back with the 3-on-O tomorrow.