Three on D: Rankins, Gardner, Clemons
After each game, we'll be highlighting three defensive and three offensive players and looking in detail at their performance. We'll start today with the defense:
Rank you very much
One player who hasn't generated much discussion this season put together arguably his best game in a Jets jersey on Sunday. Sheldon Rankins had five tackles, a tackle for loss and a quarterback hit in an encouraging performance.
You could be forgiven for thinking that the defensive line had a bad game after the Browns ran all over them in the fourth quarter. However, the Browns only gained 43 yards handing the ball off to their running backs in the first three quarters.
Rankins had to step up when Quinnen Williams was being assessed for an injury in the second half and ended up tied with Carl Lawson for the most defensive reps on the line. However, as a sign of how much the Jets have bolstered their line depth, he still played less than 40 snaps - a mark he hit in half of his 16 appearances last season.
Rankins had a run stop near the line, a tackle for a short gain on a pass and another run stop in the backfield. The first run stop saw him lined up at nose tackle and he fought off Wyatt Teller's block as he blocked down and the other saw him rallying to make the play in clean-up after John Franklin-Myers blew it up. The play against the pass was an excellent read and good hustle to get downhill.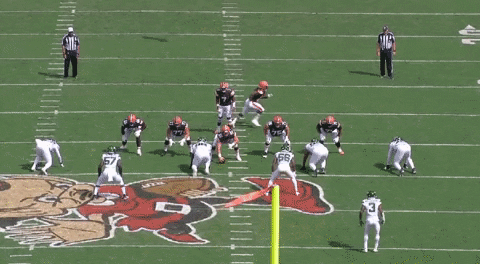 While the Jets didn't generate much pressure over the course of the game, Rankins got his day off to a good start with a quarterback knockdown on the very first play as he beat the pro bowler Teller with a quick inside move.
It's becoming increasingly clear the Jets will need all of their defensive linemen to contribute and do their jobs. On Sunday, Rankins - a key veteran in terms of his leadership - provided exactly what the Jets want from him.
Garded Expectations
Ahmad Gardner's second game was a learning experience for the rookie, which he desperately needs as presumably the coaching staff were somewhat frustrated by the fact he was never targeted in preseason.
Gardner was matched up against the veteran Amari Cooper, who was targeted four times with Gardner in coverage. All four were successful, as three went for first downs and one was a touchdown.
The touchdown obviously exploited his inexperience as Gardner passed off Cooper to the safety, who wasn't there because everyone else was in man coverage. Gardner was clearly confused after the Browns shifted into a different formation before the snap and it was very clear that Gardner was the one who screwed up because Lamarcus Joyner had picked up the man in the flat on that side and yelled at Gardner at the end of the play.
On the other three, Gardner was guilty of giving Cooper a bit too much of a cushion. On one of these plays, he was draped all over him as the ball arrived but Cooper was simply too strong for him at the catchpoint. Not every wide receiver will make that play in the same situation and Gardner is going to naturally improve his strength in the next year or two, so while that's a first down now, it's hopefully still a sign that he's already getting himself into position to make plays.
In terms of positives in coverage, Gardner was also draped all over Donovan Peoples-Jones on a fade route to the end zone that was initially ruled a touchdown. The booth correctly overturned this because it wasn't really close with Gardner doing enough to force him out. He almost deflected the pass anyway, but somehow it brushed off his arm and still got to Peoples-Jones.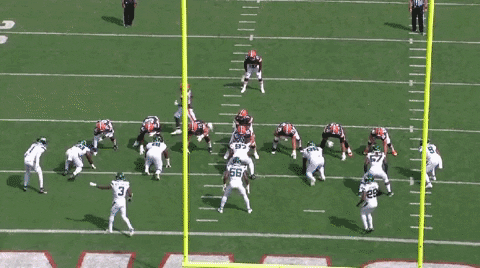 He ended up with six tackles, although only one of these came on a play that didn't go for a first down, as he stopped the back for a five yard gain on a short pass on 2nd-and-long.
If we ever need to retain some perspective on Gardner, it's worth remembering that Darrelle Revis was targeted plenty during his rookie year and it wasn't really until towards the end of the season that he started to show signs of looking comfortable.
Ultimately, he's given up 41 yards on eight targets and the Jets will likely be thrilled with that. Revis gave up an average of 59.6 yards per game in the first half of his rookie year. If he can just turn some of those plays where he was right there as the pass was caught into being right there a split second before the ball arrives, watch out.
Oh my darling Clemons-time
Another rookie who is contributing is defensive lineman Micheal Clemons. However, from the very start of camp, Clemons has stepped in and handled himself like a veteran. Hopefully, despite this, he's still scratching the surface of what he can achieve, though.
In Sunday's game, Clemons played 23 snaps off the bench and made some good contributions, including a quarterback hit as he walked Jedrick Wills backwards on the bull rush and then released cleanly to the inside.
He was also in on this run stuff, which was an interesting play because the Jets were aligned with Solomon Thomas outside and Clemons inside. He wasn't overpowered, though, taking on pro bowler Joel Bitonio's block and then fighting off it to combine with his fellow rookie Jermaine Johnson on the stop.
The one negative he had was his roughing the passer penalty, but this was in no way some meathead pass rusher being reckless. Instead, he was actually quite unfortunate because he impressively rocked Wills back with a powerful first punch on the bull rush and it was only because he overbalanced and fell into the quarterback's knees that the flag was thrown.
In the games so far, there have been a few examples of Clemons misreading the play when there is misdirection. This could be a concern because he typically pursues downhill so fast that this could create a huge outside lane. If it happened regularly, teams would easily be able to exploit this.
However, on Sunday, Clemons showed some good eye discipline without compromising his lateral pursuit most of the time. In the long run, that might be a more significant sign than the plays he's making, which will hopefully increase in frequency as his comfort level improves.
Because Clemons is so intense, he's already forging a reputation as someone who is going to be scary, aggressive and explosive coming off the edge. However, word from inside the Jets' organization is that they're blown away by how cerebral he is and the amount of effort he is putting into maximizing his abilities. The ingredients are there for Clemons to develop into one of the best mid-round picks the Jets have made in recent memory.
We'll be back with the 3-on-O tomorrow.