Three on D: Rankins, Sherwood, Wilson
After each game, we'll be highlighting three defensive and three offensive players and looking in detail at their performance. We'll wrap up today with the defense:
Rank you very much
Sheldon Rankins has been doing a solid job as a rotational lineman behind starters Quinnen Williams and Foley Fatukasi. His usual role is to rotate in for Fatukasi in passing situations, as well as getting some rotational reps.
On the season, he's done a good job as a pass rusher but hasn't contributed much in the running game. However, that may be because he doesn't play much against the run and, when he does, it's often been alongside the struggling Nathan Shepherd or Jonathan Marshall.
In Sunday's game, Rankins penetrated into the backfield a few times only to be sealed off. He also was only credited with one tackle against the run, on a six-yard carry.
As noted, he's been doing pretty well as a pass rusher and he got to Matt Ryan a few times on Sunday, including on this play where he forced Matt Hennessy to commit a holding penalty to prevent the sack, thereby negating a big pass.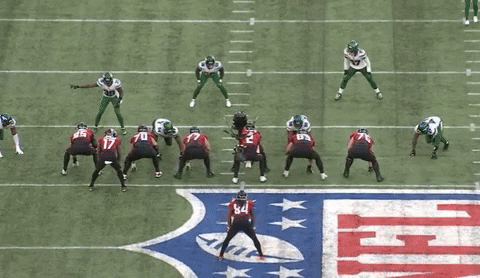 What was also noticeable, though, was his contributions in coverage, reacting to short passes. He rallied to the ball to get in on the stop on one of these and was in position as a few were incomplete.
Rankins seems to be a smart player, a good leader and willing to do the dirty work. He's an important player because, without him, the Jets could be one injury away from Shepherd or Marshall being forced into a significant role.
Jamien the Magic Torch
Rookie Jamien Sherwood was handed a starting role when Jarrad Davis got hurt in preseason but it was clear from his rough last preseason game he might be a little out of his depth.
His first career start didn't go too well as he was blocked out of two big plays in space, and then got injured. By the time he returned, the Jets were happy with Quincy Williams starting alongside CJ Mosley and quietly started using Sherwood in a part time role on the strong-side.
Since being moved into that role, the rookie has looked a lot more comfortable. He made a couple of positive plays last week and had career highs in snaps (34) and tackles (five) on Sunday.
Sherwood's best play might have been the very first snap of the game as he was one of the only players all day to stop Kyle Pitts.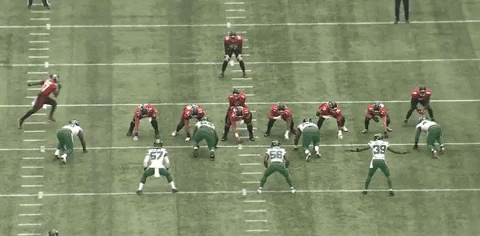 This is a good sign of progress from Sherwood, who missed a couple of tackles in space like this one in preseason.
When lining up at the Mike position, Sherwood was regularly getting blocked off and driven back at the second level on runs and in space on short passes, but when he's on the strong side, he's either closer to the line of scrimmage or has two other linebackers alongside him to take on blockers so this has been happening less.
When Davis returns, the Jets will presumably use him and Mosley in full-time roles and seem unlikely to remove Williams from the rotation, so there might not be much more playing time available for Sherwood on defense.
He can, however, still contribute on special teams, and he did this well on Sunday as he was in on a stop on a kickoff return short of the 25 and had a key block on Tevin Coleman's long kickoff return.
Otherwise, he might be forced into a situation where he will have to watch and learn from the sidelines. Despite these recent improvements, that still might be the best place for him in the short term.
Inanimate Carbon Jarrod
Another player whose status might change after the bye week is Jarrod Wilson. With Sheldrick Redwine now gone from the organization and Adrian Colbert still shaking off concussion symptoms, Wilson has started the last couple of games. However, is he playing well enough to remain in the team's plans?
On Sunday, he had a couple of costly plays, including on the 39-yard Pitts catch on the first play after the Jets cut the score to 20-17. On that play, CJ Mosley took a deep drop and the other safety, Neasman, picked up an intermediate route, so it seems likely Wilson should've dropped deep to prevent Pitts from splitting the two corners down the middle.
The other key play was on third and 10 as he picked up an assignment in the slot and initially stayed with his man but then lost contact at the top of his route.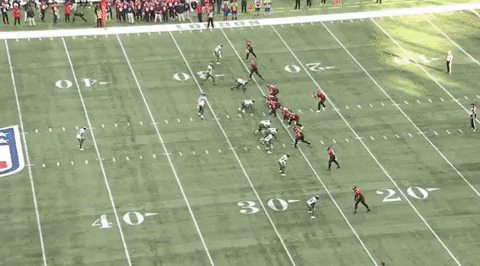 Wilson, who was credited with three tackles, all of which were at least 12 yards downfield, was in on a couple of run stops and blitzed for a quarterback hit, but also had a defensive pass interference penalty as he grabbed the receiver's jersey going over the middle.
It's possible he could remain active for special teams, but Wilson - who was in on one special teams stop - also had a mistake there, as he took off too early on the onside kick at the end.
Experienced players like Wilson and Colbert have been useful while Maye, Davis and Neasman were hurt, but if they're all healthy after the bye, we may not see much more of them - unless there are anything to the rumors of a possible Maye trade.
Previously - Three on O: Moses, Carter, Griffin