Three on D: Reed, Thomas, Martin
After each game, we'll be highlighting three defensive and three offensive players and looking in detail at their performance. We'll start today with the defense:
Reed to Achieve
With all the hype surrounding Sauce Gardner, it would be easy for DJ Reed's performance so far this season to be overlooked. However, it was another great display from the offseason signing, with coaches quick to praise both starting cornerbacks.
Reed's full skill-set was on show in this one as he, like Gardner, had three pass breakups. The first was great instincts, as he read the slot screen and came off his assignment on the outside to light up Jerry Jeudy, knocking the ball loose. Credit is also due for making a clean hit in that situation. The second saw him display his long speed to trail Courtland Sutton on the deep route, as he was able to locate the ball early and get his hand up to knock the ball away from a much bigger receiver. The last one set up CJ Mosley's inexplicably overturned interception, with good positional sense and timing in deep prevent.
These weren't the only skills Reed showcased though. He had eight tackles including two against the run and this terrific open field tackle short of the marker on third down to force a punt.
In total, Reed gave up a respectable 50 yards on nine targets, although he was responsible for three first downs. His ability to hold up even against bigger receivers like Sutton is exciting because it helps the Jets' ability to remain flexible with their coverages and personnel groupings.
Hopefully Reed keeps up his solid play and continues to enhance his reputation around the league.
Save our Sol
Solomon Thomas has settled nicely into a rotational lineman role so far this season, although his statistical production has been underwhelming with 10 tackles but no tackles for loss or quarterback hits.
There doesn't seem to be a dramatic downgrade when the backups enter the game though, and it's valuable because it keeps the likes of Quinnen Williams fresh.
Thomas was credited with two tackles on Sunday, including one on this running play which saw him take on a double team and leverage himself into the path of the runner.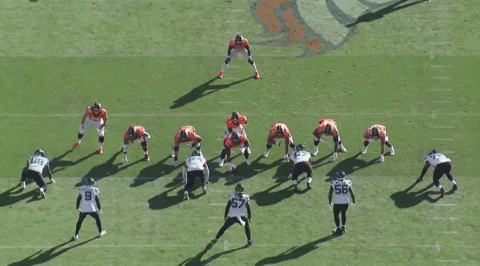 Aside from this play, Thomas also penetrated well to help bottle up one other run. He was driven off the line by a double team at one point though and on two short yardage conversions.
In the pass rush, Thomas' job has essentially been to occupy blockers, try to drive his man back to collapse the pocket and clean up if pressure comes off the edge rather than generating pressure himself so far. He did record a pressure on this stunt, though.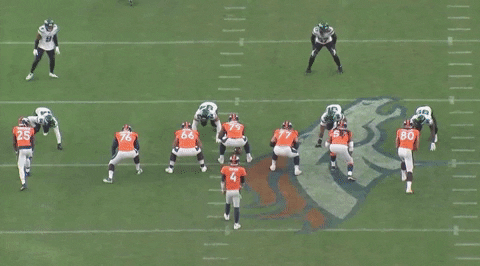 He has offered more than just being a block-occupier in the past, though. With the Raiders last year, he had 3.5 sacks and generated over 30 total pressures but has just a couple of pressures so far this year.
Clearly the defensive line is getting it done as a group and Thomas is playing his part in this. Perhaps part of the reason he's not getting to the quarterback is because there's nearly always someone getting there before he does - or the quarterbacks will regularly get rid of the ball to prevent this. The important thing to note with Thomas, though, is that he may have more to offer as the season progresses.
Jake it to the bank
Jacob Martin's role has reduced since Bryce Huff was added into the mix a few weeks ago, but that isn't necessarily anything to do with his own failings. Martin averaged 23 snaps per game for the first four weeks but only 14 per game the past three weeks, but he's been generating pressure at a consistent rate - and similar to that of Huff.
On Sunday, Martin had three pressures, blowing past the left tackle impressively on this play: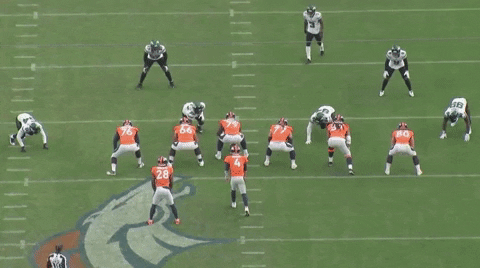 Martin was a full-time player with the Texans last year, though, so he also brings something to the table against the run. He set the edge well on a few plays and was in on this run stuff: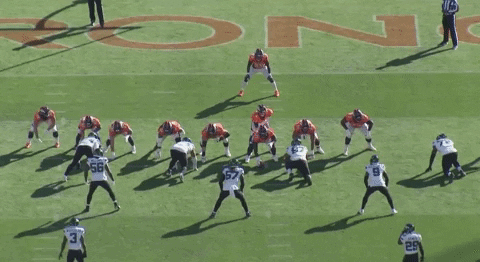 On the play, you can see how he drives his man to the inside to pinch in, but keeps his outside hand free in case of a bounce out, then sheds the block to get in on the stop with Mosley. That's a refreshing improvement on some of the players who struggled in run defense last season, who either wouldn't have pinched in, leaving a huge running lane in the B gap, or would have got sealed inside.
With Martin holding up well in more of a rotational role, Huff has been used as a pure pass rush specialist so far. In fact, he hasn't had a single run defense snap yet.
Martin - who signed a three-year deal, let's not forget - was an acquisition that was overlooked in the offseason with Carl Lawson's return and the two players they drafted. He's playing his part well so far, though.
We'll be back with the 3-on-O tomorrow.