Three on D: Shepherd, Blair, Phillips
After each game, we'll be highlighting three defensive and three offensive players and looking in detail at their performance. We'll wrap up today with the defense:
A Shep in the right direction
Nathan Shepherd is a player who seems to have struggled this year, regularly getting driven off the point of attack and not making many impact plays. However, he's a player that Robert Saleh constantly praises when discussing his defensive linemen.
This week, Shepherd had a rare good performance, as he was only controlled at the point of attack once and was in on a few run stops.
He almost made one crucial play as he got to Josh Allen on this solid one-on-one pass rush move, but couldn't complete the sack.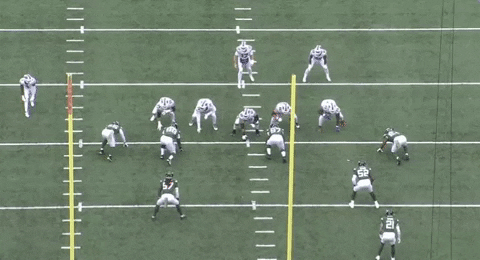 Unfortunately, after stepping up, Allen was able to throw the opening touchdown. If Shepherd could have completed that sack, maybe the Jets could have forced the Bills to settle for a field goal and the game would have gone differently.
Shepherd continues to be the fourth man up in the interior line rotation, although the top three tend to play about 50 percent more reps than he does.
There might ordinarily be some calls for rookie Jonathan Marshall to get a more extended look, but he's been completely overmatched in the trenches in preseason and in his lone regular season appearance which is the last thing the Jets' struggling run defense needs right now, so we can probably expect Shepherd to play out the rest of the season.
Blair Switch Project
After their struggles in the Colts game, the Jets switched up their personnel by benching Tim Ward and Jabari Zuniga for Ronald Blair and Hamilcar Rashed. The rookie Rashed was primarily in there to rush the passer, but Blair's inclusion was presumably designed to help the run defense.
While the Jets gave up a lot less yardage than they did in the Colts game, they still gave up six yards per carry and most of the reduction was probably attributable to the fact that they didn't give up any runs of longer than 15 yards, other than on one gadget play.
Blair did make some modest contributions as he was in on four run stops, all within five yards of the line of scrimmage. However, he was sealed off on one play and failed to read his keys as he ran right past the ball carrier on this jet sweep.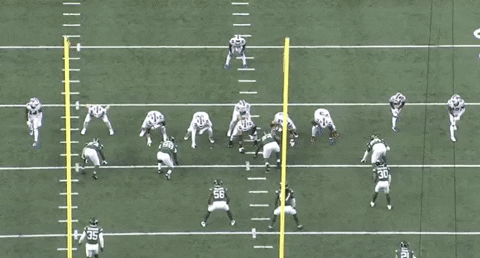 Blair, who also played a few snaps on the interior, also failed to generate any pressure in 14 pass rush attempts.
He was a practice squad elevation, so it's not certain Blair will get another shot this week or in the weeks to come. We know Saleh loves him and talks about how he plays winning football, but when his return ended in a blowout loss, he hasn't necessarily earned another look yet.
The Jets have Bryce Huff due back soon and need to decide whether or not to activate Kyle Phillips but if Blair does get another shot, the Jets will hope to see more of that winning football than they did here.
All Del Breaks Loose
Injuries have led to a situation where Del'Shawn Phillips was back in the starting line-up on Sunday and ended up playing 24 snaps, during which he was credited with two tackles, both of which were down the field.
Phillips had a couple of rough plays, including one where he was blocked off at the second level, another where he overpursued down the field and this bad blown coverage.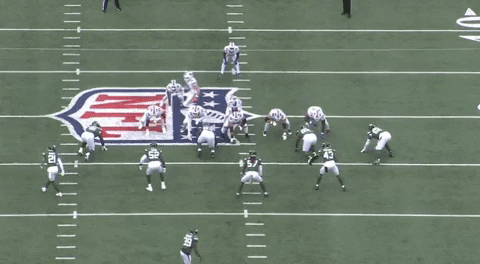 This wasn't the only example of Phillips being so slow to read and react that CJ Mosley had to run past him to make the play. It happened on a couple of runs too.
Phillips continues to be a special teams contributor and made a solid block on Tevin Coleman's best return on Sunday. In an ideal world, this would be his only role with this team.
It's worth remembering that Phillips didn't make the initial 53, even with Jarrad Davis on injured reserve, so he's basically the team's seventh choice at off-ball linebacker.
So why does he keep getting opportunities? Probably because he has a better grip of the scheme than the other alternatives. He even had to wear the headset for a while in one game.
Phillips probably isn't viewed as someone who has a long-term future as a defensive contributor here. His inclusion is more to do with damage limitation. However, he's going to make mistakes of his own and the Jets continue to have substandard options getting key roles within this position group.
Previously - Three on O: Davis, Coleman, Bawden