Three on D: Shepherd, Huff, Carter
After each game, we'll be highlighting three defensive and three offensive players and looking in detail at their performance. We'll start today with the defense:
The Shep of things to come
Nathan Shepherd has solidified his role as a second-unit rotational interior lineman over the past year, but he's always been a player who will go in and try to hold his own, but without generating much in the way of statistical production.
Shepherd has never had more than three tackles in a game and entered the game without a tackle for loss (or sack) in his past 25 games, dating back to the 2020 season. However, he finally broke through for a sack on Sunday.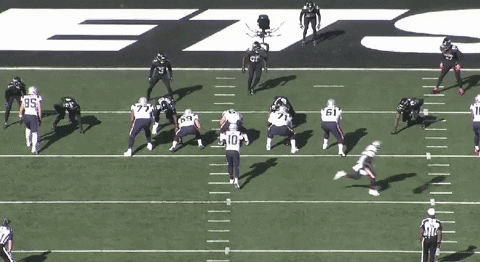 This was one of the 29-year old's best games in a Jets uniform, as Shepherd also drew two holding penalties on running plays and ended the game with three tackles in 21 snaps, including this run stop.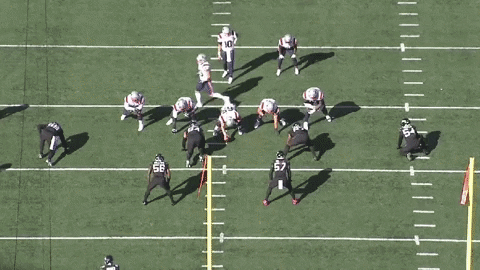 Shepherd made a really slow start last year, but we had noticed how he settled into his role down the stretch and were optimistic he could have a better year in 2022. So far, that's been the case and the Jets will hope this continues.
Huff Justice
Bryce Huff started off the season as a healthy scratch but has been a consistent contributor since he found his way into the rotation. Advanced stats indicate that Huff has been producing with a high pass rush win rate and that the Jets are more effective at generating pressure when he's in the game.
This may be slightly misleading though. When Huff enters the game, it's typically in pass rush situations with Carl Lawson, Quinnen Williams and John Franklin-Myers all also in the game and in a passing situation where all four can pin their ears back to rush the passer. Clearly this is the Jets' best package and was equally productive when Jacob Martin was the fourth guy earlier in the year. As the least potent threat of the four, Huff/Martin would be the least likely to receive a chip or double-team attention too.
Nevertheless, Huff has been getting results. While he officially has just two tackles, half a sack and four quarterback hits, he's been averaging a pressure every 5.1 pass rush attempts. On Sunday, he had three, including this one that saw him disrupt the release, leading to an interception.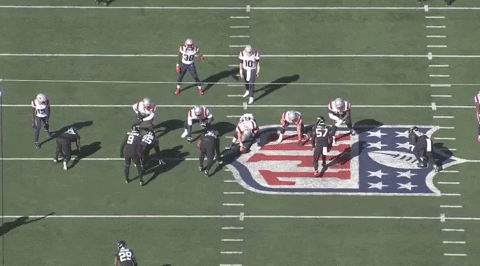 Huff's role has been purely as a designated pass rusher so far, but he finally played his first run defense snap of the season on Sunday. New England ran a draw play up the middle on 3rd-and-18, essentially settling for a field goal. Huff chased the play down and even helped finish off the tackle on a five-yard play, although Quincy Williams got credit for the stop after tripping the runner in the hole.
Jermaine Johnson probably could have played on Sunday, but Robert Saleh essentially said the Jets opted to give him another week. Clearly this is because they know the rotation is adequate as it is. If Johnson is back next week then Huff, Martin or Vinny Curry would seem to be the most likely person to be made inactive.
Curry (27 snaps) saw more action than Martin (20) or Huff (14) in this game, but that doesn't necessarily mean he's ahead of them in the rotation. In fact, Curry usually plays the same second-unit strongside role that Johnson had in the past, so this could be the move.
Either way, Huff has made it hard to take him out of the lineup with his good production. To be fair to him, though, Martin has been producing at a similar level - and does offer something against the run. It's a nice problem to have for the Jets.
The Cart of a Champion
The Franklin-Myers roughing penalty didn't just rob the Jets of what would have looked like a probable win at 17-3. It also took away a possible defensive player of the week award from Deuce Carter, who had seven tackles, including one for loss and one interception that did count. Carter's 84-yard pick-six was overturned, though, and the Jets gave up 19 unanswered points from then onwards until the late consolation score.
Carter has been making more plays and playing with more consistency than he did in his rookie season. On Sunday, he only gave up two first downs in coverage - one of which was a screen pass, where he got sealed off from making the tackle.
In coverage, Carter - who only has one penalty this season so far - has given up a 77 percent catch rate, but is doing a good job of limiting yardage after the catch. He made two excellent plays on receiver screens that went for a short gain.
Carter also contributed as a pass rusher, with two pressures, and in run defense, knifing his way through traffic to blow up this run for a loss.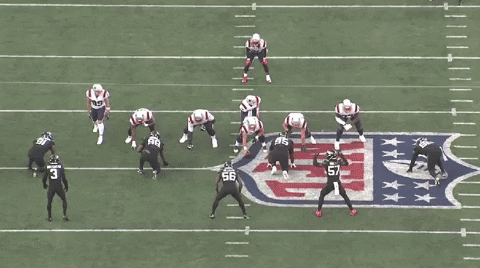 The Jets were excited when they drafted Carter, saying they had a plan for him. It looks like that plan is starting to come to fruition.
We'll be back with the 3-on-O tomorrow.