Three on D: Zuniga, Guidry, Maulet
After each game, we've been highlighting three defensive and three offensive players and looking in detail at their performance. We'll wrap up today with the defense:
Zuniga Beaver
There were plenty of comments about how disappointing Jabari Zuniga has been so far. With Jordan Jenkins out, there was hope he might play more and make some positive contributions but he had no tackles or pressures in 16 snaps.
Furthermore, he was also exploited on a couple of big runs as he got sealed inside on one run and effectively took himself out of the play by trying to shoot a gap on this long run:
On that play, Zuniga likely isn't the only player at fault. If he's going to shoot that gap then someone needs to be filling that lane over the right side and, as the guy with the headset, it's Neville Hewitt's job to make sure that happens. The most likely person to fill that hole is Hewitt himself, but as you can see he hesitates and goes the wrong way.
So far, Zuniga has four tackles and one pressure in 84 snaps. Maybe the Jets should just have kept Jachai Polite. Polite has four tackles and four pressures (including a sack) in just 43 snaps.
Just out of curiosity, we were wondering how far down the list Zuniga's name falls for all-time NFL players in terms of alphabetical order. On the basis of our research, only three players that have played in an NFL game are below him, with the only two in the modern era being Jeremy Zuttah and Brandon Zylstra.
The Jets did briefly have a Marcus Zusevics six years ago, but he never played in an NFL game, so Zuniga is in last place in this category from the franchise records, taking over from Mike Zordich.
Hopefully Zuniga gives us something more tangible to discuss next time.
Oh, my Guidry aunt!
On the face of it, Javelin Guidry had a decent performance this week. According to Sportradar, he only gave up one catch for nine yards on two targets and finished the game with five tackles and a quarterback hit.
However, there were multiple occasions where Guidry seemed unsure of himself in zone coverage and there were several catches underneath which were credited to the linebackers which arguably were on him. There were also a few plays where he double-teamed a receiver leaving someone wide open.
Nevertheless, he continues to rally to the ball well, getting in on one play that was stopped behind the line of scrimmage.
On this play, Guidry did a good job of stretching the run to the outside, only to then miss the tackle so the play still went for a gain of nine:
Guidry is an intriguing player, but we need to see more of him in direct coverage assignments to fully assess him. In terms of the zone schemes, he is perhaps still adjusting to the speed of the game and relying on his athletic ability to enable him to recover to the ball.
Arthur Avenue
With the Jets so shorthanded at the safety position this week, Arthur Maulet was one player we thought could have the versatility to fill in at the deep safety position. The Jets lost Saquon Hampton to an early injury and their only other backup, Elijah Campbell, may be viewed as more of a cornerback.
The Jets used Maulet in that role briefly, although it's not clear whether they were auditioning him for the position or forced into doing so by a Matthias Farley injury. This immediately saw Maulet out of position and stranded in no man's land on Seattle's opening touchdown.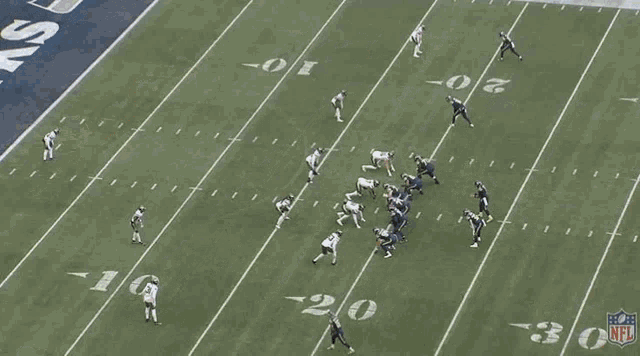 On this occasion we can defend Maulet though, because he was clearly placed in an impossible situation by someone else blowing an assignment. Who that was is unclear but Hewitt again bears responsibility as the guy with the headset.
Breaking down this play you can see that Maulet isn't sure whether to go with the tight end down the left seam or the slot receiver down the right seam. Unfortunately, both are left uncovered.
Guidry drops from the slot to pick up the outside receiver, clearly expecting Maulet to move across and take the slot guy or Hewitt to drop deep with the slot receiver. You wouldn't double-team Penny Hart, so this must mean he expects Hall either to blitz or to drop into the flat to guard against Russell Wilson rolling out. Hall doesn't appear to be expecting this though, as he is scrambling to react rather than passing off the receiver.
On the left side, something similar happens. Maye drops off to the outside receiver, presumably expecting Maulet to take the tight end or Harvey Langi to drop with him.
As noted, it's impossible to know who messed up here and it may have been more than one player. One person who you can't really blame is Maulet so it would be premature to pull the plug on any thoughts of trying him in that role again.
Ultimately, Maulet played over 20 snaps as the deep safety and didn't have any other obvious mishaps. He ended up with three defensive tackles and two more on special teams, although his best play was probably the one where he stretched a play out to the sideline.
Maulet is a versatile player and it would be good for his career if he can add this string to his bow. It seems unfair to blame him on that first touchdown so perhaps they will give him a longer look in this role.
Previously - Three on O: Berrios, Elflein, Fant