Three on O: Berrios, Elflein, Fant
After each game, we've been highlighting three defensive and three offensive players and looking in detail at their performance. We'll begin today with the offense:
Phony Braxton?
Braxton Berrios led the Jets in receiving on Sunday and, while this may not seem possible, things would have been considerably worse on offense without his contributions.
Berrios caught three passes for 49 yards, with all three being third down conversions to extend drives. His 34-yard catch and run on a blown coverage was the longest play of the day for the Jets, but he made two other clutch catches including this nice diving grab.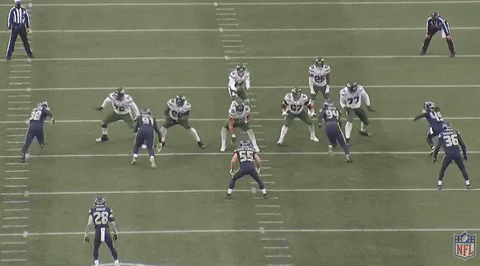 As we've been discussing all season, Berrios has made hardly any contributions as a punt returner this year, having been among the league leaders in 2019. Although, having said that, he did have a nice 11-yard return on Sunday after slipping the first tackler.
Aside from his three catches, Berrios was targeted two other times, again on third down each time. One was the throw down the middle where Ugo Amadi got away with a blatant pass interference and the other was when Sam Darnold stared him down and almost threw an interception to Jamal Adams.
Berrios usually only gets playing time when Jamison Crowder has been hurt - or when there are so many other injuries that either he or Crowder is forced to fill in on the outside. On Sunday, Crowder did play, but was nursing an injury and had an ineffective performance with two catches for seven yards.
All of this leads us to consider that Berrios should have been used more on offense this year and could be worth retaining beyond this season.
Crowder has had a good year with 42 catches for 510 yards. However, if you extrapolate Berrios' numbers to the same amount of playing time, he would have 47 catches for 497 yards, so there's arguably a chance he would provide similar production at a fraction of the price. Of course, you might anticipate diminishing returns, but it can work the other way as Berrios could develop chemistry with the quarterback and continue to develop his ability to get open.
Between them, Crowder and Berrios have combined for 71 catches, 815 yards and seven touchdowns. While there would be a small amount of overlap between their contributions, it's fair to say the slot receiver position has probably been one of the most productive on this team in 2020.
Public Elf Warning
Patrick Elflein is continuing to get a good opportunity for playing time with Alex Lewis out of action. However, he's been inconsistent so far.
The running game, which was so effective last week, especially going over the left side, flattered to deceive against the Seahawks as they (much as we predicted) went away from the staple play which had seen them have so much success in the Raiders game. They gained just 15 yards on runs to the left side this week, on 11 carries.
Elflein was a big part of that as he allowed penetration a few times and struggled to sustain blocks. He had a couple of effective run blocks but one of them was as he pulled to the right.
Elflein was also a weak point in pass protection this week as he allowed more pressure than anyone else. He got driven off his spot a few times by bull rushes, including on this play which led to a sack.
We perhaps shouldn't expect too much from the offensive line now that both guards are out of action, but Connor McGovern has been playing well for the past several weeks while Elflein and Josh Andrews are failing to show they represent any kind of upgrade from Lewis or Greg Van Roten so far.
The eleFant in the room
When the Jets signed George Fant during the offseason, many analysts expressed surprise that he received starter money from them and there were still some predicting that Chuma Edoga would start as we entered camp.
With the season mostly done, we can say that Fant has played at a solid level and has been a decent pick-up for the Jets. While he has a relatively high cap number in 2021 and a deal that is structured so the Jets could theoretically release him, this seems unlikely unless a cheaper option falls into their laps.
There are still occasional lapses from Fant in pass protection, as he's given up seven pressures in the past two games, after only giving up three in the three prior to that. He was badly beaten on this play on Sunday:
Still, every tackle gets beaten from time to time and as long as it doesn't happen too often, you can accept it. Fant has only given up two pressures per game on average and hasn't given up a sack since week four.
Disappointingly, Fant had a false start in the second half. Prior to that, he only had one penalty all season. You'll recall that on-field discipline was one of the things the Jets seemed to look for in their offensive line targets during the offseason.
Hopefully Fant can have a strong finish to the season so that the Jets can consider him a reliable starter and head into next year with some continuity on offense.
We'll be back with the 3-on-D tomorrow...