Three on O: Brown, Crowder, Perine
After each game, we've been highlighting three defensive and three offensive players and looking in detail at their performance. We'll begin today with the offense:
Browning Around
With Trevon Wesco having missed some time on injured reserve and Ryan Griffin now on Covid-19 reserve, there has been a rare opportunity for backup tight end Daniel Brown to get some offensive reps. Until week 12, he hadn't played at all on offense after playing almost 300 offensive snaps last year. Since then, he's been on the field for the grand total of 32 snaps.
Brown is a confounding player whose spot on the roster has been secure despite the fact he doesn't outwardly appear to contribute much and even though the Jets have had occasions where roster spots were at a premium. Nevertheless, he's not only stayed on the 53 for two whole seasons, he's actually been active for every single game. Only four other Jets (Marcus Maye, Braxton Berrios, Tarell Basham and Thomas Hennessy) can claim this.
On Sunday, the Jets actually threw to Brown for the first time this season and he made a nice play to pick up the conversion on 3rd-and-9: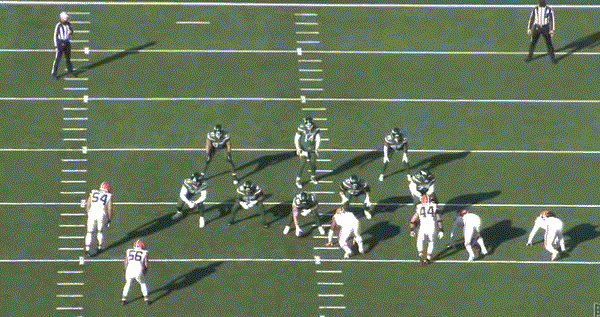 Aside from this catch, Brown didn't contribute much on offense, although he didn't make any obvious mistakes as a blocker.
On special teams, where Brown has four tackles this year, he had a missed tackle on one return and got blocked out of the play on another. He also allowed some pressure blocking on the edge for the placekicking unit.
Brown is out of contract at the end of the season and the coaches who obviously like him despite his modest contributions won't be around next year to campaign for him to be brought back. It will be interesting to see where he ends up and if he can make more significant contributions elsewhere.
Crowding Glory
By contrast, Jamison Crowder was a player who definitely made a lot of noticeable contributions in a terrific all-round performance.
Crowder ended up with seven catches for 92 yards and a touchdown, which on its own would constitute a good day's work, but he also rushed for 14 yards on a Jet sweep, threw a long touchdown pass on a gadget play and contributed well as a blocker.
While Crowder's touchdown catch was an easy one because he was left wide open due to a sneaky pick play by the Jets, which arguably could have been offensive pass interference, he also picked up a first down on a receiver screen and broke a tackle on this 25-yard catch and run.
What's interesting about this play is that it's perhaps the purest example of inside-out protection you'll ever see. Against a standard four-man rush, you rely on your two tackles to block one-on-one and funnel their man to the outside while the three interior linemen work together to prevent the two tackles from generating any interior protection. The pocket just about holds up against a talented Browns front.
After a good start had him on pace for a thousand-yard season, Crowder's production fell off a little and he of course missed a few games but he needs just one more touchdown catch to tie his career-high.
Crowder is still under contract next year for $10 million plus a small amount of bonuses. Based on his first two years, that's money well spent and the Jets will obviously be keen to retain a reliable veteran who is basically in his prime.
Perine Stone Cowboy
La'Mical Perine made his return from a stint on injured reserve and generated 44 yards on 10 touches. This included four first downs on three short runs and a 14-yard screen pass.
It was a reasonable performance by Perine, but his overall output has been disappointing when compared with the Jets' other two young backs Ty Johnson (4.9 yards per carry) and Josh Adams (6.1 yards per carry). You're left with a sense that he either lacks the vision those two players have or just the confidence in his own ability.
On this 2nd-and-8 run, it seemed like Perine should have got close to the first down marker but tried to do too much and ultimately only gained three yards.
If he could have shown more patience before turning upfield, he might have been able to follow George Fant to the outside, but having opted to cut upfield, he needed to trust his ability and run through the cornerback with a head of steam. This would enable him to break out to the second level or at worst fall forwards at the end of the run. Instead he tried to cut back, lost all momentum and was stopped in his tracks.
Ironically, this was the kind of run where Frank Gore would have probably got the first down with his direct style, but Le'Veon Bell might have had a similar result to Perine. These are two very different backs that Perine has been in the shadow of this season and he probably took things from both.
While this was just one example, it's indicative of a player who perhaps isn't fully confident in his abilities for a number of reasons. First of all, he's missed time on two separate occasions due to an ankle injury, so he might not feel entirely confident on that yet. Second, he knows his reps are limited so this might create a mindset where he's trying to make something special happen rather than taking what the defense gives him.
Sunday could be especially interesting for Perine because with Frank Gore out, he might be able to approach the game knowing that he's going to get plenty of opportunities to produce.
For the season as a whole, Perine has averaged 3.6 yards per carry and caught 11 passes for 63 yards. This isn't a particularly impressive output but any time a rookie back makes a slow start, you only need to think back to Bilal Powell's rookie year (21 yards on 13 carries) for an example of someone who made strides after their first season.
We'll be back with the 3-on-D tomorrow...