Three on O: Brown, Hall, Z. Wilson
After each game, we'll be highlighting three defensive and three offensive players and looking in detail at their performance. We'll wrap up today with the offense:
Going down the Duane
Duane Brown was activated from injured reserve this week and the Jets got good offensive results. How did the veteran fare in his first regular season action of the season? Not bad, as he had some good moments in the running game and did a good job of limiting pressure in the passing game.
Brown had some minor negatives as a run blocker and did allow one pressure but the Jets have to be pleased with how the unit performed with this new configuration. Perhaps they will stick with this group until George Fant or Max Mitchell can come off injured reserve.
Brown looked comfortable enough in pass protection, although his man stunted underneath to get to the quarterback on one play and Zach Wilson took off running (and scored) on another where Brown was moved off his spot. The Jets did a lot more than they have before to help out the line in this game. In the first four games, the Jets had 107 true pass sets, but on Sunday, they had just five, per PFF.
A true pass set is basically anything where a pocket is formed and the quarterback looks to throw from within it. So, play action passes, screens and rollouts are thrown out. The Jets only ran two screens on Sunday, but ran 10 play action passes and had Wilson rolling out on seven plays.
Despite his age and the fact he was returning to action after some time off, Brown still shows the athleticism to contribute in this system on plays like this, although he didn't quite finish as he might have liked.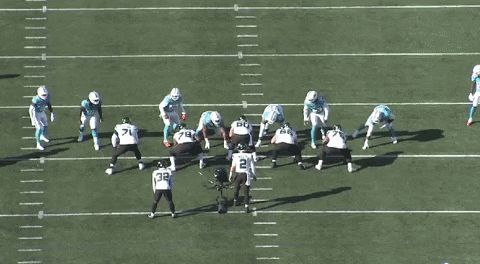 The Jets showed confidence in their ability to run behind Brown on plays like this one, which went for a first down on a drive where the Jets went 53 yards in nine plays with just one pass attempt:
Hopefully Brown has put to rest any talk that he just came to the Jets for the money and will only get better from here. Rashan Gary and Preston Smith will provide another big challenge for the tackles next week though.
Breece Unleashed
Breece Hall's monster game saw him rack up an impressive 97 yards on the ground to go along with his 100 yards on two big pass plays. The 79-yard play saw him go deep on a wheel route and make a spectacular run down to the one-yard line, dragging a defender with him for about the last 20 yards.
He's clearly ascending into an exciting and productive back, but while his patience, speed, power and elusiveness with the ball are making headlines, he's also developing his all-round skill-set.
Early on, there was a play where Hall failed to pick up the rush, leading to a sack. However, the next time he needed to pick up a blitz, he did a great job:
Another encouraging sign came on this reception as he adjusted to haul in the ball and turn it upfield even though the ball was thrown slightly behind him. He had five drops in the first four games, mostly on plays like this, so it's great to see him make this play and you can see how dangerous he is in space.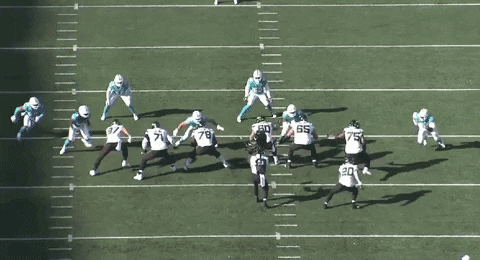 If Hall can keep ascending at this rate, he's going to be one of the best running backs in the league. Hopefully the Jets have a star on their hands.
Zach back on track
Zach Wilson built on the confidence he gained in the last two drives in Pittsburgh with an efficient performance on Sunday. He completed two-thirds of his passes and averaged 10 yards per attempt this week, although this was of course bolstered by the big catch and run by Hall. Without that, he would have averaged just 6.5 yards per attempt.
Wilson is still playing less conservatively than he was during the portion of last season where he had a string of games without an interception though. This was only the third game of his career where he didn't have a turnover-worthy play according to Pro Football Focus and his average depth of target was almost 11 yards in this game, whereas it was closer to six in the previous two.
Here's one of his best throws of the day, the timing of which was interesting because they took this downfield shot on the play after Miami's missed field goal that would have given them a 20-19 lead.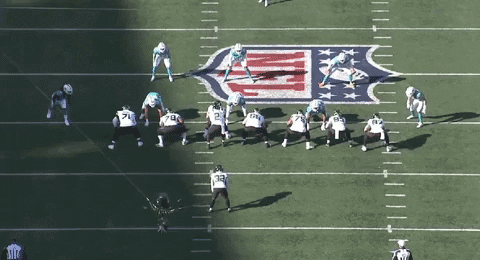 Wilson looked decisive all day, which he always does when he's at his best. His biggest mistake saw him tackled for a 17-yard loss as he tried to elude an unblocked blitzer but he spread the ball around well and made a good decision when he dived in for a five-yard rushing touchdown as the pocket started to collapse in the red zone.
It's almost certainly premature to expect that we'll see this version of Wilson from now on. He's likely to face some bumps in the road and overcome some adversity as the season progresses, especially if the Jets continue to have a respectable enough record to stay in the postseason hunt so the intensity and importance of the games continues to escalate.
On the other hand, this was a performance where he put up modest numbers and leaned heavily on the running game and defensive playmaking in the second half (he was just 6-for-8 for 65 yards after halftime and didn't throw a single pass in the last 10 minutes). So, there should be days to come where he'll need to do more and will rack up bigger numbers.
Hopefully those days are not as far away as they may have seemed at certain times not too long ago.
Previously: Three on D: Franklin-Myers, Gardner, Parks