Three on O: Cole, Walter, Vera-Tucker
After each game, we've been highlighting three defensive and three offensive players and looking in detail at their performance. We'll begin today with the offense:
The Heart and Cole
With Corey Davis ruled out at short notice, it was imperative for Keelan Cole to step up. While he didn't make much of an impact on the stat sheet he was still an important factor in the Jets' win.
With Denzel Mims also out, Cole was basically the only X receiver available this week and that was reflected in his playing time as he played the most snaps of anyone other than the offensive linemen and quarterback.
That freed up Elijah Moore to be able to go in motion, where he was a weapon both with the ball and as a decoy. As for Cole, he caught just two passes and in fact was only targeted twice, but they went to him on two of the most important plays of the game.
The first came on literally the first offensive snap of the game for the Jets. With Zach Wilson making his return to action, it would have been a morale-sapper to go three and out right off the bat, so they dialed up a quick pass to Cole.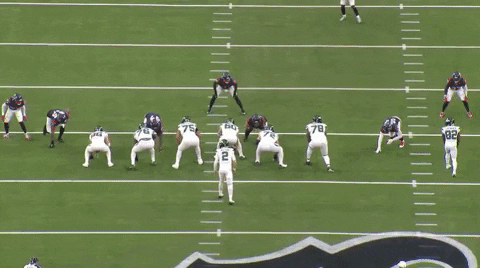 You can already see the signs of rust and not being completely on the same page with his receivers that blighted Wilson in his return to action as Cole had to slow up and reach back to secure the catch, but it was an important drive-starter and even though they settled for a field goal after the drive stalled inside the five, it was good to get off to a positive start.
Cole's other target was clutch as Wilson connected with him on 4th-and-5 in the fourth quarter. This time, the throw was again behind him and Cole made a terrific snag reached back to secure the pass over the middle.
Other than these two plays, Cole didn't make much of an impact as his blocking didn't stand out. However, it could have been a bigger day for him as he was twice open for a potential touchdown on plays where Wilson either didn't see him or couldn't get him the ball.
He'll get more looks in some of the other games to come but when the Jets needed him, Cole bailed Wilson out a couple of times and that was important.
A refreshing glass of Walter
It was a surprise to see Austin Walter elevated from the practice squad to be the third running back when there was a healthy La'Mical Perine available. It was thought that perhaps he might be used as a kick return option. However, he was very much part of the running back rotation and made the most of his opportunities.
Walter's nine carries netted 38 yards, including a short touchdown, and he took advantage of some excellent run blocking on a couple of runs of over 10 yards.
The offensive line is really in sync on this one and Walter has a huge lane which he hits at full speed: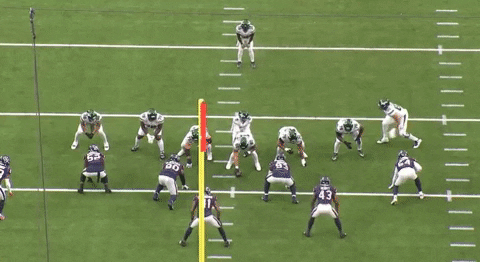 Let's review each lineman's contribution in turn:
Left tackle George Fant controls the defensive end, driving him laterally out of the play.
Right tackle Morgan Moses makes a reach block on the defensive tackle, exploiting his hesitation to seal him on the backside.
Right guard Laurent Duvernay-Tardif goes right to the second level to find the middle linebacker who he drives out of the middle.
Center Connor McGovern and left guard Alijah Vera-Tucker work together on a combo block which enables McGovern to control the block and carve his man out laterally while Vera-Tucker peels off to pancake the filling linebacker.
Walter's other big run was completely different. This time it was more of a counter with the action flowing left and Walter bursting off the right side.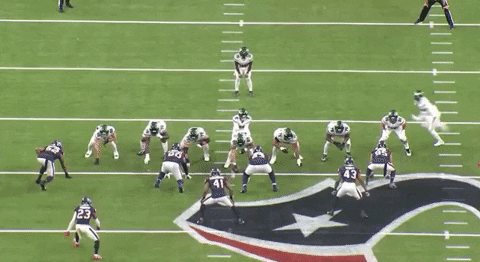 That's probably a built-in read for this play but Walter sees it well and is decisive in breaking to the second level at speed again.
This is further evidence of how when an offensive line in working well as a unit, it almost doesn't matter who the running back is. Walter's burst and energy was a welcome addition to a very effective three-headed monster, though.
Walter is also decent in the passing game, but Wilson air-mailed his only target over his head on Sunday. He may yet have more to offer in that area.
WHOA THERE VERA-TUCKER
Vera-Tucker had some good moments in the running game this week, not limited to those in the above two gifs. He made several positive contributions to the 157-yard rushing output, including a good pulling block and a second level block after peeling off a combo to set up a first down.
He wasn't quite so consistent this week though. There were a few plays where his man got off his block or he didn't get to his target in space. He also had a holding penalty on one run. There was also this play - a rare example of a player completely out-muscling him with good technique.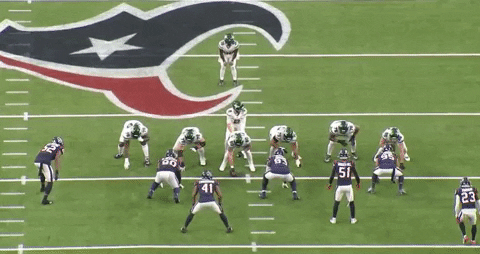 Despite his up and down day against the run, there are still plenty of positive signs from Vera-Tucker, not least the part he played in how well the Jets blocked as a group.
That isn't just limited to the running game either. Look how adeptly he and his fellow linemen deal with a stunt that might have troubled them early in the season - with the result being a third down conversion to the tight end.
Another obvious positive is that he only got beaten for one pressure in pass protection. Earlier in the year, Vera-Tucker was lights out as he only gave up two pressures in a three-game span. Since then, in the last five games, he gave up five total pressures, then four, then three, then two and finally just one this week. Hopefully that's an encouraging sign.
Maybe this was just an easy matchup for the offensive line and they perhaps can't expect to be as dominant against Fletcher Cox and the Eagles. Even if that's the case, the rookie's progress since the start of the season is still very encouraging.
We'll be back with the 3-on-D tomorrow...