Three on O: Feeney, Carter, Van Roten
After each game, we'll be highlighting three defensive and three offensive players and looking in detail at their performance. We'll wrap up today with the offense:
Steely Dan
There was concern leading into this week when Dan Feeney had to step in for Alijah Vera-Tucker. Feeney had struggled in preseason when filling in for the rookie.
However, the Jets surprisingly dominated up front. They rushed for 273 yards - the most by any NFL team this year and only the fourth time they've exceeded 200 in the post-Mangold era.
Feeney definitely contributed to that with some key blocks in the running game. He made a reach block to set the edge on an Ace Carter first down run to the outside, peeled off to the second level to help spring a Tevin Coleman first down run and worked well in combination with Connor McGovern to open a lane on this run: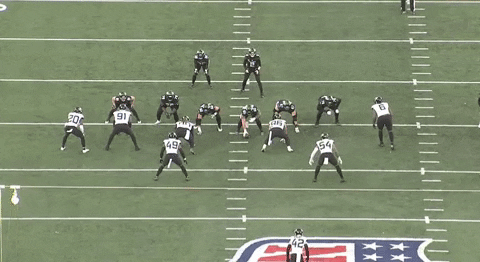 In pass protection, Feeney only gave up two pressures, but one led to this costly third down sack:
On the whole, though, it was a pretty solid performance and you can't argue much with the overall results.
Connor McGovern's fourth quarter injury now means that Feeney will probably start the final two games at center. The veteran is only on a one-year deal, so it's up to him to prove he's a valuable depth option in these last two games.
All about that Ace
Behind this blocking, Carter finally had his first 100-yard game. Hopefully it will be the first of many.
He got off to a good start, showing his quick feet and shiftiness to find a running lane on this play:
Interestingly, Carter saw 13 of his 18 touches stopped for four yards or less but he broke to the second level five times, including on this 38-yard run - his second longest of the season: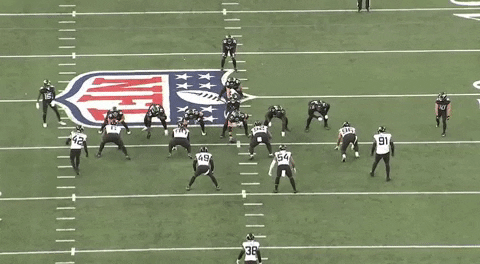 In contrast to his other run, the rookie did a great job of decisively seeing the running lane carved out by Morgan Moses and Nick Bawden and getting skinny to burst through it. The only nitpick here is that he perhaps could have tried to cut back to keep the clock running. That would have meant the Jaguars had one less timeout at the end.
Carter has excelled at falling forwards for an extra yard or two at the end of each run all season, but ironically in this game, the two times he was stopped in his tracks were both right at the goal line, including on one pass to the flat.
You might have expected Carter to be a big part of the passing game this week, but that really wasn't the case, as he had just six yards on two catches and gave up a pressure in pass protection. However, that's perhaps one way they can expand the playbook over the next two weeks.
Either way, it's been an outstanding rookie year for Carter, who needs just 118 yards from scrimmage in the last two games to reach the thousand-yard mark.
Gone but not Van Roten
The Jets were without both starting guards, but actually that meant a return to the starting lineup for Greg Van Roten, who arguably had been just as good as his replacement Laurent Duvernay-Tardif.
Prior to this week, the main argument for Duvernay-Tardif was that the Jets were averaging 101 rushing yards with him in there, as opposed to 76 with Van Roten. That's despite the fact that Carter missed three games. However, this 273-yard output with Van Roten in pokes holes in that argument.
Van Roten had a solid game as a run blocker and this was perhaps his best rep. He makes a good initial block on the move to pass his man off to Moses and then climbs to the second level to get a good contact on the linebacker.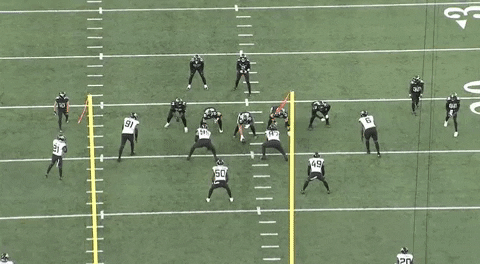 Like Feeney, Van Roten also had a couple of breakdowns in pass protection. He gave up three pressures, including two in the red zone; one on third down as Zach Wilson was forced to throw it away and the other on the Conor McGovern touchdown as Wilson was fortunately able to extend the play well enough to still be able to get the ball to him.
With McGovern out for the last two games, Van Roten might get another chance to start unless both starting guards are back this week. Either way, he showed his value as a depth piece here and there's no real reason to let him go with a maximum cap number of just $3.5 million next season.
Previously - Three on D: Pinnock, Akinmoladun, Parks