Three on O: Feeney, Smith, Edoga
After each game, we'll be highlighting three defensive and three offensive players and looking in detail at their performance. We'll wrap up today with the offense:
The Best Performance You've Ever Feen
Until recently, Dan Feeney was looking like a probable one-and-done with the Jets. He's obviously a popular player and a good locker room guy, but the Jets had paid him $4 million this year to be their primary interior offensive line reserve and until last week he'd only contributed as an occasional jumbo tight end.
However, right at the end of the season, he's getting a chance to prove he's worth keeping around. He started at left guard last week with Alijah Vera-Tucker on the Covid-19 reserve list and then got an opportunity to start the last two at center due to Connor McGovern's knee injury.
He's taken this opportunity well. The Jets rushed for 273 yards last week and picked up another 150 and two scores on Sunday with Feeney making some good contributions. He stayed on this second level block well on the move: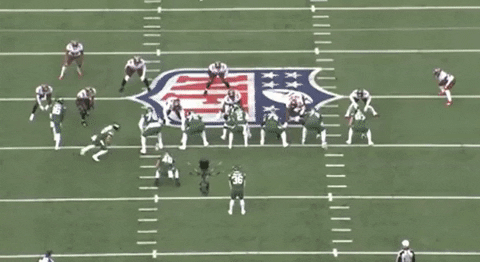 Here's another good block where he executes the reach/seal block at the point of attack: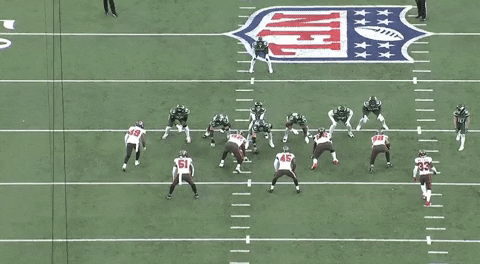 Feeney also helped Ty Johnson score a short yardage touchdown as he dragged him across the goal line.
In pass protection, Feeney didn't fare as well as he got beaten for a couple of pressures. More importantly, though, his low snap on third down caused Zach Wilson's pass to come up short before the Jets' ill-fated sneak play at the end.
Nevertheless, another good performance against the Bills will probably be enough to ensure the Jets make a push to bring him back in that reserve role, which is surprising given how poorly he played in preseason.
Jeff gets an F
Surprisingly, it was Jeff Smith who got the biggest workload at wide receiver on Sunday. Smith was in the lineup for 59 of the 61 offensive snaps.
However, his production was poor. He only had one catch on four targets, which included one play where he dropped a decent Wilson pass beyond the sticks.
His one catch went for a nice first down, though: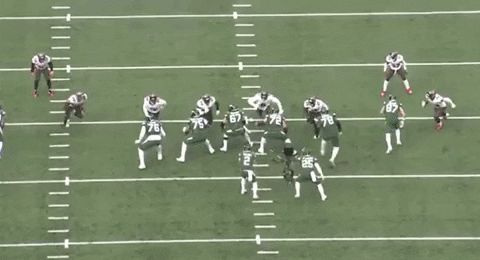 Smith was also involved in a few plays where he had to make a key block. That included the play where he was blocking downfield on the long Ace Carter run, where he did a pretty good job but not good enough to enable him to take it the distance. On another play, Smith missed his block but Braxton Berrios escaped to get the first down anyway.
For the season as a whole, Smith has had plenty of opportunities but he's only caught more than one pass in one game and his catch rate is just 50 percent, only slightly better than last season.
He does contribute as a gunner on the punt coverage unit, getting downfield to force a fair catch on one play. Then again, DJ Montgomery was in there in his place on one punt and did a good job of getting downfield too.
Smith seems like the kind of guy you can throw out there in an emergency but doesn't really seem to be developing into any kind of on-field threat, despite how the coaching staff keeps praising his performance in practice. He's an exclusive rights free agent though, so you should expect him back.
Ewww-doga
Chuma Edoga hasn't started a game all year but for the second time was called into extended duty in place of the injured George Fant at left tackle. The last time was when the Jets beat the Bengals, but when Fant missed a start more recently, Conor McDermott got the nod instead.
For this game, it seemed apparent the Jets had planned for McDermott to see extensive action as an extra blocker in multiple tight end packages but the injuries to Fant and Daniel Brown perhaps changed this plan.
Edoga didn't do a bad job in the running game which was equally effective in terms of the numbers after he replaced Fant. In fact, since most of the pre-Edoga numbers came on that one Carter run, the running game was arguably even more reliable as the game went on because Fant had made a few mistakes.
It's in pass protection where Edoga continues to not be quite so reliable. He got beaten for four total pressures in just 23 pass block reps, including this sack:
Edoga also had a holding penalty on a play where Wilson was flushed from the pocket which has also been a constant issue for him. He has 13 penalties in his career despite only playing more than 50 snaps nine times.
We'll see if Edoga gets a chance for his first start on Sunday or if the Jets revert to McDermott for the final game of the year. Unlike McDermott, Edoga is under contract for 2022. However, it doesn't seem like the coaching staff is particularly high on him.
Previously - Three on D: Echols, Fatukasi, Riley