Three on O: Flacco, Duvernay-Tardif, Bawden
After each game, we've been highlighting three defensive and three offensive players and looking in detail at their performance. We'll begin today with the offense:
Flaccine Hesitancy
If all goes to plan, this might be Joe Flacco's only action with the Jets this season, but his performance was still instructive in terms of how well he handled the Dolphins' blitz packages compared to how well Mike White or Zach Wilson could have fared against the same kind of pressure.
Miami rushed Flacco over 55 percent of the time and Flacco posted a quarterback rating of over 120 in these situations.
Here's an example of the Dolphins running a classic overload style blitz which creates a situation where Tevin Coleman has two men to block so someone is guaranteed to come free. Flacco knows instantly that someone will be open and where that player is:
It should be useful for Wilson (and White) to see how to handle this kind of pressure in practice. If the offense is set up so that teams are no longer able to generate odd-man rushes in this way, it will force them to take a different approach, leading to one-on-ones on the outside or having to remove a man from the box and becoming susceptible to the run.
One factor in Miami's gameplan may have been to take away the long ball. Flacco didn't complete a single pass 25 yards or more down the field despite his reputation as someone who can air it out.
However, if Wilson can master the ability to get the ball out quickly to the open man - and he was supposedly drafted because of how well he does this - then the Jets will be able to move the chains and force defenses to take a different approach which can open up some big plays and unleash the full capabilities of this offense down the stretch.
If Wilson is unable to replicate this success, it's going to be an approach other teams continue to attack him with. The Jets will then have to decide on the best way forward to ensure he can still develop, even if that entails more time on the bench.
Doctorin' The Tardif
Laurent Duvernay-Tardif était dans l'équipe pour la première fois à la place de Greg Van Roten. Le vétéran a bien fait, mais il n'était pas parfait car il a fait quelques erreurs.
Voici une répétition où Duvernay-Tardif bloquait bien en mouvement: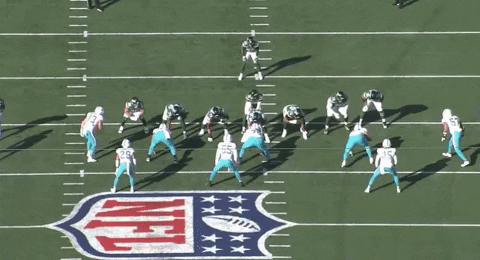 Duvernay-Tardif est aggressif et sur cette répétition il a servi une grosse crêpe: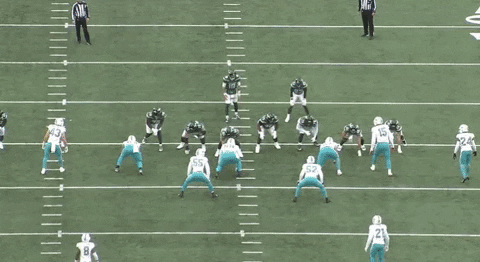 Selon le PFF, Duvernay-Tardif a permis la pression sept fois mais ce n'est peut-être pas juste. il était responsable d'un sac-de-QB mais ça c'est passé dans un "twist stunt".
Il sera intéressant de voir si Duvernay-Tardif peut continuer à faire du bon travail. Il pourrait être un joueur utile en 2022 s'ils peuvent le signer.
This is fart too Bawd
Last week, we noted how clear it was that the Jets had a package of plays they'd been eager to use once they were able to put a real all-purpose utility fullback into the lineup. While Nick Bawden was on the field for only eight snaps this week, that pattern continued.
Bawden showed his blocking prowess out in space on this Elijah Moore run after a lateral pass, locking onto his man out of the slot and driving him back so Moore could easily get 15 yards:
Later on, they ran exactly the same look to the left side, but this time Bawden shaped to lock onto his block but then burst out over the middle for a 20-yard catch from Flacco, who faked the toss to Moore this time. The defensive back was on his heels, in a perfect example of a tendency-breaker.
Bawden also did a solid job of run blocking, which will be a key role for him over the rest of the season. Here's a good lead block where he contacted the defender on the edge and then peeled off to lock onto a linebacker and create a lane for some positive yardage:
It looks likely the Jets will expand Bawden's role so they're probably going to have to add him to the active roster this week. However, if they denoted him as a Covid-19 replacement rather than a standard practice squad elevation in either of the past two weeks, it's possible they could still keep him on the practice squad and elevate him for a third time.
We'll be back with the 3-on-D tomorrow...