Three on O: Flacco, Edoga, McGovern
After each game, we've been highlighting three defensive and three offensive players and looking in detail at their performance. We'll conclude today with the offense:
Inanimate Flacctus
Joe Flacco stepped in for Sam Darnold and provided the Jets with rank competence which gives some useful context to Darnold's performances earlier this year.
Flacco missed some throws, got let down by a few drops and made some positive contributions but rather than break his performance down in detail, it's arguably more instructive to view this performance from a perspective of whether Darnold could have done any better.
In any case, while the drops he had came at costly moments - one on 3rd-and-1 on the opening drive by Jeff Smith and three on potential touchdown passes to Smith, Chris Herndon and Braxton Berrios - these were effectively balanced out by the fact the Jets had four drives extended by arguably soft penalties on three Flacco incompletions and a sack.
It would have been alarming if Flacco had stepped in and executed the offense like a well-oiled machine given some of Darnold's struggles, but clearly that wasn't the case as he only got them into the end zone once and ended up with just 195 yards on 18-for-33 passing.
Still, in terms of what he did well that Darnold perhaps hasn't, the main thing that stood out was his poise under pressure, as he showed on this play.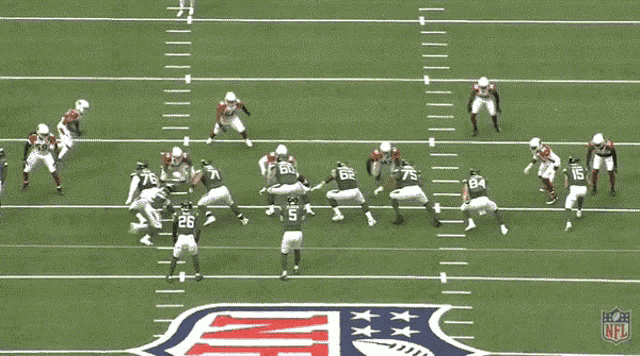 Flacco threw the ball away three times when under pressure and was otherwise 5-for-9 for 50 yards and a touchdown. That also included two drops.
There was a lot less interior pressure this week which in theory could be because the protection was set correctly. Maybe this was personnel-related because while Arizona's best interior rusher Jordan Phillips had just one pressure, he also only had 22 pass rush attempts. Still, the three interior linemen gave up just four pressures between them having averaged 10 per game with Darnold at quarterback.
It was also good to see Flacco hit Jamison Crowder in stride on a deep ball and his decision making as to when to scramble was good as he picked up three first downs with his legs.
What didn't happen is that Flacco wasn't able to find a bunch of wide open receivers down the field. I think we can safely rule out the fact that the scheme and personnel are getting the job done and the only failing has been in the quarterback's execution.
McGovern wisely and as little as possible
Connor McGovern is off to a shaky start in his first season with the Jets, who had hoped he'd solidify a position that had been a weakness since Nick Mangold retired.
However, on Sunday, he started to show some signs that he's beginning to settle down. In the first four games, McGovern had given up almost as much pressure as he did all of last year, with teams smartly exploiting the fact the Jets had a new group in place by running lots of stunts. In the Arizona game, McGovern didn't surrender any pressure for the first time.
As a run blocker, McGovern's athleticism gives the Jets a dimension they lacked over the past few years. He displays that on this play.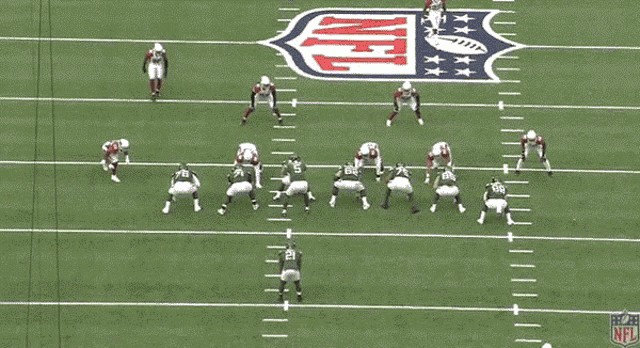 However, the Jets still ask McGovern to do too much at times. One Le'Veon Bell run was stuffed after he wasn't able to get across to make a reach block and another run was stopped after he initially made the reach block but couldn't sustain a leverage advantage.
McGovern can make these blocks and they're the sort of things that wouldn't even have been attempted with last year's personnel, rendering last year's running game woefully predictable. At the same time, any play where McGovern has to snap the ball and then explode out of his stance to meet his assignment is risky because he's had a lot of low snaps so far and these are the kind of plays where that tends to happen. With that said, he didn't have any bad snaps on Sunday, so hopefully that issue has been fixed and they can do more of these things.
As it turned out, McGovern's best work in the running game came at the point of attack where he controlled his block well on multiple runs. He also worked well in combination with his guards.
Even if the Jets organization seems like a mess and is barreling towards a coaching change, there's still a chance they could develop a solid offensive line for the new regime to use as a foundation. McGovern could yet prove to be a big part of that.
Chuma goes the dynamite
Chuma Edoga could also be a part of the offensive line development over the next few years and he's showing some positive signs in his relief work over the past few games.
All the same, he's clearly not ready to be handed a starting role quite yet. After having played well for most of the game, Edoga seemed to lose focus and allowed youngster Dennis Gardeck to embarrass him by rocking him back with a bull rush move for a sack. He also showed signs of frustration, including on one play where he appeared to kick out at an opponent.
Aside from the sack he gave up, Edoga was only beaten a couple of times off the edge, although he did also allow his man to register a coverage sack at the end of a play.
It's in the running game where Edoga was most impressive, especially in the first half. He drove Chandler Jones impressively off the line on one play, had a solid kick-out block and peeled off a combo block to pick up a man at the second level. He also showed off his athleticism as he pulled to the outside and took out a defensive back here.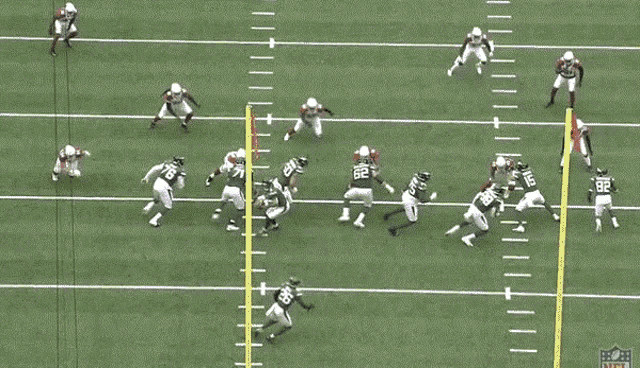 Edoga still has room to grow as a run blocker too though. His man managed to shed his block to get in on the play a couple of times.
The Jets will face a decision on Edoga down the road. Do they look to work him into a starting role for 2021? Could they try and turn him into a guard? What about George Fant, who has never played guard? The fact Edoga's been available to fill in and done quite well so far underlines the importance of having three quality tackles. If anything, Conor McDermott's struggles illustrate this even better because that's the caliber of swing tackle you'd have on the bench if they didn't have both Edoga and Fant.
Previously - Three on D: Poole, Davis, Jenkins