Three on O: Flacco, Mitchell, Wilson
After each game, we'll be highlighting three defensive and three offensive players and looking in detail at their performance. We'll start today with the defense:
Joe with the flow
While Joe Flacco ended the game with over 300 yards, four touchdowns and some end of game heroics, it's worth noting that had the Browns been able to run out the clock instead of taking a 13-point lead, he would have ended the game with just 184 yards and a key red zone turnover.
Flacco obviously made the most of this second chance, but you have to wonder how closely the coaching staff would otherwise have considered turning to Mike White against the Bengals, especially after what he did to them last season. It would also be interesting to know how he would have graded out prior to those late plays because while he ended up as the top-graded player on offense, this would have been skewed by the fact that those crunch time plays count extra.
He did make the plays though, showing the kind of veteran poise the Jets would have hoped he had the potential to provide when they acquired him. Remember the whole furore over what a waste of a draft pick he was?
It was, of course, a mixed performance from Flacco, who made a mixture of good and bad throws. The main one that counted, though, was a perfectly timed anticipatory throw and, after that, all that went before no longer matters.
A key to this performance was how the Jets were able to neutralize the Browns' pass rush as well as could be expected. Flacco himself is a part of that with the one time he was brought down for a sack being a good example of what he didn't allow to happen in the rest of the game. This was the play where Myles Garrett was completely unblocked coming off the edge and Flacco was dead to rights when he hesitated for a split second rather than get the ball out to his first read.
Having watched the film on this one, it was probably a good decision not to make that throw as the slot safety was sitting on the short route and there wasn't much of a clear throwing lane.
As a general rule, Flacco got rid of the ball much better over the rest of the game, with credit also due to the offensive line for the job they did in giving him more time than last week.
The Browns' other sack was another play where Flacco was at fault, this time allowing Jadeveon Clowney to knock the ball out of his hand in the red zone.
It's clear what happened here, as Ty Johnson is an easy outlet on 3rd-and-8 with a good chance to get a first down at the four yard line or to score because Denzel Ward, the only player with a chance to make the play, has his head turned. Flacco saw this, but just didn't have the awareness to get the ball away without exposing it to the strip.
There may only be one more game left of Flacco before the Jets turn to Wilson, but that might depend more on how Flacco performs this weekend than it does on how ready Wilson is - regardless of what the coaching staff is saying.
To the Max
Max Mitchell exceeded most people's expectations in his second game, as the Jets were able to hold the Browns' pass rushers to just two sacks and three quarterback hits. However, confidence in his abilities among the Jets' brain trust was apparently already very high.
Perhaps even more surprisingly, the Browns resorted to throwing plenty of stunts into their gameplan, seeking to confuse the Jets upfront rather than simply winning one-on-one matchups where you'd expect they had an advantage.
Mitchell handled these like a veteran for the most part, although there was one in the third quarter where Chase Winovich came up the middle unblocked for a clean hit on Flacco. That was late in the play though and Flacco was able to get the ball away for a 31-yard gain. Here's a play where the Browns lined up Clowney and Myles Garrett together on Mitchell's side, but he managed to allow Flacco to escape the pocket. (He eventually threw incomplete, although Corey Davis did have a step downfield).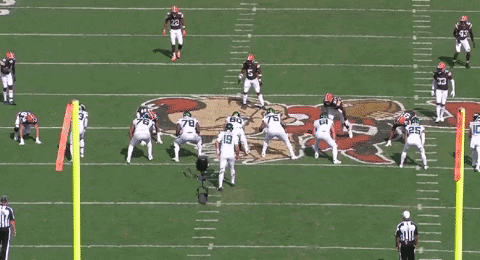 Mitchell held his ground against Garrett on the play where Flacco threw the winning touchdown pass. However, the game was almost lost on the previous play when Garrett got past Mitchell and nearly sacked Flacco. So there is still much to learn for the rookie, but this was one of the only times he was beaten all day and he did bounce back on the next snap, as noted.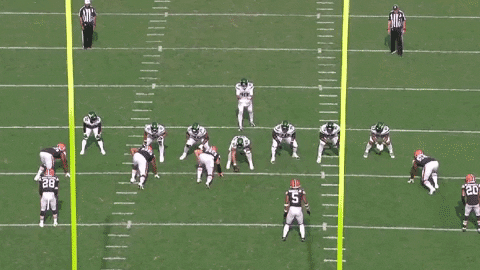 Mitchell was responsible for Clowney on the play where he got the strip sack, although most of the blame probably belongs to Flacco for that one, as discussed. He also showed terrific awareness and hustle to recover a key fumble.
Finally, in the running game, he had mixed results. On one play - a Braxton Berrios reverse - he showed tremendous athleticism to pull out in front and created room for Berrios to cut back although he ultimately didn't need to make any kind of block in space.
Mitchell will remain a starter with Duane Brown's return at least a few weeks away. How he's held up so far already has people talking about whether he could remain in the lineup then - and how he will feature into their plans for next season.
Are we BLIND?!?! Deploy the Garrettwilson!
What more can we say about Garrett Wilson's spectacular game-winning performance? He ended up with a 100-yard game and two touchdowns including the game winner.
One of the most impressive things about this display was the fact that he bounced back with two huge plays on the last drive having earlier dropped an easy catch on third down.
You've all seen the highlights but here's the good stuff: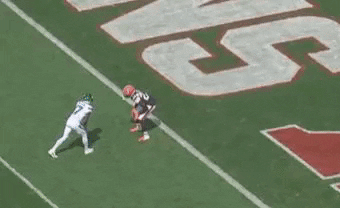 ...and when you can disguise your release this effectively coming off the line, that's why you can fire off the line in crunch time and get to the open spot as the ball is arriving.
One interesting aspect of Wilson's performance was that he lined up inside more than on the outside. He was only outside on 19 of his 43 snaps. However, he had most of his success (six catches, 83 yards, both touchdowns) when lined up outside. While three of these were still on catches over the middle, he was targeted 10 times on those 19 plays so clearly that's a tendency teams will be paying attention to.
Wilson actually had a bit of a slow start as he was stopped for a loss on an end around and failed to get deep separation on a double move.
Once he settled down, though, his full skill-set was on show and the possibilities are exciting for the Jets going forwards. Hopefully he can continue to build on this early success.
We'll be back with the 3-on-O either tomorrow or on Thursday.