Three on O: Herndon, J.Smith, Becton
After each game, we've been highlighting three defensive and three offensive players and looking in detail at their performance. We'll begin today with the offense:
Hernd Immunity
Chris Herndon's awful season continued on Sunday as he caught just one pass, which he fumbled away for a costly second half turnover.
At the halfway stage of the season, Herndon has just 101 yards on 14 catches, good for just five first downs. He had 24 first downs in his rookie year. Those numbers don't look set to rise any time soon, as he wasn't targeted at all in the previous two games and the only other target he had on Sunday was a play where Sam Darnold threw it up in a crowd and Herndon got nowhere near it with Tyrann Matheiu claiming he pushed off on the play.
There's no question Herndon has improved as a blocker since his rookie year but it's telling that, in spite of this, he's posting the worst run blocking grade of his career. Three times in the first half alone he allowed his man to get off his block to make a play, including on this one: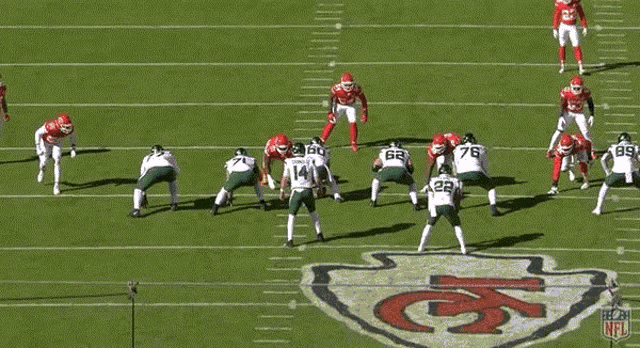 As you can see, Herndon has outside leverage on the edge defender and is tasked with sealing him to the inside, but the defender fights off his block to stay in front of the runner.
It's been clear for some time that Herndon isn't bringing anything to the table with this Jets team. Could things change if they got rid of the head coach? Perhaps. Based on his rookie year, he has a lot more talent than he's shown this season and would seem like a good candidate to reinvigorate his career with a change of scenery.
Take my Jeff away
Jeff Smith showed some great potential in his first game of the season against the Broncos but since then has been really inconsistent. On Sunday he had three catches including this first down, but it was an inconsistent performance: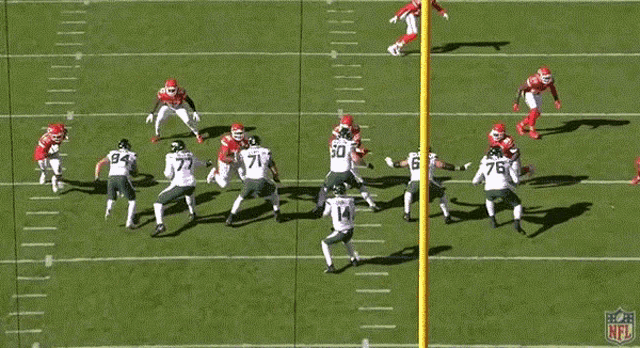 Smith was targeted eight times in total with his two other catches being shorter gains including one for a first down and one where he came up a yard short of the marker on 3rd-down after a catch underneath.
On the five unsuccessful targets there was one where he got half a step deep but the ball was overthrown. However, there was also one where he and Darnold weren't on the same page and on the others he was outmuscled at the catch-point, leading to two near-interceptions (although he did draw a somewhat generous pass interference flag on one of these).
Perhaps a bigger issue was Smith's inconsistent blocking. The Jets threw three short passes to Braxton Berrios that were blown up for no gain or a loss because Smith missed his block.
Since that Denver game, Smith has just seven catches on 26 targets. Clearly he does have some potential, but he's being exposed by being placed in a bigger role and probably has some developing to do before the Jets should feature him regularly.
Whut tha Bec?
Mekhi Becton had some impressive moments once again in this game and was excellent in pass protection. Becton got beaten around the edge for a pressure just once in this game and even on that play he was able to redirect the pass rusher upfield so Darnold was able to step up.
According to Pro Football Focus, however, he graded out very poorly against the run. This seems surprising because Becton clearly had some impact blocks, including a massive pancake on Frank Clark on the Jets' first snap and this block to enable a fourth down conversion:
It's still difficult to see how they arrived at a grade that was so low but this goes back to something we observed from his college film. When he has a positive block, driving his man off the line, he doesn't always complete the block so sometimes his man still ends up affecting the play and perhaps taking what would be a positively-graded play away from him. Similarly, on those plays where he does allow his man to make the play, this often comes after he initially slowed down or drove back that man so there was some element of positive contribution.
There were admittedly a few negative plays against the run. Clark was able to shed his block on an outside run to stuff the runner and Becton didn't get out in front of his man on a couple of reach blocks on runs that went to the right side. Still, he seemed to have more positive blocks than negative ones in the running game so a grade that low is initially a surprise.
However, the main thing which appears to affect this is that PFF seems to be accounting for screen blocking in the run blocking grade these days, which wasn't the case in the past. Clearly the Jets had a lot of unsuccessful screen plays and Becton was involved in a few of these.
On two of the tunnel screens they ran with Berrios, Becton was tasked with getting to the outside to block a defensive back and didn't get there. One of these was just bad luck, because he tripped coming out of his stance. Also, he didn't complete his block well on the screen to Herndon and his man ended up getting in on the hit that led to Herndon's fumble.
The conclusion here is that Becton's run blocking wasn't as bad as his grade would suggest. He's shown he can be an impact screen blocker but in this game the screen game wasn't working so well. He seems dedicated towards improving so hopefully he'll work at this aspect of his game.
We'll be back with the 3-on-D tomorrow...