Three on O: J.Johnson, T.Johnson, Fant
After each game, we've been highlighting three defensive and three offensive players and looking in detail at their performance. We'll begin today with the offense:
Oh my Josh
Many of you have been assuming our constant Josh Johnson praise is some type of comedy bit. And, sure, we've played it up and exaggerated it at times. However, it's been rooted in a genuine belief that Johnson had the talent to be successful at the NFL level and simply was never given a real chance to succeed at any point over the last decade.
Finally getting a shot to work with a team that is still trying to compete, has a good supporting cast (albeit with a few key players out) and an offensive system that gives him a chance to be something other than a dual-threat option, it honestly didn't surprise us that he racked up over 300 yards in three quarters.
Johnson had already proven in the past that he can make plays with his legs - although, at 35, he no longer seems to have the speed he once had. He did escape a sack and tightrope the sideline to pick up a first down conversion on 3rd-and-11 but to enjoy any success in this game, he had to show off his long-underrated arm.
Johnson completed nine passes beyond 10 yards for 146 yards and two scores and we could highlight any of those here. This throw to Denzel Mims as the offensive line keeps him completely clean is an absolute seed though.
As noted in our nuggets article, Johnson did a great job of sustaining drives, as the Jets converted seven third downs in a row and then when they finally missed one after a Mims drop on second down, they converted the fourth and long anyway.
One of these third downs showcased his accuracy on a tight window throw to Keelan Cole despite dealing with pressure in his face.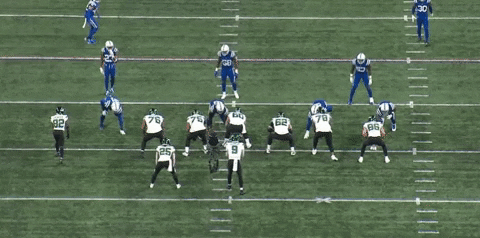 Unfortunately, Johnson has used up his two practice squad elevations for the year so he can't play again unless they sign him to the active roster, which seems unlikely with Mike White and Zach Wilson both healthy enough to practice this week and Joe Flacco also on the 53.
He should have earned the opportunity to extend his career one way or the other though. If Ryan Fitzpatrick is still in the league at 38, there's no reason why Johnson can't have a few years left, especially since he's barely played over the last decade so should have plenty of tread on the tires.
If Johnson remains on the practice squad all the way to the end of the season the Jets would be insane not to offer him a futures deal. It might not be completely crazy to add him to the 53 and move Flacco down to the practice squad before then though, or sign him to a low-level deal that runs through 2022 before the last game.
Honestly, though, if I'm a playoff team and my quarterback goes down right before the postseason, I'm claiming Johnson immediately and laughing all the way to the Super Bowl.
Feel the effects of the Ty
Ty Johnson contributed well again, as he racked up 61 yards and a touchdown on only six touches.
There's no question Johnson has some talent and he showed all of it on this play. A nice route to shake the linebacker and get open, great hands on the reaching snag, elusiveness to slip two tackles and balance to get to the goal line.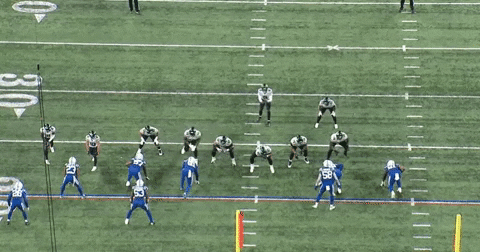 (Also, what a throw).
Johnson also followed his blockers well for an 18-yard gain on a screen pass and ran the ball productively with 21 yards on his four carries. In addition, he contributed on special teams as he played 17 snaps, was around the ball in kick coverage and made a good play to pick up a punt rusher at the last moment to allowed Thomas Morstead to get a punt off.
However, there was also evidence of the reasons why Johnson doesn't get more opportunities. First off, the only time he was asked to pass protect, he gave up a pressure. Secondly, his first half fumble was a major turning point.
Johnson lost his fumble with the Jets 14-7 down and near midfield. The Jets' next three possessions were a successful drive for a field goal, a drive where they started at their own one yard line and had to play conservative and punt the ball and a three-and-out where Ryan Griffin dropped a perfect pass at the marker, after which the Colts went 42-10 ahead on the next play so the Jets barely had a chance to stop the bleeding.
It's a tough situation because Johnson does enough good that you want to get him on the field. However, he can't afford these costly mistakes if the Jets are going to remain in games.
George Gloomy
Thursday night's game was a miserable one for everyone but left tackle George Fant didn't fare too badly. Once again, Fant didn't give up a sack or knockdown as he continues his solid play since moving to left tackle.
This was basically as close at he got to giving up a sack all day as the edge rusher did a good job of getting his hands off and then leveraging around the outside. However, even on this play, he kept working to force him to go the long way around and gave Johnson adequate time to complete the throw.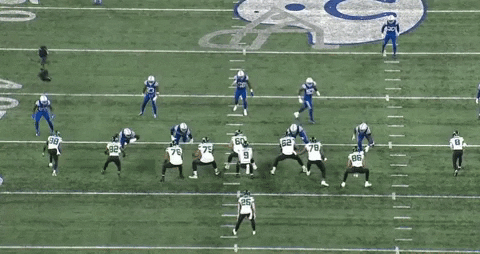 (And what a throw it was).
For the year as a whole, Fant still hasn't given up a sack and has surrendered just two quarterback hits. If the Jets were a good team, numbers like that might have him in the conversation for a pro bowl berth. By comparison, Morgan Moses has given up two sacks, seven hits and over twice as much pressure.
Fant wasn't particularly effective in the running game but did have a couple of key blocks on good runs, one setting the edge and another blocking downhill.
Mekhi Becton is still apparently a few weeks away from being ready to play again, but Fant continues to hold the fort in adequate fashion and deserves to remain as a starter (presumably moving back to the right) when Becton returns.
We'll be back with the 3-on-D tomorrow...