Three on O: McGovern, Davis, Johnson
After each game, we've been highlighting three defensive and three offensive players and looking in detail at their performance. We'll begin today with the offense:
Connor Huge
Center Connor McGovern unwittingly exposed himself to additional scrutiny this week, falling victim to the Mandela effect when he responded to a fan's message on social media. The message implied McGovern was at fault as a blocker came unblocked up the middle, but McGovern's response was to shut the fan down by explaining to the fan that on the play in question his assignment required him to slide to the right and he was just doing his job. He also expressed frustration at receiving criticism from people who don't know what they're talking about.
Film breakdown is something we've been doing for a long time and we've always tried to avoid the perils of single-gif scouting, reading too much into a still image or attributing blame when a player's assignment is uncertain.
Unfortunately, the response was predictable. Although what McGovern's reply said was undoubtedly correct, it merely invited more people to come at him and question his overall play with some fans describing his performance as "terrible" and "putrid".
This wasn't accurate, although it could be said that one of the main differences between last week's running game success was that McGovern had a terrific game last week but was more inconsistent this week.
He only gave up one pressure in pass protection, though. While there was plenty of pressure up the middle, this came primarily from guards or running backs failing to pick up stunts or blitzers. Through three games, McGovern - who gave up over two pressures per game last year - has only given up four total pressures.
He did have a few good run blocks, including one at the second level, one where he drove his man off the line and one where he sealed his man off at the point of attack. However, he also had a few negatives, including on this play.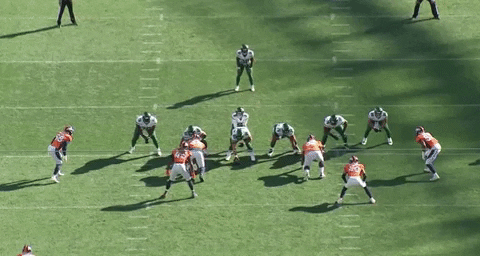 This kind of play highlights how McGovern is often asked to make blocks other centers might not even be asked to attempt. He's required to reach the outside shoulder of the defensive tackle who is head up on the right guard.
In an ideal world, Greg Van Roten would make a better contact before peeling off to give McGovern a better chance to make the reach block. Once the defensive player gets upfield momentum, McGovern's only chance to salvage the play would be to drive the defensive player downhill and give Ace Carter a chance to cut back. However, the defender's momentum is too great and he makes a great play.
If you can picture what Carter would've been facing if McGovern could have got to the outside shoulder and allowed him to get outside (something he is capable of doing), you can see that this would have had a chance to pop.
Of course, anyone who skim-reads this section will probably view this one gif as evidence of McGovern's "putrid" play. There's not much we can do about this.
While we might not know McGovern's assignment on any given play, we do know the Jets' fanbase and the best advice we can give McGovern is to tune out criticism such as this and keep doing what he's been doing. Hopefully the line's performance as a unit will come together in time, but he's not to blame.
Corey Blimey Guvnah!
Even before the season started, one major concern with Zach Wilson was that he'd try to force the ball to Corey Davis too much and begin to stare him down. In the middle of camp, Wilson had a couple of days where he really started to find some chemistry with Davis and connected with him repeatedly, then Elijah Moore got injured and Davis was getting even more looks. We even heard that players on the team noted that Wilson was constantly talking about his connection with Davis and different routes they could have success with during the season.
Over the past two weeks, Davis' production has been disappointing but Wilson has still been looking for him a lot. On Sunday, he had just 42 yards on 10 targets. At this stage, they might be seeing some diminishing returns.
Davis contributed three first downs, although one of these was in the last minute. One was a short pass on 3rd-and-1.
The first play of the game, no doubt a scripted and well-practiced play, was a timing route just beyond the sticks, which Davis caught with the defender right on his back. This was just about on time from Wilson (maybe half a beat late), but most of these timing routes were unsuccessful because Wilson was too late with the play below perhaps being the most egregious.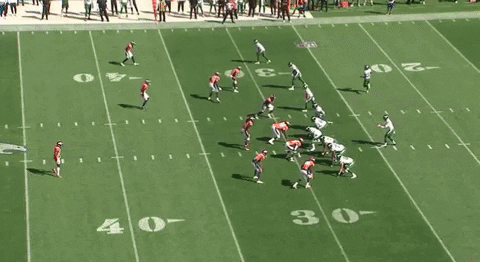 On this play, Davis runs a timing route but Wilson sees it too late so it's not open, but then after scanning the field, he runs out of ideas and tries to force it to Davis anyway.
While Wilson is just hoping Davis can box out the defender and throws it wide where only he can get it, which isn't a terrible idea if you don't have any better options, this is obviously a low percentage throw against a quality defender like Bryce Callahan.
We're not here to review Wilson though and this wasn't the only play where Davis got his hands to the ball but couldn't make the catch. One play where Wilson extended the play and rolled out to throw downfield Callahan broke it up at the catchpoint wasn't really Davis' fault but he should have snagged another pass over the middle even though Wilson threw it behind him.
The whole offense isn't really in sync at the moment but the Jets need Davis to be reliable and consistent so he can elevate this unit to the point where Wilson can gain some rhythm and confidence. That means he'll need to go above and beyond to make a play to bail Wilson out sometimes and he's not really done that in these last two games.
Ty doesn't go to the runner
Ty Johnson only got to carry the ball three times this week and one of these was a 3rd-and-16 draw play where he got an easy 13 against a soft front. The other two were both short gains.
However, he was still on the field for 31 snaps and his contributions to the passing game shed light onto why he hasn't received more playing time and touches so far.
Johnson had two costly plays, once where he whiffed on a blitz pickup and another where he allowed a fourth down pass to go through his hands. On the sack, he identified the assignment well and set up in front of the blitzer but failed to engage him cleanly.
He made a great effort to fight to get to the marker for the first down on this 3rd-and-5 though.
To his credit, Johnson had several other plays where he picked up the blitz correctly whereas Carter only stayed in to block twice and both ended up as sacks. So, he's ahead of Carter in that aspect, at least.
You can probably expect Tevin Coleman to get more reps going forward unless Johnson can be more consistent in the passing game or Carter can develop in that area. The coaching staff should trust the veteran Coleman more in that role - even if he's less dynamic as a runner at this stage of his career.
We'll be back with the 3-on-D tomorrow...