Three on O: McGovern, Kroft, Moore
After each game, we've been highlighting three defensive and three offensive players and looking in detail at their performance. We'll begin today with the offense:
Has McGovern turned the Connor?
Connor McGovern was an offensive standout on Sunday, as he was the key to multiple good runs in a ground game that racked up over 150 yards.
McGovern had four plays where he peeled off to the second level effectively and another four where he controlled his man at the point of attack. Here's an example of the latter: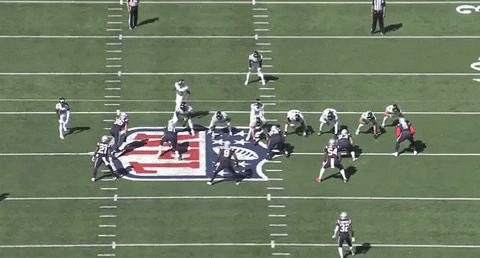 McGovern also did a good job of limiting his mistakes and recovering when he was half-beaten. There were only a couple of instances where his man beat or shed his block to make a play.
In pass protection, McGovern didn't give up any pressure. Although his man sacked Zach Wilson on one play, that came after McGovern had controlled his rush well but Wilson held the ball for too long, so it goes down as a coverage sack.
As noted when Mekhi Becton was injured, this current unit actually practiced together during camp whereas the starters never got a chance to so they should have better chemistry in the short term. This game already showed signs of that and also demonstrated how effective McGovern can be when he's not putting out fires instead of concentrating on what he does well.
Tylering the offense to personnel
One interesting wrinkle this week was that fullback Trevon Wesco only played two snaps and Tyler Kroft and Ryan Griffin each got significantly more reps than they did last week.
However, it wasn't so simple as to say that Kroft replaced Wesco at fullback because he actually only played one snap there. He did, however, line up in the backfield initially a few times before motioning to tight end.
On one such play, he was then set in motion again at the snap and came across the formation for this block to help spring Ace Carter for a nice gain: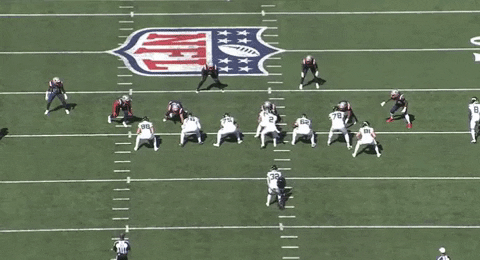 Essentially the Jets just opted not to use the fullback position this week. New England has a big front seven so running behind a fullback clearly wasn't in their plans and misdirection and stretch runs that would spread out the front seven to enable the Jets to divide and conquer obviously were.
Although the running gameplan seemed to work well, Kroft's overall performance was spotty. He started quite well but whiffed badly on a pulling block in the second quarter and then failed to complete another block at the second level. In the second half, he got beaten for a pressure around the edge and later allowed his man to penetrate the pocket to flush Wilson out.
As a pass catcher, Kroft only had one catch, an eight-yarder underneath. On his only other target he made an attempt to making a diving catch on a wide throw but couldn't come up with it.
Kroft's impact so far has been minimal. He's a capable blocker but has so far lacked consistency in that area. He should be a useful safety valve for Wilson in the weeks ahead as the rookie will hopefully transition to checking down more and the coaches will dial up some simple dump-offs to get him into a rhythm.
That's Moore like it!
After a disappointing first game, Elijah Moore was much more productive on Sunday as he caught four passes for 49 yards and had another 10 yard catch negated by a penalty. That's still only a modest statistical contribution, but it's a step in the right direction.
Even so, there were a few aspects of Moore's performance that suggest he and Wilson are not quite on the same page yet - despite having seemingly developed good chemistry in camp.
Moore's first catch went for 27 yards on a blown coverage that might have been a touchdown or at least should've gone for 10-15 more yards but Wilson's throw led Moore over to the sideline and he couldn't stay inbounds.
After that, his other four catches all came up just short of the first down marker, presumably indicating that either Moore wasn't getting adequate depth on his routes or, perhaps more likely, Wilson's timing was slightly off.
Moore was also the apparent target on Wilson's last two interceptions and it's conceivable he may have ran an imprecise route or misread the coverage on the third one. However, Wilson's third interception may actually have been intended for Corey Davis, as the veteran appeared to stumble coming out of his break.
This is probably Moore's best play as a Jet so far. He runs an excellent route to get separation and then, on another day, he perhaps breaks away from the tackler for a first down and maybe more. On this occasion, the pass was perfectly well-timed but perhaps a half-beat too late and a little low.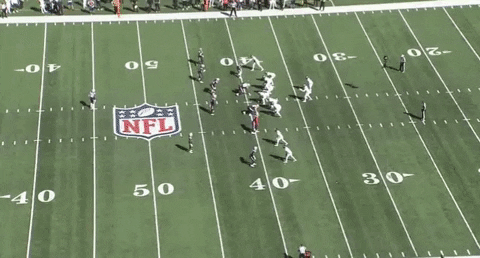 As a blocker, Moore failed to sustain his block on a screen pass during the fourth quarter. That's an area where the Jets receivers have been disappointing so far.
One underrated factor of Moore's development is that, in jumping to the NFL level, he's been mostly matched up with the Jets' cornerbacks in camp. While they've held up surprisingly well so far, they've been developing too, so he may have been taking advantage of them earlier on in camp before they really started to figure it out - or did the damage against players who failed to win the starting role. Hopefully, he'll start figuring out ways to beat the corners he's facing for the first time from other teams.
So far, Moore's contributions have been underwhelming with just one first down in two games. However, he's had a few near misses and will be determined to contribute more in the games ahead.
We'll be back with the 3-on-D tomorrow...