Three on O: McGovern, Tomlinson, Davis
After each game, we'll be highlighting three defensive and three offensive players and looking in detail at their performance. We'll start today with the offense:
Goner McGovern?
It may be an overreaction to a rough day against one of the best defensive fronts they'll face all season, but the struggles on the offensive line in Sunday's game intensified the calls for changes to be made on the offensive line.
Could Joe Tippmann soon replace Connor McGovern, who had a tough time in Sunday's game - or would making a change at this stage of the season, especially to someone with less experience, be a miscalculation that sets back the chemistry on the line?
Clearly the Jets had hardly any success in the running game, with an important play seeing them fail to convert a quarterback sneak behind McGovern on third and short. However, it was McGovern's struggles in pass protection which were more alarming.
McGovern was unable to pick up Micah Parsons when he stunted inside for an opening drive sack. He had maintained the leverage to come off his man, but that player reached across and hauled him out of the way. Defensive holding? Yes, but you never get that call unless you're Nathan Shepherd.
It's always difficult to know whether any of the confusion up front in terms of picking up stunts and blitzers is down to the quarterback or the center, but there was one such play where this was glaring. Demarcus Lawrence lined up inside and McGovern looked to help to his right while Laken Tomlinson blocked the guy to his left. They both realized a half-beat too late and Lawrence split them to force Zach Wilson to get rid of it, which he did to Dalvin Cook for a short completion.
McGovern's man got pressure on Wilson a few times despite McGovern staying in front due to Wilson being forced to step up to avoid pressure off the edge. However, there was one play where McGovern was bull rushed backwards into Wilson's lap by a stunting end (although he did at least re-anchor to allow him to escape and run for positive yards). The most costly play saw him beaten cleanly though: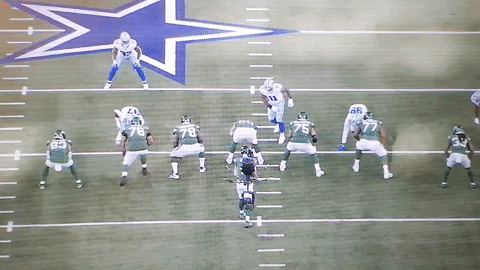 As you can see, Parsons directly attacks McGovern and is past him almost before Wilson even receives the snap. This led to Mekhi Becton's hold on the outside and Wilson's first interception on a frankly horrible decision.
McGovern had his hands full all day and even did well at times, but had a handful of negative plays with the last one in particular proving costly. Tippmann is going to replace him eventually and hopefully prove to be an upgrade. However, the team may be reluctant to accelerate that process too fast otherwise things might get even worse up front. Watch this space though.
Haters gonna says it's Lake
It's almost a default reaction these days to assume that Laken Tomlinson is the main problem with the offensive line with some even calling for Tippmann to replace him in the line-up instead.
On Sunday, though, Tomlinson really wasn't the issue. He only gave up a couple of pressures, one of which was the protection screw-up mentioned above, and while the running game was a big failure, Tomlinson wasn't the man to blame on nearly all of the runs that failed.
In addition, when they had successes he was making some positive contributions. He blocked his man to the ground to create a lane for Ace Carter to pick up six yards and looked really good firing off the line, picking up a second level block and controlling his man to seal him off in space here.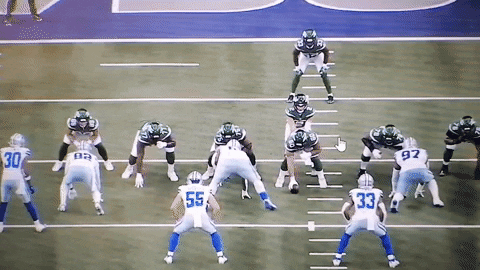 In fact, that's a play where virtually everyone does a good job with the exception of Duane Brown, whose inability to slow his man down prevents Cook from accelerating into space and perhaps breaking a longer gain.
Even on runs that failed there were a few where Tomlinson won his matchup only to see someone else fail to make their block to doom the play. This explains why he graded out well despite the overall failure of the running game.
He even had one standout play in pass protection where he picked up a Dorance Armstrong inside rush and buried him by putting him on his back.
The results haven't been good and Tomlinson has been an obvious disappointment based on the contract the Jets gave him but it would be unfair to bench him based on the footage from this game because he actually looked pretty good compared to everyone else. Again, watch this space though...
Crashtyn through
With the offense running so few plays and none of their skill position players touching the ball enough to warrant further investigation, let's instead pivot to take a look at Ashtyn Davis, whose four yard gain on a fake punt arguably was one of the best offensive contributions anyone made all day.
This is the second time the Jets have successfully run this play in Davis' career and a ballsy call to make on the edge of your own red zone.
Davis has played some running back in high school and has experience as a kick returner, so he's comfortable with the ball in his hands and he took the snap here to plow up the middle for a first down.
What's more interesting to analyze about this play is how well-executed it was by the Jets. Davis was able to pick up the yard he needed easily as everyone up front carried out their assignments and got a good surge going forwards.
In particular, the interior threesome of Thomas Hennessy, Chazz Surratt and Jamien Sherwood all get their man moving backwards at the snap. Nick Bawden, at right tackle, and Jeremy Rucker on his outside shoulder also each just about get enough of their man to prevent them from blowing up the play.
While Davis' future may not be as a running back - although his measurables would make him an intriguing option to convert - the Jets will hope for more good execution like this on special teams over the course of the season. If only they could also see the same thing on offense...
Three-on-D will follow tomorrow.