Three on O: Moore, Yeboah, Feeney
After each game, we've been highlighting three defensive and three offensive players and looking in detail at their performance. We'll begin today with the offense:
With a Rebel Yell: Moore Moore Moore
With Corey Davis out for the season, Elijah Moore is now officially the Jets' number one receiver. However, he arguably already was. In the last five games, Moore led the Jets in receiving yards in three and in catches in one of the other two. He already leads the team in catches, yards and touchdown catches.
On Sunday, he was targeted a career-high 12 times, so he's definitely become Zach Wilson's favorite target since his return.
Moore ended up with six catches for 77 yards and a touchdown but this game will probably go down as one where he could have had an even bigger day.
Let's focus first on the plays he did make. Moore's first catch was the opening touchdown which saw him burst off the line to get enough separation to give Wilson a window for a sharp, accurate, on-time throw that was encouraging to see.
His next two catches were short passes for seven and five yards. One came on a swing pass to the outside. As this was released, it looked like it might be too far out in front of Moore but he snagged it nicely moving at speed.
The longest play of the game was a 29-yarder down the seam. Moore had to reach up and snag the throw but was still able to turn it upfield for a few extra yards.
At this stage, Moore had four catches on four targets, but after this, caught just two of his last eight targets.
Here was his fifth catch, showing quickness out of his break to gain some separation and showing bravery over the middle for the leaping catch.
Moore's final catch saw him run a stop route to find some open space underneath for 15.
Now, onto those plays which Moore didn't or couldn't make. The first of these was another potential short touchdown as he was wide open at the back of the end zone but Wilson threw wide of Moore, who got his hands to it but couldn't haul it in with the sun in his eyes.
Moore also got his hands to the ball on this play that was shared by DJ Bien-Aime on twitter, but the route running was superb.
Elijah Moore with a master class in route running.

Sessions begin at 1 pm on Sundays. pic.twitter.com/1LtFnGbLrB

— DJ Bien-Aime (@Djbienaime) December 7, 2021
Whether you could class either of those as a drop is debatable because neither was an easy chance as full stretch.
There were two deep throws that were incomplete in the fourth quarter. One was broken up superbly by Darius Slay as Moore again got his hands to the ball, but Slay chopped it away before he could secure it. Another should have been pass interference as Slay grabbed him at the top of the route. He also got his hands on another deep heave with under a minute to go, but this was another diving attempt.
All-in-all, a solid day from Moore but it wasn't far away from being a spectacular one. Hopefully there are more such games to come from Moore, who could make a run at a thousand-yard season if he keeps playing like this.
Kenny Happy Returns
Kenny Yeboah had a monster game against the Eagles in preseason, but that was obviously against third stringers. He probably wasn't a part of the gameplan on Sunday but an injury to Ryan Griffin gave him a chance to play 14 offensive snaps in the fourth quarter; his first offensive snaps in regular season action. So, how did he fare?
Primarily, he was used as a decoy in the passing game, lining up in the backfield a few times to run routes into the flat while also getting reps at tight end and in the slot.
The Jets did look to get him involved a couple of times. On his first snap, the Jets tried to set up a screen pass to him. Unfortunately, the Eagles weren't fooled and a defensive player stayed home to force Wilson to dirt the pass.
Later on, Wilson almost hit Yeboah on this throw, which went down as a drop but was a difficult play on a low Wilson throw.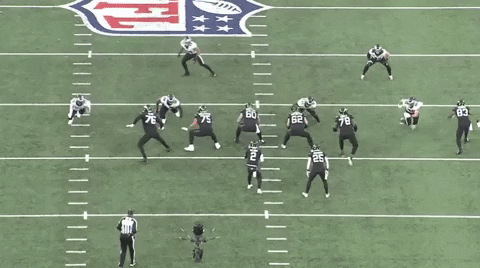 As a blocker, Yeboah didn't get a chance to do anything in the running game really. However, he did a solid job in pass protection on the play shown above where Moore got open but couldn't make the diving catch.
It's also worth mentioning Yeboah's contributions on special teams. He was credited with a tackle in punt coverage and made a good block on two of Braxton Berrios' kickoff returns, including on the long runback where he ran right across the field to make his block.
Griffin returned to the lineup after leaving with the injury so he'll presumably be fine to play on Sunday, relegating Yeboah back to the bench. However, the Jets did continue to give him some reps down the stretch so perhaps they will give him a few more opportunities.
Feen Machine
We got an extended look at Dan Feeney in preseason because Alijah Vera-Tucker was injured, but Vera-Tucker has been a mainstay since the season began so Feeney hasn't had many chances to play.
In recent weeks, they've been using him here and there as an extra lineman in jumbo packages and, on Sunday, he got his first start of the season in this role as he was on the field for the opening snap.
Feeney only played five snaps, although that was the most action he's seen all year as he only had six snaps total entering the game.
Although this is a small sample size, it's interesting to review what they did within the context of whether they should do more of it. With recent injuries at the tight end position, it perhaps makes sense to explore this as an option. It also might have been something they had in the works all along because George Fant has excelled in this role in the past, but Mekhi Becton's absence has scuppered that.
Feeney really struggled in preseason and, although he at least has plenty of experience, he would probably be a weak link if used in a full time role, as was the case throughout preseason. However, he does have athletic ability and the Jets could dial up some plays like this where his skill-set is useful: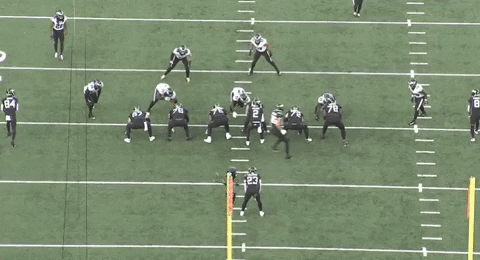 There was one other play where Feeney was in the game and the Jets got a big play with Feeney staying in to pass block on Moore's 29-yard grab down the seam.
Otherwise, the Jets only gained four yards on the other three snaps with Feeney in the game. There were two short runs and an incompletion to Davis.
That play was the first play of the fourth quarter where Davis was injured and perhaps would have made the play had he not been. Feeney actually lined up out wide on that play, then motioned into the slot. He pass blocked - from a receiver stance - but this was a roll-out in the other direction with a sail concept, so he didn't have to sustain a block for very long.
Six man lines remain something the Jets could opt to do more with over the remainder of next year and into next season. It's one of the advantages of having a blocking scheme where everyone needs to be athletic to fit the system and the Jets might as well get some use out of Feeney, whose cap number is over $4 million.
We'll be back with the 3-on-D tomorrow...