Three on O: Perine, Mims, Andrews
After each game, we've been highlighting three defensive and three offensive players and looking in detail at their performance. We'll conclude today with the offense:
Perine and Dandy
La'Mical Perine's workload continues to be increased and he had a couple of flashes this week, highlighted by a 20-yard burst over the left side and his first NFL touchdown.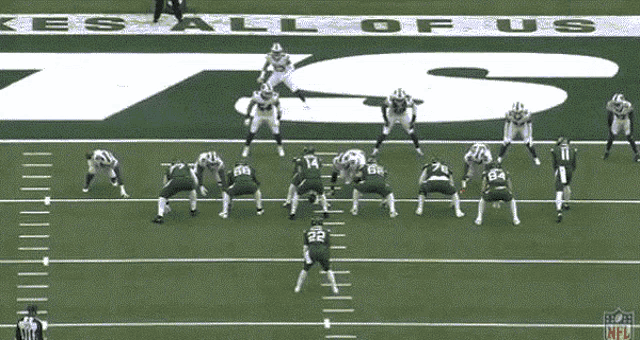 Unfortunately, he was largely ineffective other than on these plays. His other nine carries netted just 14 yards, although four of those were short yardage conversions to move the sticks. He was stuffed for no gain on fourth down in the red zone, though.
Perine also had a first down catch which saw him break to the outside and one other catch underneath. However, he had a few mistakes in the passing game which explain why he's perhaps not yet ready for a full-time role.
One came on a pass over the middle that was too hot to handle. Perine tipped the ball into the air and it was almost intercepted. He also had struggles in pass protection, surrendering two sacks. He did pick up the blitz on one early Sam Darnold completion but even on that play he wasn't able to prevent the blitzer from blowing him up to generate pressure.
With Frank Gore racking up 60 rushing yards on 11 carries and obviously being more experienced in pass protection, it's probably fair to say the Jets offense wouldn't have struggled as badly after half time if Gore had played more.
It makes sense for Perine to be thrown into the fire so he can develop, but at the same time the Jets need to put Darnold into a position where he can enjoy success and regain his confidence. Still, at least Perine did have some positive things on which to build.
Buy or 'Zel?
Denzel Mims' long-awaited debut was a success on the whole, although he was shut out in the second half following a first half that saw him catch four passes for 42 yards.
Mims caught two downfield passes for first downs, one on a crossing route and the other on an out-breaking route and also caught a pass underneath where he was able to dive to within a yard of the first down marker. It's good to see him get a step on those downfield passes because he wasn't a player who got a lot of separation at the college level.
However, what was most interesting about Mims' performance was how physical he was.
Initially, there were a few moments that perhaps gave cause for concern. On 3rd-and-4 in the red zone, Mims was wide open underneath but Darnold saw him late and by the time he threw him the ball, a defensive back was able to come up and break it up. He could have done a better job of boxing out the defender on that play, although really Darnold should've got the ball to him sooner.
In addition, he was also out-physicalled at the catch-point on a fade route in the end zone and got absolutely lit up when he lined up in the slot on this play: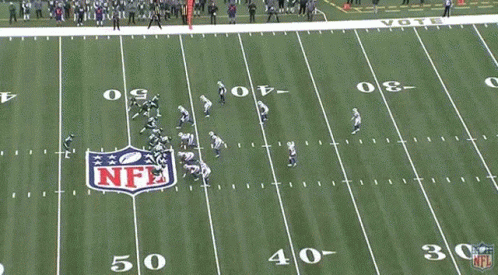 Over the course of the game, though, he showed some signs that he was starting to adjust to the more physical nature of the NFL game, particularly as a blocker. He had a good downfield block on Perine's longest run, crashed down on a lineman to set the edge on an outside pitch and dominated Tre' White on Perine's touchdown run as you can see in the earlier gif.
Hopefully Mims will continue to get regular opportunities and can contribute on a regular basis over the remainder of the season.
Lost in the Josh
With Alex Lewis out, Josh Andrews finally earned his first NFL start. Initially, Andrews did a really good job in the running game, but over the course of the game he was exploited regularly in pass protection.
As we've seen a lot in the Adam Gase era, the Jets looked really good at the start of the game but struggled badly later on once they got through the scripted part of their gameplan. Despite Gase having ceded playcalling duties, that's what happened on Sunday and Andrews in particular was affected by that.
On the first drive, there wasn't a single negative play for anyone until the Jets got deep into Buffalo territory only for Darnold to then be sacked. On the play, Andrews' assignment was to pull to the right and pick up the edge rusher on the opposite side of the formation. However, he didn't get across in time and Mekhi Becton allowed another lineman to shoot the gap in between them to compound matters.
That's a tough assignment for Andrews, but he does have the athleticism to make that kind of play as he showed on a few run blocks where he got out to the second level. He also had some good blocks at the point of attack, though.
In pass protection, Andrews gave up several pressures, including a couple of sacks. These included a couple of bull rushes that led to him being pushed back into the quarterback's lap and this play where Ed Oliver did a good job of getting his hands off him and the got past him with an arm over move to pressure a quick throw.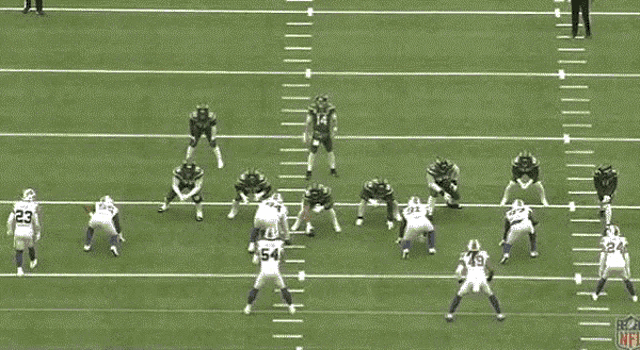 Andrews didn't have many negative plays in the running game, although he did allow penetration a couple of times.
On the whole, Andrews is a valuable reserve who is capable of filling a number of roles and, as such, you can see why the Jets signed him. However, when thrust into a starting role he's likely to be a downgrade.
If either of the guards miss any time from now on, the Jets might soon be ready to give rookie Cameron Clark his shot and allow Andrews to go back to focusing on being the backup center.
Previously - Three on D: McDougald, Anderson, Austin