Three on O: Ruckert, Uzomah, Cobb
After each game, we'll be highlighting three defensive and three offensive players and looking in detail at their performance. We'll wrap up today with the offense:
Ruck my balls
The Jets followed through on their promise to have Jeremy Ruckert on the field more, as he had as many snaps in the Chiefs game as he did in the first three games combined (25).
The general change to the rotation was that Ruckert was in with Tyler Conklin on two tight end sets instead of CJ Uzomah and it paid dividends when he had this great catch to set up a touchdown.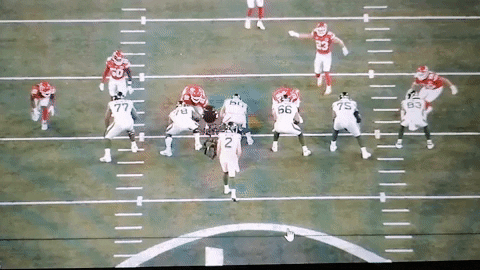 Aside from this play, Ruckert only had one catch, in the flat for a three-yard gain.
His blocking was a mixed bag but he got out in space well to make a block on Xavier Gipson's end around and on Breece Hall's 43-yard run (although Alijah Vera-Tucker stole the show on that one by driving his man 20 yards downfield).
Ruckert's worst mistake saw him allow penetration which led to a Hall run being stuffed in the backfield but he does show some promise at blocking on the move even if he's not quite there in terms of his trench work yet.
Getting Ruckert involved is not just important in terms of what he can provide this season, but also because the Jets would ideally like him to be a viable starter next year while he still has two years left on his rookie deal. That possibility seems feasible based on what Ruckert has shown so far, but hopefully he builds on what we've seen so far.
Uze me less?
Ruckert's increased playing time meant that he saw more snaps than Uzomah for the first time in a game where they've both played. Uzomah played in three tight end sets and a few run packages where he was the sole tight end. Conklin saw a lot of action in the two minute offense, which operated with Ace Carter in the backfield and Conklin as the only tight end.
It wasn't just a snap reduction from Uzomah, but also a change in role. Whereas he typically mostly sees action as a blocker, he ran more routes this week. In the first three games, he was employed as a run blocker 56 percent of the time, but on Sunday it was just five times on 21 snaps.
In those five times, the Jets got good results, though. He made a key block on the first four which all gained at least four yards, and 24 overall, an average of six per carry. He was more of a decoy on the other run snap which was a one yard run.
On Hall's 11-yard run, he sealed his man off cleanly on the backside. There was also a four yard gain as he made a cut block on his man on the edge and another as the back ran behind his trap block. On this play, he single blocked a defensive end, moving him off the line to create a seam for positive yardage.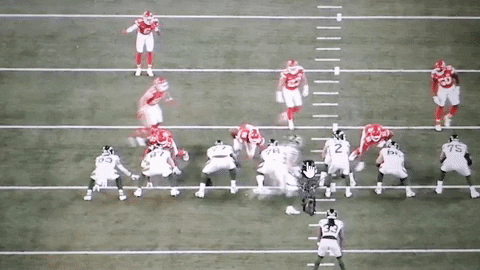 Could the fact that Uzomah was used less in this role actually make him more of a weapon on such plays? Or was it actually a sign that this was a mistake because the best blocker of the three tight ends saw the fewest run blocking opportunities against a team that was ripe to be exploited up front?
In the passing game, Uzomah was again used slightly differently. He stayed in to block four times but on the rest of his passing down snaps, he ran a lot of downfield routes. While this was useful in clearing out or acting as a decoy, it looked like he could have had a chance to make a play on a few of these if Zach Wilson had looked his way. That could be something to look for in the games ahead.
He also looked to be wide open underneath on the play where Wilson found Ruckert in the flat for a short gain.
Uzomah was thrown to twice - once on his leaping touchdown catch from the goal line. His other catch was negated by a Connor McGovern penalty after going for 15 on the tight end screen. That proved to be a real momentum killer.
The Jets have three versatile tight ends with slightly different strengths and weaknesses. Hopefully over the rest of the season they can figure out how to optimize the production from this group rather than the parts of their skillsets which overlap creating redundancy as tended to be the case last year.
A Cobb in the Wheel
When the Jets signed Randall Cobb, and arguably even moreso after the emergence of Jason Brownlee and Gipson in camp, it looked like the veteran might not have much of a role. With Gipson starting to see some involvement now, we could see Cobb's role reduce but he did play over 20 snaps for the fourth straight game, even though his snap count halved from 46 to 23 since the New England game.
He's exploited the fact that Mecole Hardman essentially hasn't played at all, which has been surprising. Hardman, who scored 18 touchdowns in four years with the Chiefs, was expected to expand his role, not see it vanish. Cobb was perhaps expected to have some kind of a role as he's a trusted target of Aaron Rodgers, but he still has a significant role even with Rodgers out. For now, at least.
Cobb hasn't exactly lit up the stat sheet, with 20 yards on eight targets so far, but has made a couple of veteran plays. The best of these on Sunday saw him made a catch near the sideline on 3rd-and-5 and stretch the ball out past the marker as he went out of bounds.
His three other targets on Sunday were a three yard catch, a wide incompletion and a pass into traffic that was batted high into the air and easily could have been intercepted.
Cobb is trusted as a blocker, too, but his results in that role have been poor. He had one play where he was blocking on the outside but allowed his man to drive him back into the path of the ball carrier. Also, on this play, it could have been a first down if he hadn't failed to sustain his block.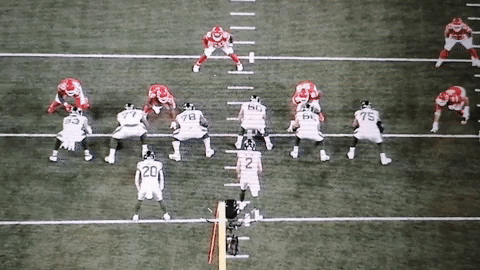 If Rodgers is back next year, then perhaps Cobb will be too. He's hardly a dynamic presence these days but if Rodgers decides Cobb's veteran experience makes him worthy of a place on the team again next year, then it would be premature for the coaching staff to start phasing him out already.
Previously: Three on D: Whitehead, Clemons, Quincy Williams