Three on O: Schweitzer, Mitchell, G. Wilson
After each game, we'll be highlighting three defensive and three offensive players and looking in detail at their performance. We'll wrap up today with the defense:
Wes the party at?
After an early injury to rookie Joe Tippmann, veteran Wes Schweitzer was called into action and played most of the game at right guard. Although he was a mixed bag in his first offensive snaps as a Jet, the line continued to function reasonably well with him in there.
Schweitzer had a red zone penalty when he got bull rushed over and dragged his man down with him to draw a holding flag. The same thing happened to him two other times - once while he was blocking on a field goal and once on a play where Brandon Graham stunted inside and recorded a half-sack. That's the main thing he needs to improve upon going forwards.
There was also a play where Fletcher Cox used his quickness to get upfield on Schweitzer who managed to prevent him from getting to the quarterback, but it flushed him from the pocket and he was stopped just short of the line for another sack.
While Schweitzer perhaps only stood out for negative reasons if you were watching the broadcast, he also had some positive moments. He set up two short yardage conversions with excellent run blocks and showcased his instincts in pass protection on this play: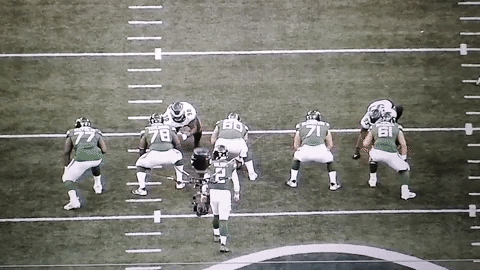 As was the situation when he was first signed, people are sleeping on Schweitzer a little. He's a player who has plenty of starting experience and has consistently graded out as an average or above-average player.
The Jets' depth at guard will be compromised if, as rumored, Tippmann will miss multiple games with his injury. However, the Jets won't be desperate to trade for or bring in another potential starter at this stage. Let's not forget, Schweitzer probably would have started the past few games at right guard had he not suffered a concussion and Tippmann only held onto the job because he did better than anticipated.
With that said, Schweitzer did have some negatives in this game. Hopefully he can play with more consistency with a full week to prepare alongside the rest of the current starting unit.
Papering over the Max
Speaking of that starting unit, the question becomes whether Max Mitchell will remain at right tackle for the Giants game and, beyond that, going forwards - especially if Duane Brown comes off injured reserve.
Mitchell had Jets fans rolling their eyes when he gave up a key sack by letting Haason Reddick rip around the outside with less than six minutes to go. However, until that play, he'd actually done a solid job of staying in front of his man in pass protection, allowing just one other pressure.
He was also solid as a run blocker, showing some good strength at the point of attack all day. He worked well with Tippmann on this play to get Cox turned around and set up a first down run for Dalvin Cook: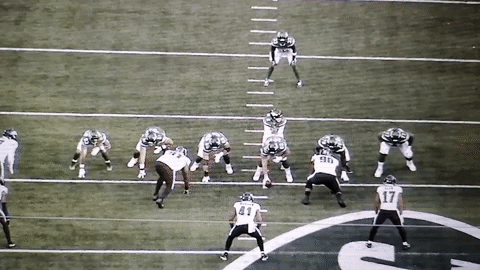 Mitchell has probably played well enough to retain the starting right tackle role from Billy Turner for now - and Turner could be called upon as depth at the guard position while Tippmann is out. However, if Brown returns, either Mekhi Becton or maybe even Brown himself could take over that job on the right side.
Looking further ahead, Mitchell is a player the Jets like as a potential future starter. Do they like him enough to not draft another tackle high up next year or to affect how strongly they prioritize bringing Becton back? Possibly not - and he might not get many more chances to prove his worth if the Jets can get healthy at the tackle positions.
24-Garrett Gold
The Jets threw to Garrett Wilson 14 times on Sunday, leaning on him heavily to keep the offense moving and Zach Wilson in rhythm.
Wilson ended up with eight catches for 90 yards, which accounted for 48 percent of Zach Wilson's passing yardage. For the year, he's at 34 percent. To give some context to those numbers, Tyreek Hill - the NFL's receiving yardage leader - has 42 percent of Miami's total passing yards.
It's notable to point out what happened on the six times that Wilson was targeted but didn't make a catch. One was a 25-yard gain, wiped out by Allen Lazard's penalty, and one was a pass interference penalty for a 15-yard gain. Of the other four, three were broken up by defensive players.
That could be a cause for concern that risky passes are being thrown but hopefully it's more a sign that of how the trust is developing between quarterback and receiver so that passes will now be thrown into coverage giving the receiver a chance to make a play without fearing a turnover (despite the fact there actually was a turnover on such a play in the Denver game).
Among his eight catches, Wilson had a first down on a slant route and a couple of nice leaping catches:
It's those other shorter catches that arguably add true value for a guy like Wilson who has struggled to find his rhythm in the past though. Wilson had three five-yard gains underneath, a seven-yarder for another first down and a nine-yarder where he scooped a low pass off the turf.
Wilson continues to show development and a great attitude and if he wasn't banged up a few times and had a bit more luck with the penalties, he might have had an even more productive day than he did. Even while the Jets' passing game has been far less dominant than expected, though, it's impressive to note that Wilson is still on course for 1,045 receiving yards this season, as things stand.
Previously: Three on D: Johnson, Mosley, Hall