Three on O: Smith, Herbig, Uzomah
After each game, we'll be highlighting three defensive and three offensive players and looking in detail at their performance. We'll wrap up today with the offense:
Take a deep Jeff
Jeff Smith has been a confounding player over the years. The former college quarterback had an interesting skill-set when we reviewed him as an undrafted free agent pick-up in 2019, with the main thing he needed to work on being his hands. Despite some low catch rates, his hands have definitely improved and he's now in his fourth season with the team.
As noted, he's been a confounding player. He was forced into a starting role in the 2020 game against Denver, catching seven passes for 81 yards. However, instead of building on that performance, he caught just 16 of 45 targets over the rest of that season and all of 2021 and never had more than three catches or 40 yards in a game.
Many people have expected him to be cut or a healthy scratch for most of his time with the team, especially in light of this lack of production. However, Robert Saleh said he was a valuable special teamer which seemed to be the main reason he was kept active over the likes of Denzel Mims last season.
Smith lost his job as a primary punt gunner to Brandin Echols this year and Echols has been far more effective than Smith was in that role. He still remained active until a few weeks ago though, although he doesn't contribute much else on special teams.
Finally relegated back to being a healthy scratch after his snap counts had been low all year, Smith made his return this week with Corey Davis out and then when Mims suffered an early injury, he suddenly found himself in a featured role.
In fact, for three bizarre plays, the Jets unexpectedly made him their go-to guy even though he was covered by the Lions' best cornerback Jeff Okudah. First, Smith got deep and tracked the ball well for this 50-yard play: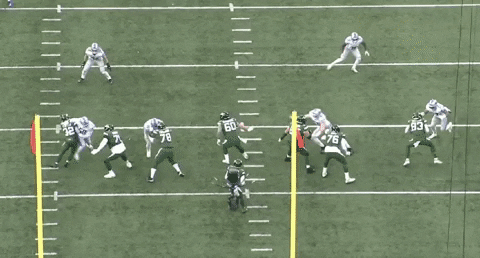 On the very next snap, he got a nice release off the line to beat Okudah for another first down.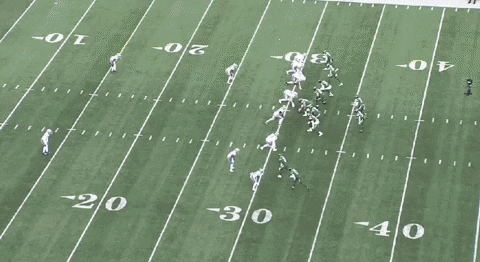 They then went to him again and he drew a blatant pass interference penalty in the end zone, although the officials missed this.
Despite this mini-breakout, Smith only had two other catches for 12 yards on the day. Even so, that would have been a season high in terms of receptions in a game. Also, considering his low catch rates in 2020 and 2021, it's interesting to note that he has eight catches on 11 targets this season.
Maybe his success on Sunday came from the fact he's been working with Wilson on the scout team and developing some chemistry with him. That being the case, perhaps they should have looked for him more.
The chances of Smith building on this seem slim after he suffered an injury in the game and may not be healthy for Thursday night. With Davis expected back and Mims' injury hopefully not something that will keep him out for too long, we'll have to wait and see whether he gets another shot in a Jets uniform, but can you bet against him being back for a fifth season?
I got Herb feelings
Nate Herbig didn't have a particularly good game on Sunday, but it was on the last drive where things really fell apart for him.
Both the sacks Zach Wilson took on that drive were attributable to Herbig. On the first one, Aidan Hutchinson got upfield on him with a quick move and Wilson was engulfed as he was forced to step up into a collapsing pocket.
The other one saw John Cominsky driving Herbig back into the backfield to sack Wilson as he again tried to step up.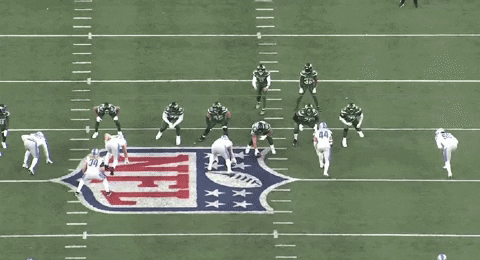 There was also another play on the drive where Herbig was late picking up a stunt and allowed his man to get to Wilson.
Had the Jets stopped the Lions on fourth down and run out the clock, this actually could have gone down as a solid game in pass protection for Herbig, who had only given up three pressures to that point.
As for the running game, the Jets struggled as a unit. On 22 carries, the longest gain they managed all day was six yards.
While many Jets fans are disappointed with Laken Tomlinson, especially in the running game, the veteran hasn't given up a sack yet and only has one penalty, so the team remains likely to pencil in Tomlinson and Vera-Tucker as next year's starting guards.
It may therefore be difficult to bring Herbig back, as he could command decent money and a chance to start from someone else, despite these struggles down the stretch on Sunday.
Uzi Lover
CJ Uzomah has been forced into a role where he's blocking and playing on special teams more than he'd like, but he made good contributions in the passing game on Sunday with two touchdown receptions - his first of the season.
The first of these is a really interesting wrinkle from the Jets who, we're told, have been keeping this play in their back pocket since preseason.
You can see it's a familiar set-up from the Jets as Wilson rolls left and three receivers set off towards the sideline to give him a short, intermediate and downfield route right in his field of vision. It's exactly the sort of play you'd use to try and get a quarterback into rhythm early and the Jets often try this with Wilson (and previously did it regularly with Sam Darnold too, so it's a familiar concept league-wide).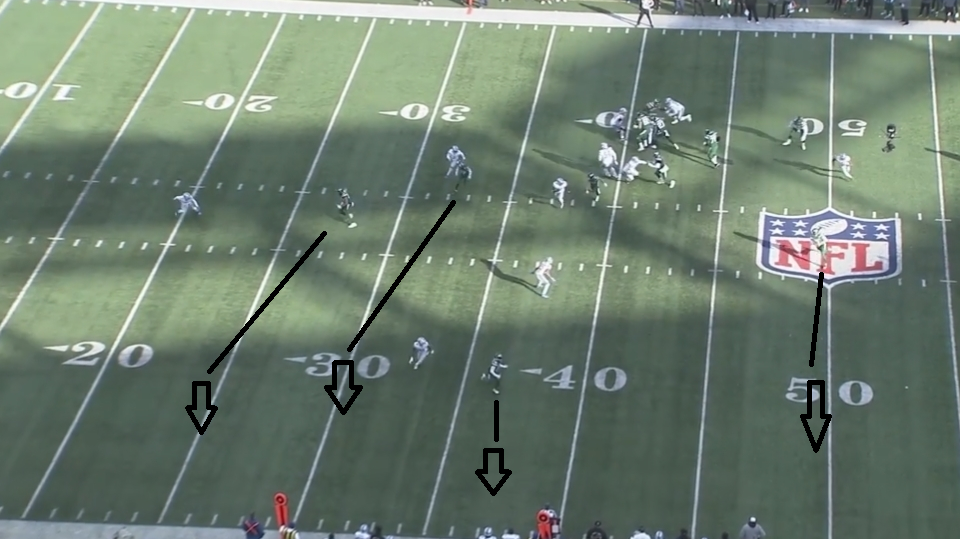 Uzomah breaks tendency here, though, fooling the deep safety by breaking for the opposite side of the field instead of flowing to the near sideline. Wilson pulls up and throws across the field and it's a well-worked 40-yard touchdown.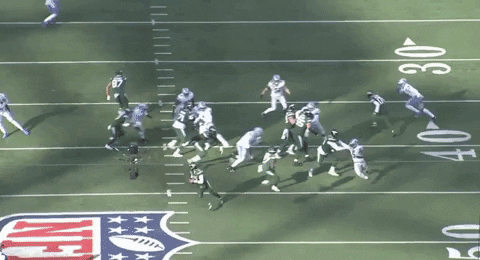 Equally interestingly, the Lions blew the coverage over the middle and Wilson could probably have dumped it to Berrios who might also have scored on the play, so this really confused them. In fact, if the defensive back got across to break that pass up, as he almost did, everyone would be saying Wilson missed a trick by not seeing Berrios on a much easier pass.
As noted, Uzomah has been contributing well as a blocker all year and he did a solid job on Sunday despite the Jets' unit-wide struggles. He does a good job on this play (which is interesting because it was the Jets' longest running play of the day despite the fact Elijah Moore was lined up at tight end).
If the Jets saved that tendency breaking touchdown play until now, perhaps they have more dialled up that Uzomah can exploit to add some production over these last few games. He had about three times as much production last season as he has this year, so he's clearly capable of more if given the targets, which could happen down the stretch with Tyler Conklin in a bit of a slump.
Previously: Three on D: Parks, Thomas, Franklin-Myers