Three on O: Tomlinson, Fant, Davis
After each game, we'll be highlighting three defensive and three offensive players and looking in detail at their performance. We'll start today with the offense:
Tumbling Tomlinson
New left guard Laken Tomlinson will catch plenty of attention from the media and fanbase this week after PFF gave him the lowest grade on the offense and the fifth worst in the league among starting guards. A detailed review of the film confirms that this bad grade was justified.
The early signs were troubling as Tomlinson was shoved back into Joe Flacco's lap on his first two dropbacks of the game to disrupt those plays and force a punt. From there, it didn't get much better for Tomlinson, who struggled to anchor against the bull rush all day and gave up a team-high eight pressures, one of which was an intentional grounding penalty, so essentially as bad as a sack.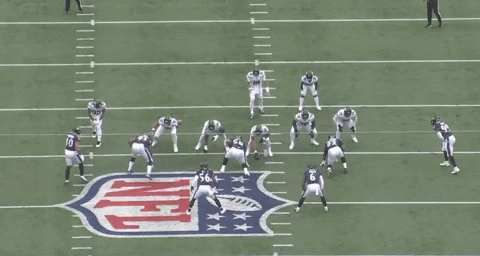 He wasn't much better in the running game either. His man got off his block to blow up one run and he was stood up and driven back into the runner on another play. While this run was successful, it came as his man missed a tackle and he could have been called for a hold as he was unable to get out fast enough to execute the second level reach block - a possible sign he's lost a step and is now a step too slow for this system.
Are there any positives at all? Thankfully, yes, although these were few and far between. When moving straight ahead, Tomlinson still shows the capability to drive his man back and he controlled and sealed off his man well to spring Ace Carter's longest run of the day.
In an attempt to rationalize the performance, you could perhaps consider that the fact Tomlinson barely played in preseason perhaps means that he's still shaking off some rust or not fully in game shape and that he'll settle down over the course of the season. This doesn't really hold water though, because he didn't play much more in recent preseasons and started the season strongly each time.
Another explanation could be the fact that the left tackle has kept changing, so he doesn't have chemistry with George Fant. This did manifest itself on one play where the Ravens created confusion with a stunt that led to Tomlinson letting a lineman through for a sack. This was negated by a defensive penalty though. And even if this disruption has affected him, it doesn't explain him regularly losing one-on-one matchups against non-elite players.
A better explanation is probably the fact that he may have been exposed to more one-on-one situations than desired due to the fact that the Jets were set up to give debutant Max Mitchell plenty of help. In future, they may give Tomlinson some double-team help or use him as a spare man more often in pass protection. However, Tomlinson is a highly paid player who should be able to cope consistently in these situations and he was unable to on Sunday.
Tomlinson was a pro bowler as recently as last season and should know what he needs to do to be better going forwards. He does need to be better though. Much better.
George Dropping?
Lining up next to Tomlinson, George Fant also had a disappointing performance, although unlike Tomlinson this was more of a situation where he was up and down both in pass protection and the running game, but let down by a few bad lapses rather than looking overmatched on a regular basis.
Fant gave up a costly sack on this play which was designed for Carter to leak out. He would have been open for some easy yardage and a chance to create in space had the protection held up.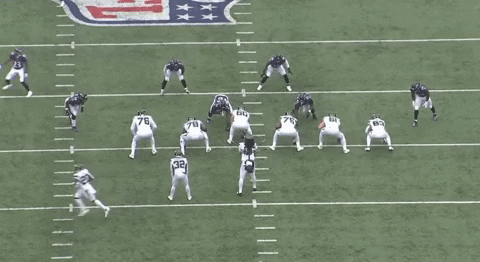 There was also another play where Fant was easily beaten inside for a would-be strip-sack, although Flacco was ruled to have attempted a pass so it was called incomplete.
Last season, Fant did an admirable job filling in for Mekhi Becton at left tackle and forged a reputation as a solid starter by only allowing one sack all season - and that didn't happen until week 12. However, it's possible this has led to him becoming overrated. In some respects, the fact he only gave up one sack was a bit of an anomaly, as he had a few negated by penalties or that he got away with because Zach Wilson slipped out of a pass rusher's tackle.
I know Fant is hoping for a big money extension, but it's not easy to place a value on him as he was always promising but inconsistent until having his best year in 2021 at 29 years old. If the Jets had ponied up and given him a deal for, say, $15 million per year, there would be concern that this was a big mistake if he had more performances like the one on Sunday.
Once again, Jets fans will have to hope that the offensive line will settle down once they've had more of a chance to play together but with a quarterback change coming after next week and then a potential reshuffle when Duane Brown return the week after that might set this back.
Davis Love
Many Jets fans groaned when Corey Davis was unable to hold onto a third down pass thrown behind him in the first quarter. This happened regularly last season, with nearly all of Davis' drops on the kind of difficult catches you'd expect a highly paid receiver to come up with on a more regular basis.
Davis did end up as the Jets' most productive wide receiver, though, with 77 yards on six catches. Within that production, there wasn't much in terms of easy or cheap yardage and a few clear examples of him bailing out the quarterback as you'd like to see him do more often. In fact, only one of his six catches didn't go for a first down.
Perhaps Davis' best catch was this diving effort on another ball thrown behind him.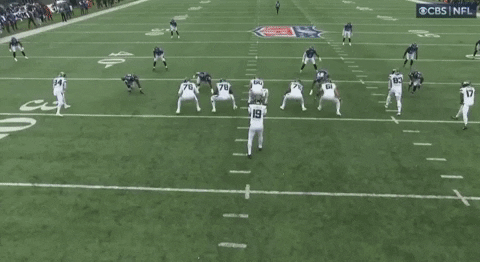 Of the other four first downs, one was fairly routine as he ran a curl route past the marker with Marlon Humphrey playing off. However, the other three were tougher plays.
He had another sliding catch similar to the one above, an excellent leaping catch over the middle where he hung on despite being upended by a big hit and went up over a defender on fourth and short to come down with a pass Flacco hung up there for him to go after.
The Jets have some very promising young players who are all exciting after the catch and the desire to see more of them is shared throughout the fanbase. However, Davis is still only 27, so he's actually entering his prime - not the aging veteran the team should be planning to dump that many fans seem to consider him to be.
Don't look now, but Davis is currently on pace for over 100 catches and 1,300 yards if he stays healthy.
We'll be back with the 3-on-D tomorrow