Three on O: Tomlinson, Uzomah, Brown
After each game, we'll be highlighting three defensive and three offensive players and looking in detail at their performance. We'll wrap up today with the offense:
Laken Superior
After struggling for the first month, Laken Tomlinson - the big offseason signing on the offensive line - has finally settled down and is starting to make some excellent contributions in the running game.
Tomlinson was particularly effective on pin-and-pull plays where he would seal his man off so that other linemen could pull to the outside. That looks like being a staple of this team's offense going forwards. On this play, though, it was Tomlinson who pulled right to make the key block:
Tomlinson can also still move his man off his spot at the point of attack and he showed those abilities here to drive his man back and create a big cutback lane.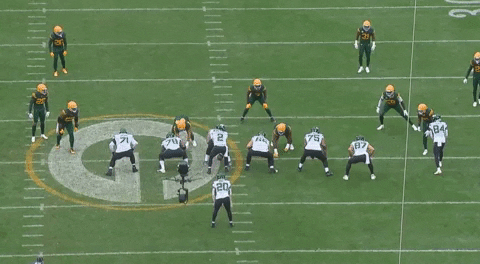 He also got out in front of a screen pass for a key block and was penalty free for the third game in a row.
There was major concern about Tomlinson's ability to hold up in pass protection after he gave up 15 pressures in the first four games. However, he's really settled down since Brown's return, with just one pressure allowed over the last two games. And he still hasn't given up a sack or a hit all season.
The offensive line is blocking well as a unit right now, despite all the changes and having veterans like Tomlinson is a big part of that. In fact, you'll notice today that nearly all of the gifs we share to highlight one player's contribution will also feature some good stuff from other guys.
Uzomahgeddon!
When the Jets signed CJ Uzomah for $8 million a year, he was expected to be a much bigger part of the passing game than he has been so far. Uzomah has just five catches for 34 yards in five games so far, as he's been slowed by hamstring and toe injuries.
Nevertheless, he played a great game on Sunday and there are signs that the Jets are going to look to feature him more going forwards. Uzomah's offensive snap count has increased in every game, while Tyler Conklin's has reduced in every game, to the point where Uzomah has been outsnapping him for each of the past two games.
That could translate to more targets in the passing game for Uzomah, who obviously has more to offer in that area than he's shown so far having caught 49 passes last season. He had his best offensive gain of the season so far on this play: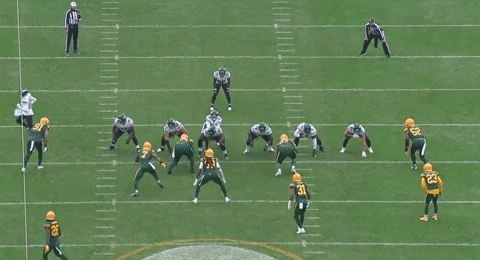 It was with his blocking that Uzomah impressed most in this game. His beautiful block to spring Braxton Berrios for a touchdown was an obvious highlight but he had a number of other positive plays, including this one: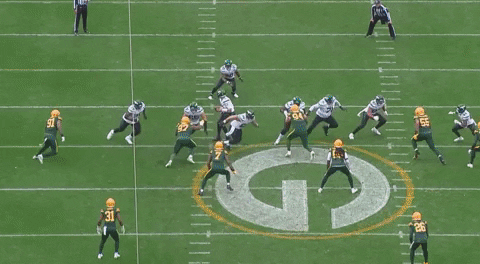 In terms of negatives, Uzomah did allow a sack, although it was practically a coverage sack as Zach Wilson held the ball for too long with the edge rusher going the long way round. Uzomah is usually a reliable pass blocker and also helps out the tackles with some chips.
Uzomah is a big offensive leader for the Jets as his positive energy makes him a popular teammate and a respected voice in the locker room. To warrant the salary they're paying him, he probably needs to do more, but he's capable of doing so and showing signs that bigger contributions may be imminent.
Runaway Duane
The Jets have had two impressive wins since Duane Brown was added to the line-up and while he can't get all of the credit, his importance to the offense cannot be overstated.
In this game, Brown had a handful of plays where he impressively got out on the move in front of the ball carrier, including on Berrios' touchdown, Uzomah's screen pass, the Hall run in the gif above and on this play: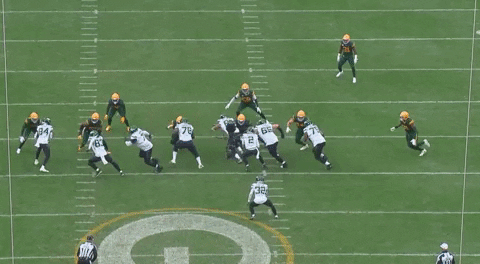 In pass protection, Brown was solid once again. His only negatives weren't really his fault as Rashan Gary came off his block to sack Wilson - but only after Wilson held the ball far too long and then ran right into Gary - and he was called for a chop block that seemed to be a harsh call as he merely lost his balance rather than actively looking to go low on a defender.
The running game for the Jets has taken over the past two games with Brown in at left tackle, but there are still areas where improvements can be made. 15 plays were stuffed for three yards or less, for example. However, the ability of this group to spring their playmakers into the open field has exciting possibilities going forwards.
Brown, let's not forget, is under contract for next year too, which gives the team valuable flexibility with Mekhi Becton rehabbing yet another long-term injury.
Previously: Three on D: Mosley, Curry, Quinnen Williams