Three on O: White, Edoga, Mims
After each game, we've been highlighting three defensive and three offensive players and looking in detail at their performance. We'll begin today with the offense:
White Hot
Mike White's performance was obviously unexpected but gives credence to the fact that the Jets have plenty of talent on offense and competent quarterback play can make them a dangerous offensive team.
Against Indianapolis on Thursday - and in any future starts, assuming there are any - the opposing team will be more ready for the short passing attack so will probably have a better idea of how to slow it down, set traps and confuse White.
At the same time, White was intercepted twice on Sunday and there was an air of misfortune about both of these, although he wasn't completely blameless. If White can avoid taking risks on Thursday night, the Jets will have a better chance of not beating themselves as they have a few times already this year.
White's first interception was tipped twice, so it was somewhat unfortunate that it ended up being picked (and returned such a long way to flip the field). However, he shouldn't be forcing the ball into traffic.
You can see what the issue was on the second interception from this angle: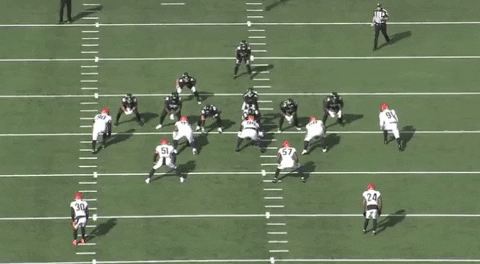 Ace Carter collides with Morgan Moses as he leaks out on his route, which is designed to see him flashing in front of Germaine Pratt and, ideally, getting past him and into the open field. Not only does this collision knock Carter slightly off balance which is part of why the pass is on him before he's ready to catch it, but he also knocked Moses off his block, giving the edge defender a leverage advantage and forcing White to rush the throw.
The success of the short passing game could present an opportunity for White to air it out a bit more in the Colts game. In fact, he might be effectively challenged to do this if the Colts opt to flood the short intermediates.
Late in the game on Sunday, the Jets almost hit on a deep ball for a touchdown to Elijah Moore but White overthrew it despite having time. As it turns out, this wouldn't have counted anyway because there was a holding penalty called on Connor McGovern but if a similar opportunity arises on Thursday night, White cannot afford to miss this.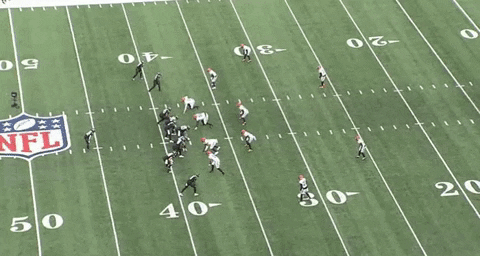 Two things worth noting on this play: Alijah Vera-Tucker's athleticism to pick up the nickel blitz and Moore's excellent double move to get behind the defense.
Interestingly, the Jets reportedly dialed up some downfield routes early on in Sunday's game, but these were covered so White smartly checked down. With the threat of the short passing game now established, perhaps such opportunities will be open this time, but White needs to connect on some to keep the defense honest.
It seems harsh to focus on a couple of negative plays when White did such a good job of limiting such plays and played so efficiently. While he didn't have many highlight moments, he zipped some accurate throws on the rare occasions when he threw downfield and benefited from the space created due to the success of the running game and short passing attack.
The challenge for White will be to try and build on this performance and gain in confidence. Where his career could go from here is anyone's guess but nobody can ever take this performance away from him.
Non-threatening Chuma
The Jets lost George Fant to an ankle injury which meant Chuma Edoga was tasked with protecting White's blindside for over 50 snaps. However, the line held up well enough for the Jets to still pull off the comeback win.
Edoga, who hadn't played any offensive snaps all season until last week, was beaten around the edge early on but settled down well in pass protection and didn't otherwise allow any pressure. His man did get a red zone sack in the fourth quarter, forcing the Jets to settle for a field goal, but that was really a coverage sack after Edoga initially made his block but then White was tackled as he tried to step up.
Check out how Edoga just about managed to anchor against the bull rush long enough for White to get his throw off to Ty Johnson for his second touchdown pass: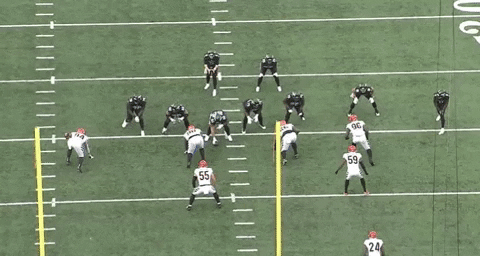 This was probably Edoga's best run blocking rep as he set the edge for Carter to almost pick up a first down when the Jets ran out the clock.
Aside from that block, Edoga had a couple of run snaps where his man got off the block to get in on the tackle and was also called for a false start on the last drive. On the whole, though, he kept his mistakes to a minimum.
Fant hasn't been ruled out for Thursday night yet, but if Edoga has to play, he'll have gained some confidence from this performance.
Mims Spaghetti
With Corey Davis ruled out, Denzel Mims still only caught two passes on three targets but at least he was on the field contributing. Mims led all Jets receivers in offensive snaps as he was on the field 70 percent of the time.
Mims made an instant contribution on the opening drive as he was open on a crossing route underneath and showed some good speed after the catch to gain 30 yards. Unfortunately a holding call meant that this was reduced to a 17-yard gain officially but he still got credit for the first down.
Later on, Mims showed off some good blocking as he picked up his man in space and drove him back into the end zone on Carter's 8-yard touchdown run. Mims did ultimately let his man get off the block but by then he didn't have the angle to stop Carter.
Unfortunately, he more or less disappeared from the gameplan after that. He had just one other catch, on the second play of the second half.
That play saw him get a clean inside release and use his hip to convert the leverage advantage and give White a easy target on the timing route.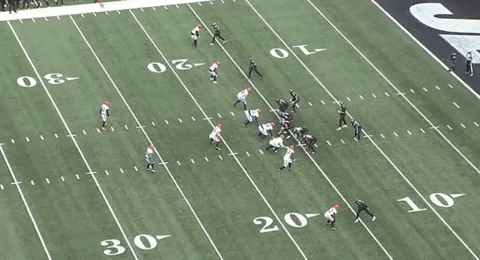 On plays like this, Mims looks uncoverable and his speed was also impressive on the other catch and as he chased down Jessie Bates on his first half interception. This makes it all the more confounding that they can't get him involved more.
Mims' only other target saw him open in the end zone but he couldn't come up with Josh Johnson's flawlessly perfect pass. There was also a play where he was in motion and stopped his route as the ball was being snapped to draw a false start penalty.
It's these plays rather than those one where Mims has success that explain why Mims hasn't played more. Ironically, with all the discussion of his inability to play any position other than the X (which was monopolized by Davis early in the season), Mims wasn't playing the X role on either of those plays.
Like Fant, Davis could be back on Thursday night, but if he isn't Mims will get another chance to show he deserves more looks.
We'll be back with the 3-on-D tomorrow...