Three on O: Wilson, Moore, Fant
After each game, we've been highlighting three defensive and three offensive players and looking in detail at their performance. We'll begin today with the offense:
Wilson Pick-It
Zach Wilson's first ever NFL regular season game got off to a rocky start, but he finished strong, completing 18 of his last 27 passes for 216 yards and two scores over the last two and a half quarters.
There was an obvious inflection point here. Wilson's first career interception was a bad play as he didn't really get his feet set and seemed not to see the dropping linebacker. Even if the linebacker wasn't there, it would have been a tight, risky throw.
As bad as that was, his next snap was arguably even worse. Initially, he did well to elude the free rusher coming off the edge, but this throwing across your body on the move is almost never a good idea at the NFL level.
Had he led Jeff Smith with this pass it could have been a completion but he threw behind him and was extremely lucky not to be picked off for a second snap in a row. At that point, he was 2-for-10 for 42 yards.
That's where it all changed, though, as he hit on his next three passes - all easy dump-offs - and settled down thereafter having at last established some rhythm. Obviously he made a lot of memorable plays during the attempted comeback but it was here that he got himself going.
The one other play that's worth looking at is his completion to Denzel Mims to set up the second touchdown. As you can see from the wide angle, Mims had to slow up to catch the underthrown pass, which could have gone for a touchdown if it had led him better.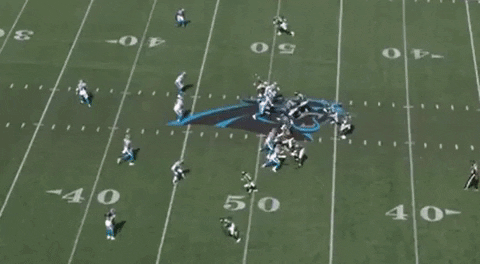 Wilson didn't really have much of a chance here because Alijah Vera-Tucker let his man get into the backfield quickly. However, to make this a touchdown in future, Wilson just needs to trust his protection and trust his eyes.
Although the pass rusher gets into the backfield, Connor McGovern gets across to pick this up. That enables Wilson to step up and make the throw but he might have been able to get it off without stepping up if he could have anticipated better so the throw was released as Mims was getting behind the defense, not after he was behind them.
That he was still able to step up and get enough on the throw to hit Mims while being lawnchaired from the side is a great sign of Wilson's arm talent and he'll need to make plays like this in future. However, if he could have found a way to get the pass off a beat sooner, it could have been a touchdown while also being a lot less painful for himself.
Of course, everything goes through Wilson, so we can continue to evaluate him as we look at some other players...
We need to see Moore
Having missed all of preseason, this was our first chance to see Elijah Moore in action and, after he had drawn rave reviews throughout camp until suffering a minor injury, his NFL debut was a crushing disappointment.
Moore's first target was a low pass underneath that he dropped and then on the next play he got behind the defense but Wilson's long pass went through his hands. He wanted a flag, but it seemed like there was hardly any contact.
His next target was a pop pass on which he registered his only reception of the day, but it went for a three-yard loss as Vera-Tucker got lit up while pulling outside.
Later in the game, Moore was targeted twice more, on a jump ball into double coverage that didn't really have a chance and on a two point play where he didn't really get any separation on the whip route and the pass fell well short anyway.
Other than the deep ball where he got behind the defender, Moore looked a little tentative and didn't seem to be operating at full speed as he usually does. He didn't get much separation and there weren't any real signs of him being open but Wilson not looking his way.
Moore did make one good play, only for it to be negated by a penalty. This was really a blown coverage, similar to the Mims play. However, on this occasion, the safety was in the area and so slowing down to occupy the soft spot in the defense was the right move and he and Wilson were both on the same page and read the coverage well.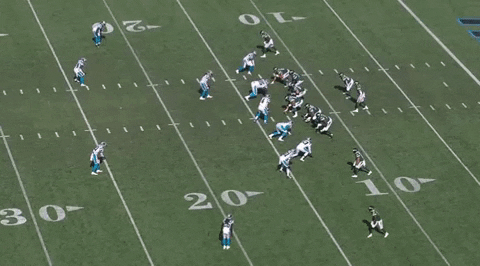 Moore also had one play where he missed his block on a running play and also got called for an illegal formation penalty.
Whether his poor output was down to nerves, rust or just adjusting to live action, there were a couple of near misses here, so Moore will hopefully learn from the experience and figure out how to produce more in future games.
Fant Favorite
Unexpectedly, George Fant was awarded the start at right tackle over Morgan Moses, something most of the media gave no chance of happening. With Mekhi Becton now injured, Fant will be starting at left tackle for the foreseeable future.
After the Panthers game, Fant came in for plenty of criticism along with the rest of the offensive line but was he really one of the main culprits?
There were certainly a couple of plays where he could be singled out as having made a bad mistake, including this one where Haason Reddick recorded a strip sack: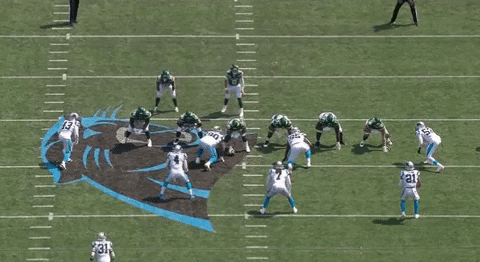 It's interesting to break this down from Wilson's perspective though. This is an RPO and Wilson keeps his eyes up looking for the pass option first. He perhaps should have handed this off, although perhaps he felt the penetration up the middle as Greg Van Roten got driven off his spot or, more likely, it is designed as a pass-first play where he throws the pass if it's on and hands it off if it isn't. It might even be a pass all the way that's just dressed up like an RPO and Wilson doesn't actually have the option to hand it off, but that seems unlikely based on how Fant played it.
Anyway, Wilson decides he's going to Jeff Smith and has the angle to do so but then gets cold feet as the linebacker isn't fooled by the play action and the throw is going to be too risky. Instead he tries to step up and make something happen, but can't escape the rush.
Of course, Fant still has to do a much better job of slowing Reddick down on that play, but if Wilson was more decisive or made a better read that shouldn't have been a sack.
Fant's other bad play saw him beaten on an inside move by Brian Burns as he was a bit over-aggressive getting into his stance to counter the speed rush off the edge. Wilson does well to avoid the sack and ultimately threw too high to Corey Davis down the field.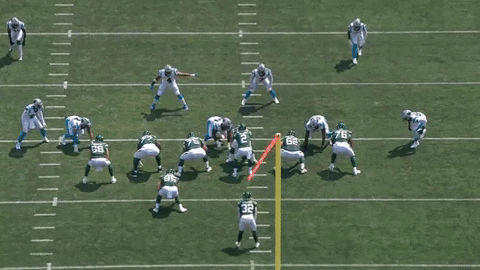 For Fant, the overwhelming positive from his performance was that these were basically the only two times he got beaten all day. There was one other play where his man got upfield on him and Wilson had to step up, but basically he really settled down with no pressure at all in the second half.
There were two plays where free rushers came off Fant's edge, once for a sack and once for a pressure, which could in theory have been his fault, but is more likely to have been down to either Wilson or McGovern failing to set the protection correctly. The sack would easily have been avoided if the protection had been slid to the right or an extra blocker left in to pick up the free man.
As a run blocker, obviously the Jets didn't have much success over the course of the game and Fant didn't play much of a role in the few good runs they did have. He set the edge well on a reach block on which Ty Johnson gained six but otherwise his best blocks tended to come on plays where someone else screwed up so the run wasn't very successful. He did have a few good blocks though and no obvious mistakes.
It will be interesting to see how Fant fares at left tackle in Becton's absence and also to see how the line is configured once Becton is ready to return. Certainly Fant wasn't as bad as some people obviously thought in the first game, but there are still some things to clear up.
We'll be back with the 3-on-D tomorrow...