DraftFix: Pro days continue
In the lead-up to the draft, we'll keep updating you on any interesting numbers from pro day workouts. Since our last update, the 2019 pro day has taken place for each of the following schools:
March 8: Maine, New Mexico
March 11: Arkansas, Austin Peay, Illinois, Middle Tennessee, Tennesse State, Troy
March 12: Central Arkansas, Central Oklahoma, Concordia (Quebec), Kennesaw State, New Mexico State, Northwestern, Oklahoma State, Vanderbilt
March 13: Buffalo, Georgia Southern, Marshall, Mercer, Nevada, Oklahoma, Wisconsin
March 14: Central Michigan, Clemson, Columbia, Fordham, Tennessee, Tulsa
March 15: Chattanooga, Georgia State, Michigan, Oregon State, Princeton, Texas State, West Georgia
March 18: Fresno State, Louisiana-Monroe, Michigan State, Pennsylvania, Pittsburg State, Syracuse
Here were the more interesting results:
Troy defensive back Blace Brown shaved a tenth off his combine 40: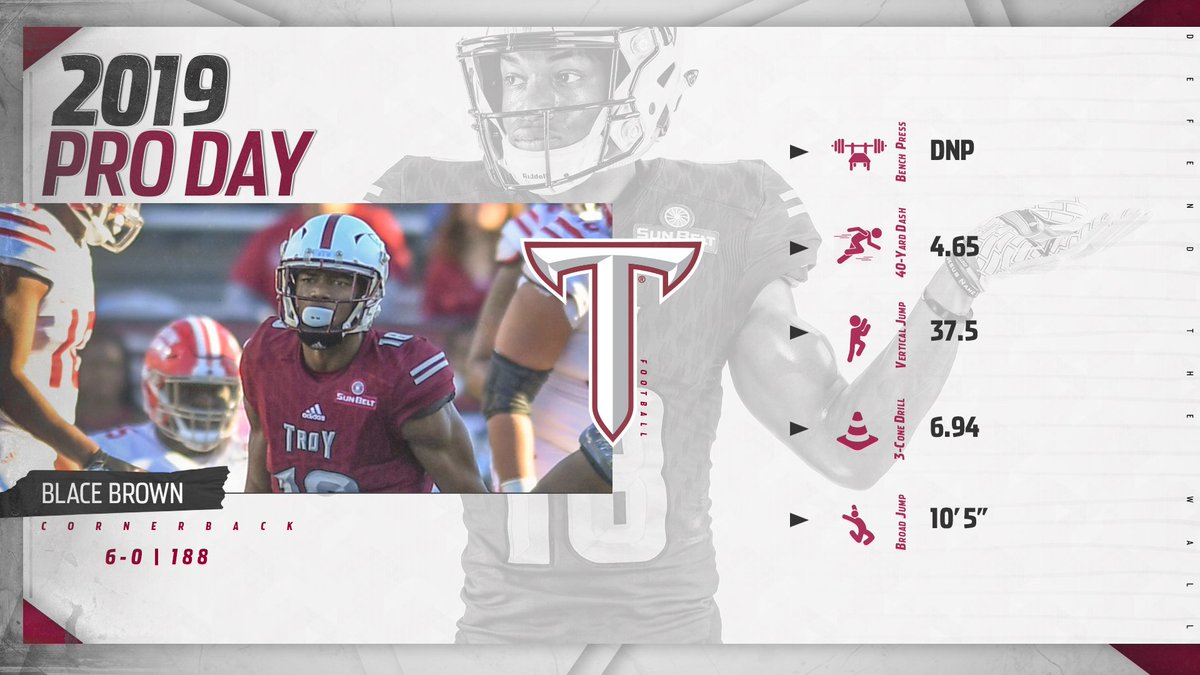 Offensive lineman Nick Allegretti, a combine snub, weighed in at 310 and posted a 29-inch vertical jump at Illinois' pro day.
At Arkansas' pro day, linebacker Dre Greenlaw - who didn't run due to a hamstring injury at the combine - ran as low as 4.65 in the 40-yard dash. The Jets showed some interest in offensive lineman Brian Wallace, a potential later round pick, according to Tony Pauline.
Wallace measured 6052/320lbs, timed in the high 5.1's to low 5.2's in the forty as well as 4.65s in the shorty shuttle [sic]. He completed 22 reps on the bench press and touched 24.5 inches in the vertical jump.
After a terrible set of combine numbers, Vanderbilt cornerback JoeJuan Williams may have resurrected his stock:
JoeJuan Williams landed just outside elite range for #RAS due to his poor Combine running. Pro day explosion and agility drills helped a lot, though I think his official 40 and splits from pro day will be right about where you'd expect them to be based on his previous runs. pic.twitter.com/iq1tuo8rUu

— Kent Lee Platte (@MathBomb) March 16, 2019
Safety LaDarius Wiley reportedly also fared well with a 4.6 40-yard dash and a 6.9 three-cone drill.
Most of the prospects at Oklahoma's pro day reportedly sat on their numbers while quarterback Kyler Murray's throwing session drew the most attention.
Here were the results from Wisconsin, where D'Cota Dixon dramatically improved on his combine time:
Deiter was said to have impressed during position drills and may have improved his standing to a mid-rounder according to Pauline.
With late-round linebacker Justin Phillips still dealing with a sprained knee, there was another standout at Oklahoma State:
One player who likely helped himself at his pro day this week was Okla. St WR Tyron Johnson.

A former 5-star declared early after posting a 53-845-7 line in 2018, Johnson - a combine snub - checked in at 6-0, 193, ran a blazing 4.33 and benched 225 16 times, per a source

— Terez A. Paylor (@TerezPaylor) March 15, 2019
New Mexico State linebacker Terrill Hanks, who ran just 4.99 in the 40-yard dash at the combine, posted a 4.5 short shuttle and 7.12 three-cone drill but didn't re-run the 40 due to a hamstring issue.
Two cornerback prospects were the main attraction at Central Michigan's pro day:
Central Michigan Pro Day:
CB Sean Bunting continued his strong postseason. After running a 4.42 at the Combine, he posted a 6.78 in the 3-cone at pro day.
CB Xavier Crawford ran in the 4.3's.

— NFL Draft Blitz (@NFLDraftBlitz) March 14, 2019
Bunting, who also ran a 4.11 in the short shuttle, is a potential top-50 pick.
The main attraction at Tennessee was an edge rusher who has met with the Jets:
Former #Vols D-lineman Kyle Phillips seems to have helped himself this morning at Pro Day. Was timed in the mid-4.6 range in the 40-yard dash despite weighing nearly 280 pounds.

— Wes Rucker (@wesrucker247) March 14, 2019
At Michigan's pro day, edge defenders Rashan Gary and Chase Winovich sat on their combine numbers.
Defensive tackle PJ Johnson stood out at Arizona's pro day according to Pauline:
Measuring 6037 and 323 pounds (22 fewer than his weight last season), Johnson timed as fast as 5.09 seconds in the 40 [...] He also completed 20 reps on the bench.
Rutgers' best prospect is still dealing with his recovery from an ACL tear and will probably run again closer to the draft:
Pro Day: Rutgers CB Blessuan Austin (6-0/199) timed 4.65/4.70 in the forty; 35.5" vert; 10-3 broad. Held Day 2 grade entering the season but injury has pushed him towards Day 3/PFA status. This is a well-coached player worth taking a shot on. pic.twitter.com/roSUW3quom

— Ric Serritella (@RicSerritella) March 15, 2019
Fresno State's pro day featured three combine participants, two of whom improved their numbers according to Pauline. Wide receiver KeeSean Johnson ran 4.5 in the 40-yard dash and a 3.81 short shuttle despite a slip, while safety Mike Bell (who was wearing Scooby Doo socks) knocked almost two-tenths off his combine 40. Linebacker Jeff Allison opted not to re-run though, which apparently irritated some teams.
Finally, at Syracuse, defensive tackle Chris Slayton sat on most of his combine numbers but did post an excellent 7.34 three-cone drill at almost 310 pounds. Receiver Jamal Custis also sat on his combine numbers, but Pauline reports that the Jets like him for his return abilities.