Why has Vyncint Smith been so ineffective on deep passes with the Jets?
The Jets still don't have a lot of depth at the wide receiver positions, so may be hopeful that young contributors like Vyncint Smith or Braxton Berrios can step up in 2020.
Smith entered week eight with just one catch for five yards but made some good contributions down the stretch as he ended up with 17 catches for 225 yards and also added 52 rushing yards and a touchdown on three end around plays.
Something he didn't bring, however, was any success as a downfield threat. The Jets went deep to Smith three times last year but all three were unsuccessful as he failed to get any separation. One ended in an interception: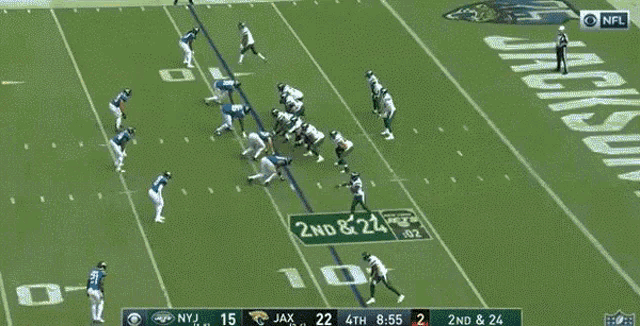 This was disappointing because Smith's ability to be a downfield threat was one of the reasons they got him from the Texans. He showed those abilities in 2018 where, in limited preseason and regular season action, he had four downfield catches for 147 yards and two scores on nine downfield attempts:
In preseason with the Texans in 2019, Smith was less effective on downfield passes making just one on nine attempts. However, it went for this impressive touchdown:
So, maybe his ineffectiveness on deep passes in the 2019 regular season was a continuation of his preseason struggles in that area, which perhaps contributed to his becoming available for the Jets to acquire.
It's also worth considering Sam Darnold's ineffectiveness generally on long throws, though. All season long, Robby Anderson was regularly getting a step on his man only for Darnold to underthrow or overthrow him and miss an opportunity for a big play.
The failed deep shots to Smith were not like this though. In each case, Smith failed to get behind the defense and fans were left wondering why they didn't run the same play with Anderson instead.
Smith entered the league with a 4.36 40-yard dash time under his belt and displayed his deep threat abilities in 2018. It's possible he's lost a step because he bulked up since his rookie year, possibly in order to cope with the rigors of an increased special teams role with the Jets.
Are the Jets going to employ Smith as more of a possession receiver going forward or will they continue to persevere with efforts to maximize his timed speed? Do they still consider his contributions on special teams to be an important aspect?
It will be interesting to see what kind of shape Smith is in when we get to camp and how the Jets seek to use him. We'll also be keeping an eye on how effective Anderson is as a deep threat in Carolina as we also seek to evaluate Darnold.