After Further Review: Jets-Cardinals Officiating
By popular demand, we're again going to have a post after each game that breaks down some of the controversial decisions from the officiating crew in the game.
Penalty Count
Cardinals 10-59 (leading to four Jets first downs)
Jets 6-30 (leading to two Cardinals first downs)
Plays where the call was obvious, uncontroversial or not visible on broadcast footage
Jets Penalties
Delay of game on 1st-and-goal from the 10 immediately after the Avery Williamson interception. Infuriating.
Bradley McDougald defensive holding on DeAndre Hopkins in the end zone. Stayed with him well initially, but then grabbed him when he changed direction as the play was extended.
Le'Veon Bell holding on Jordan Hicks' blitz. Obvious call as Bell got trucked and dragged Hicks down.
Trevon Wesco false start. Flinched a half-beat before the snap.
Jordan Jenkins neutral zone infraction on extra point. Ultimately benefited the Jets as it compelled the Cardinals to go for two, which failed.
Cardinals Penalties
Illegal formation because left tackle DJ Humphries was too far off the line of scrimmage.
Delay of game penalty immediately after holding call.
Illegal block in the back by Deionte Thompson on Quincy Wilson. An obvious call.
Thomson called for illegal contact as he clearly leaned all over Jeff Smith running down the seam.
Justin Pugh holding on Nathan Shepherd at the point of attack. Clearly grabbed him.
Illegal man downfield as Mason Cole ran out in front of Kyler Murray expecting him to scramble but Murray pulled up and threw a pass.
Penalties warranting further discussion or explanation
Jets Penalties
Lamar Jackson running into the kicker. This was a blatant flop by the kicker and maybe a make-up call for the fact they didn't call it when the same thing happened earlier in the game. Neither mattered because both kicks were good.
Pierre Desir defensive holding to negate Ashtyn Davis' interception. This was erroneously attributed to Jackson but clearly Desir wrenched back on Hopkins' shoulder pad as he ran downfield.
Cardinals Penalties
Kelvin Beachum holding on John Franklin-Myers. Grabbed him to prevent him getting to Murray as Murray stepped up and took off.
Budda Baker illegal contact on Chris Hogan. A soft call as Hogan seemed to initiate the contact. Pass was batted but the contact did happen before the throw. Had it been afterwards, then the pass interference would not apply.
Dre Kirkpatrick pass interference on Frank Gore. Arrived a half-beat early to break it up with a hit.
Patrick Peterson defensive holding on Jeff Smith. This one was a really soft call.
Notable no-calls
The officials seemed to show the Jets some mercy this week, almost as if they had "computer assistance" turned on. These are two of the least-disciplined teams in the league, though, so there were some contentious moments:
The officials picked up a flag after Dennis Gardeck's first sack but it wasn't clear what this was for. Maybe the center judge thought Gardeck hit Flacco in the head or something, but clearly he didn't.
There were obvious missed holds on Foley Fatukasi and Quinnen Williams.
Franklin-Myers seemed to get away with a neutral zone infraction.
The replay booth correctly ruled that Jamison Crowder was short of the marker on a throwback screen that should never have been reviewed. Earlier, Crowder seemed to land right at the marker on the first series but was marked a yard short.
If Hopkins didn't catch that second half touchdown then there should have been a helmet-to-helmet hit called on Davis.
For some reason, the officials allowed Arizona to reset the game clock on a two-point conversion when they looked destined to have a delay of game.
The defender seemed to make early contact with Braxton Berrios on a pass disruption.
Chris Herndon and Joe Flacco were both ruled down by contact despite fumbling and the replay booth upheld the decision in each case. Had the ruling on the field been a fumble though, these might not have been overturned. If anything, it was surprising the Herndon one wasn't anyway because he definitely lost the ball and didn't regain control for longer than a split-second.
Finally, check out Chuma Edoga on this play. Did he deliberately try to trip his man? You make the call.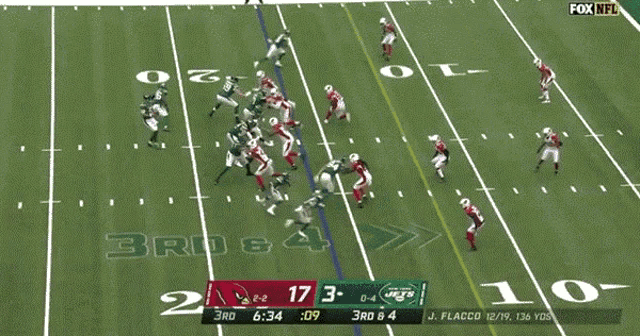 Let us know what we missed - or misinterpreted - in the comments...