QuickFix: Saucy Nuggets from the Jets' loss to the Cardinals
We're going to kick off today's analysis with some things you might not have noticed from yesterday's loss to the Cardinals:
The second-worst series since Bob Hearts Abishola
A few weeks ago, we highlighted a sequence where the Jets came up just shy of the first down on second down and then got stuffed on 3rd-and-short and 4th-and-short with Greg Van Roten being at fault on all three plays.
Yesterday, exactly the same thing happened again. However, this time it was Trevon Wesco who was at the center of everything. On this occasion it wasn't all his fault, but more of a collective red zone capitulation.
On second down, Wesco was wide open for an easy first down, but Joe Flacco saw it too late, giving the defensive back a chance to close and tackle him short of the marker.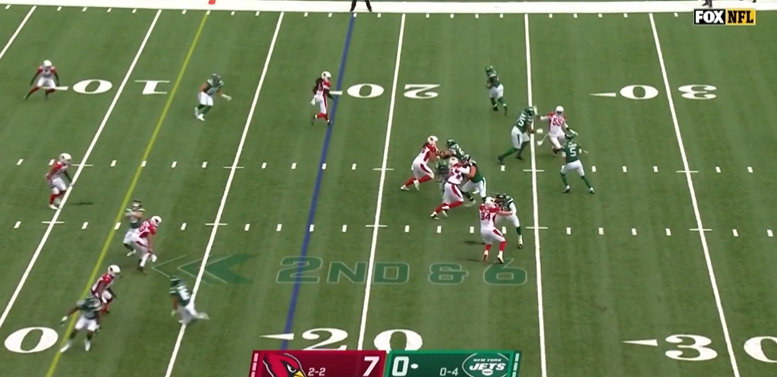 On third down, the Jets handed it to Wesco on a fullback dive - a play that has worked for them in the past. As you can see, this play had a chance: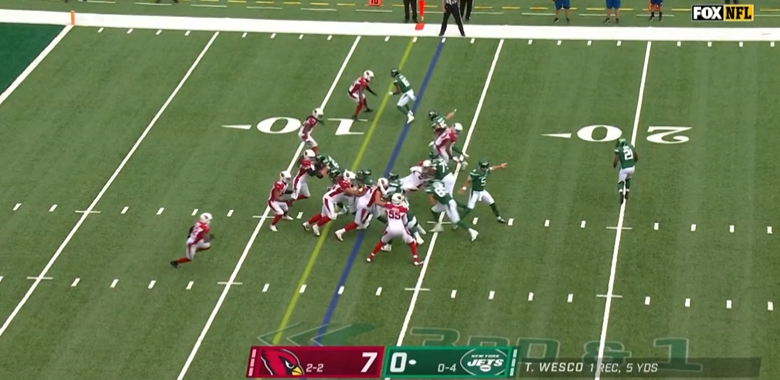 Unfortunately, Wesco isn't the kind of player who can make a jump cut to the right and plow through the safety on his way to the end zone. George Fant's man gets some good leverage on him and ends up shoving him back into Wesco who bounces off him and back into the teeth of the defense.
So, faced with fourth and one, the Jets employ Wesco as a lead blocker instead, a job he had already done well to spring a first down run in the first quarter.
Unfortunately, he whiffs on the block and an otherwise well-blocked play doesn't make it to the line to gain.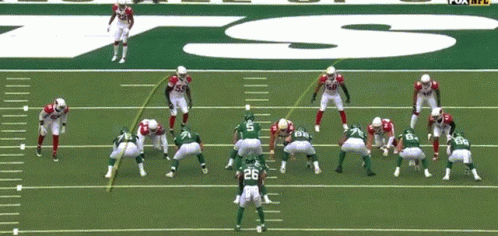 At the very least the Jets showed how versatile Wesco is by failing three times in a row with him playing a different role each time.
Oh...and the Jets are now 0-for their last SEVEN fourth downs.
Pancakes without da Becton
Mom, can we get pancakes?
We have pancakes at home.
Pancakes at home: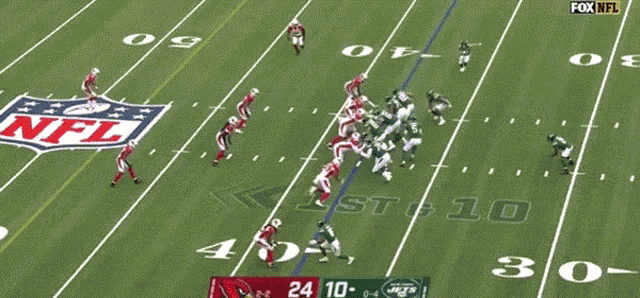 The whole nine yards
Adam Gase doesn't inspire confidence in his ability to foster a team that fights for the extra yard. It's a shame, because that extra yard would have made a massive difference on Sunday.
As we've already seen, the Jets got stuffed on 3rd-and-1 and 4th-and-1 in the red zone in the second quarter, in what proved to be a potentially pivotal moment.
On their first two possessions, the Jets went three and out as Jamison Crowder and Chris Hogan were both marked just shy of the first down marker. According to Pro Football Reference, the Jets became the first team ever to punt twice on 4th-and-1 in the first five minutes, although actually that second one was officially 4th-and-2.
This continued into the second half, with Bell again stuffed on 3rd-and-1 and the Jets forced to punt. That came after Hogan had stepped out just short of the marker so the Jets faked the Wesco dive and pitched to Bell outside.
Eventually, Frank Gore did manage to plow ahead for a gain of one on a 3rd-and-1 play in the fourth quarter but, by then, the damage was done.
As for Arizona? They had two of their biggest plays in such situations. Darrell Daniels leaked out for a 31-yard pass on 4th-and-1 and Chase Edmonds' first quarter 29-yard touchdown run came on 3rd-and-1. How can the Jets, in contrast, fail so routinely in such situations?
Fixing a Hole
During the broadcast, you may recall that the announcers remarked how the Cardinals had been struggling in certain areas but fixed those issues in this win. One was their red zone defense, for example, which held the Jets to three points in two red zone trips in the second quarter.
The Jets obviously have holes all over the place but any time they fix one it doesn't seem to help as a previous strength betrayed them instead - like how they started giving up big runs in the 49ers game or Darnold started turning the ball over in key situations against the Colts.
This week's quick fix was in terms of tackling. According to Pro Football Focus, the Jets had the worst defensive tackling grade in the league entering this week, with 49 in four games and 56 including special teams. However, this week, by our count, they only missed five.
This can't only be attributed to the fact that Bless Austin - who leads the team with eight - didn't play. As it happens, his replacement Lamar Jackson had one of the worst missed tackles on the day, allowing his man to pick up a third down conversion.
The troubling part of this is arguably not so much that the team has so many weaknesses that can potentially sink them, but rather the fact that having seemingly resolved this issue they still lost by 20. How much could they have lost by if they missed as many tackles as they were early in the year?