After Further Review: Jets-Saints Officiating
By popular demand, we're again going to have a post after each game that breaks down some of the controversial decisions from the officiating crew in the game.
Penalty Count
Saints 4-42 (leading to two Jets first downs)
Jets 5-45 (leading to one Saints first down)
Note: This does not include penalties that are declined or off-set.
Plays where the call was obvious, uncontroversial or not visible on broadcast footage
Jets Penalties
Denzel Mims illegal use of the hands. This was nowhere near the ball but he did clearly get his hand up in his opponent's facemask down the field.
Zach Wilson intentional grounding. Wilson was still in the pocket and flipped this to an area where there were obviously no receivers.
Saints Penalties
Illegal formation. While this was announced as being on James Hurst at right tackle, it was actually wide receiver Easop Winston who was at fault because he wasn't on the line of scrimmage.
Deliberate delay of game on 4th-and-2 in the red zone.
Penalties warranting further discussion or explanation
Jets Penalties
Kyle Phillips illegal use of the hands. Phillips wasn't even on the field so the official gamebook ultimately credited this to Quinnen Williams. From the replay it didn't seem like any of the linemen were guilty of this, so it was a bit of a phantom call.
Justin Hardee fair catch interference. This was an awful call as Hardee was engaged with a blocker and the net effect of the penalty was 27 yards which set up the Saints only touchdown in the first 54 minutes.
Mims illegal formation penalty. Obviously the Jets were not happy with Mims for this penalty, his second in a row. He was essentially benched for most of the rest of the game after this but the film shows that it may have been harsh to blame him for this or even to call anything against the Jets.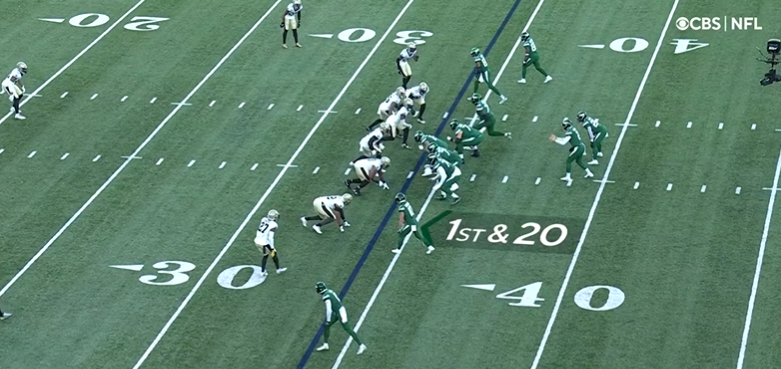 You can see from the image that Berrios wasn't on the line so Mims arguably did the right thing by going onto the line, otherwise the official should have instead flagged the Jets for not having anyone on the line covering the tackle, or for Fant being off the line.
Saints Penalties
Kwon Alexander defensive holding. Zach Wilson rolled out and had to throw the ball away but Alexander was already grabbing Ty Johnson as Wilson vacated the pocket and then actually took him down so this was a double violation.
Paulson Adebo pass interference on downfield throw to Keelan Cole. Replay clearly showed he clearly had a grab of Cole's arm once he got a step on him.
Notable no-calls
Here were some of the notable missed calls, controversial moments or review situations.
A flag was picked up early on after a Saints run. The replay seemed to show that jumbo tight end James Carpenter held Shaq Lawson on the edge and Nick Vannett also held Quincy Williams at the second level. Maybe two wrongs do make a right.
The Jets ran outside and Demario Davis stopped it on the edge. However, this was a clear example of a defensive lineman who should have been called for holding. Connor McGovern was bear-hugged by Shy Tuttle, preventing him from getting to the second level to block Davis.
Broadcast replays showed that Denzel Mims was blatantly held by CJ Gardner-Johnson on a third down incompletion.
On the play where Mims was called for his first penalty, Zach Wilson threw deep to Jamison Crowder and Gardner-Johnson never got his head turned but seemed like he perhaps made contact before the ball arrived (although the Mims penalty would've just meant an off-set rather than Jets ball at the one).
Quincy Williams also had a play where he didn't get his head turned and the ball hit him in the back. However, it looked like there was no contact on the receiver, Alvin Kamara, who probably would've drawn a flag if he made more of an effort to work back to the ball.
The Saints felt that Keelan Cole got away with a push-off on his only catch, although James Lofton disagreed, saying he was just disengaging from contact.
Finally, how different would the game have been if the Saints' only touchdown in the first three and a half quarters was overturned for holding on John Franklin-Myers as it should have been?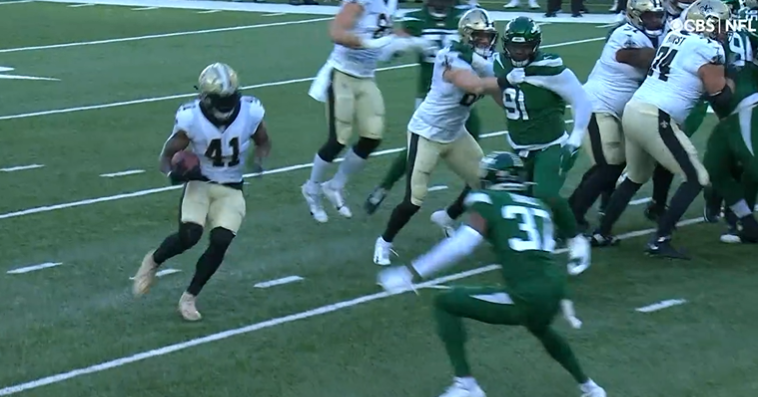 Let us know what we missed - or misinterpreted - in the comments...