QuickFix: Saucy Nuggets from the Jets' loss to the Saints
We're going to kick off today's analysis with some things you might not have noticed from yesterday's loss to the Saints:
Forging an identity
One article that drew a lot of discussion this week was this one from the NY Post which bemoaned the Jets' lack of an identity.
However, with the same things going against them week-in and week-out, you could argue that they have the clearest identity of any team in recent memory.
They're a team who:
Can't sustain offensive drives
Can't get off the field on defense
Keep losing players to injury
Get screwed by the officials every week
Never force any turnovers
The Jets do have an identity. It's just one they should be trying to get rid of.
Can Wilson bounce back?
It was a rough game for Zach Wilson, after he had performed well last week. His accuracy was poor, even on simple throws
There's always one negative throw you know will go viral after a rough performance and this week it had to be this one: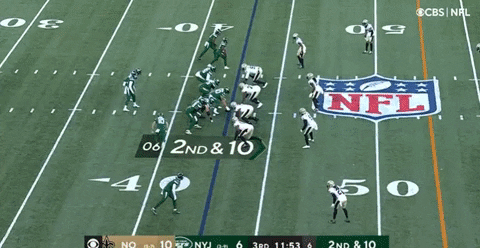 However, could this actually be an elaborate set-up to pay homage to a Jets legend and the coolest gadget play of all time?
Before being drafted by the Jets, Ring of Honor member Al Toon was a Badgers legend from the University of Wisconsin and the wide receiver's signature play wasn't a catch, it was a throw.
Similar to Zach Wilson, the quarterback bounced the ball to the flat where Toon fielded the ball and the defense switched off thinking it was an incomplete pass, enabling Toon to field the lateral off the bounce and throw a touchdown.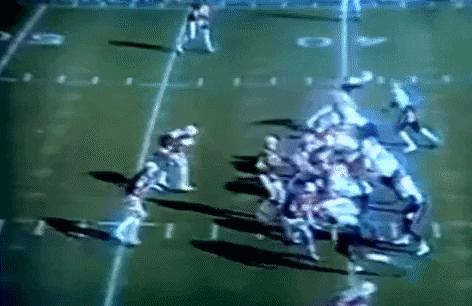 Of course, Wilson's pass was incomplete because it traveled forwards, but with a small tweak, perhaps this could generate a big play for the Jets.
The little things
When a team is struggling as badly as the Jets have been, a small thing can make a big difference. If the Jets could have just hit on a deep ball, had a long gain where someone broke a few tackles or even just took advantage of a blown assignment on defense, it could have been the big play that got their offense the momentum they never seemed to find.
When you talk about a pass catcher making a play for his quarterback, it's usually in the context of them making a tough catch on a less-than-perfect throw. On Sunday, Wilson had a handful of passes dropped in such situations.
However, perhaps the most interesting example of a receiver not making a play for his quarterback was on this scramble, where Keelan Cole failed to stay on his block and Zach Wilson had to slide.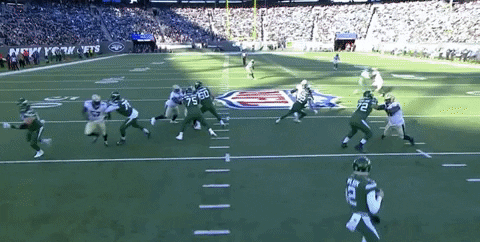 This absolutely could have been an improbable 56-yard touchdown run, which would have given the Jets a 7-3 second quarter lead, or certainly a much bigger gain.
Bad time for a breakdown
Speaking of near misses, there were a couple more plays which could have changed the paradigm. With the offense struggling to dial up any big plays, it looked like they had two potential touchdowns where Wilson was unable to get the throw away because his protection failed to hold up.
The Jets gave up just four quarterback hits all day, so the protection held up pretty well for the most part. It was frustrating that it didn't on these two plays though.
First, Ty Johnson gets behind the defense on a late-developing wheel route. Wilson doesn't have time to get the ball to him as Morgan Moses gets knocked flying by the rush off the edge. If the protection holds up here, that's a throw Wilson should be making for a big play and possibly a touchdown.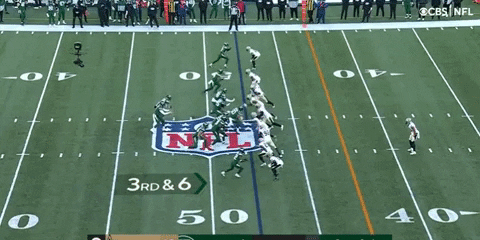 The other one is less clear-cut but the Jets use a bunch set and a rub route to get Braxton Berrios a clean outside release. Without a wider angle, we'll never know if Berrios was as wide open as it looks like he might have been here, but we never got a chance to find out because Wilson is sacked immediately as George Fant inexplicably blocks down on the defensive tackle and leaves the edge rusher unblocked.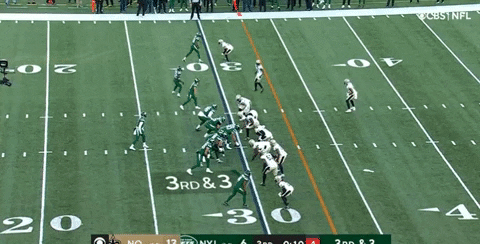 Yes, the Jets were really poor offensively on Sunday, but sometimes you need a break to get your offense going and that's something the Jets can't seem to buy at the moment.
---
We'll have some more in-depth analysis for you throughout the rest of today and over the next few days, so keep checking back here early and often.