Checking in on ex-Jets RB Valentine Holmes
In 2019, the Jets had a young running back on their roster who was one of the most intriguing long-shot additions they've had in some time. Australian rugby league star Valentine Holmes was attempting to make the transition to the NFL after training during the offseason and getting allocated to the Jets via the International Player Pathway.
Ultimately, Holmes showed some flashes in preseason and was placed on the practice squad but opted to return to Australia and rejoin the national rugby league before the end of the 2019 regular season, giving up on his NFL dreams.
Just over a year ago, we reported on his return to action here, but let's now review how things are looking in Holmes' attempts to reestablish himself as a big star in international rugby.
Things haven't gone that well for Holmes, who was one of the NRL's leading try scorers with 22 in his last full season in 2018. He's scored just seven tries over the past two seasons and his team - The North Queensland Cowboys - currently languishes in 9th place with 10 games to go.
He's been making contributions in other ways though. He has 15 try assists in his 26 games with the Cowboys after having just 17 in over 100 games with his old team. He's also been making more of an impact as a kicker, with two game-winners this season.
Ironically, these are two areas where you wouldn't have expected his NFL stint to have helped him.
The Cowboys improved to 5-6 last month on the strength of a clutch game-winning kick by Holmes one week after he'd scored this crucial go-ahead try in a 36-20 win: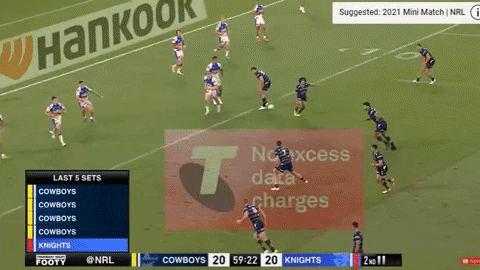 However, the Cowboys have since lost three in a row, including one this weekend where they went down 38-0 with the first try coming as Holmes failed to field a high kick.
He also faced some controversy, narrowly avoid a suspension after being condemned for this late hit that crushed his opponent's neck.
That came a few weeks after he again narrowly avoided a suspension for a shoulder charge. He was suspended for the same thing towards the end of last season, though.
In addition to his club rugby, Holmes was again selected for the prestigious State of Origin series where he represented Queensland in their annual three-game series against New South Wales having played a key role in Queensland's win last season.
Game three is this week with Queensland already having lost the series after losing the first two games by 50-6 and 26-0. Holmes needs just one try to set history as the fastest to get to 10 in State of Origin history (which dates back to 1980).
Holmes' potential return to international rugby has been delayed because Australia's national team hasn't competed since the pandemic started. However, he's not currently projected to be in the squad when the team competes in 2021 in the lead-up to the World Cup.
Holmes was one of the biggest stars of Australia's 2017 world cup win so clearly his career has gone backwards since his decision to try and get into the NFL.
While there have been other factors in this, including injuries, the pandemic and the attitudes of some who felt he let the team down by pursuing his NFL dream in America, this does seem to have slowed his progress. However, he's still only 25 so still has a chance to resurrect his international career.
Holmes would probably say he enjoyed the experience of training in the USA but has said he didn't regret returning to Australia, especially in light of what would happen shortly afterwards with the pandemic. He's definitely earning more right now than he would be had he decided to pursue his NFL dreams in 2020, even if he made the team.
Hopefully it's not too late for him to still have a big impact on the world stage, but he'll always remain an interesting footnote in Jets history.