In-depth Analysis: Jets-Browns Hall of Fame - Part 1 (Offense)
Over the course of today, we'll be breaking down the performance of every player that took the field in the Jets' preseason game against the Browns. We'll start now with the offense then we'll look at the defense this afternoon and special teams later on.
Wide Receivers
Irvin Charles and Malik Taylor got the start with all the top guys basically sitting out. Charles wasn't targeted in 11 snaps but Taylor made a splash with a big 57-yard catch as he blew by his man on the outside.
Of the four undrafted rookies, only Jason Brownlee made a positive impact. The camp sensation turned upfield after a short pass and then made a nice adjustment for a first down catch on a pass thrown to his back hip. He did also fail to come up with two contested catches though.
The other three undrafted rookies - Jerome Kapp, TJ Luther and Xavier Gipson were unsuccessfully targeted six times between them. Kapp at least did draw a pass interference penalty and Luther probably should've had one too, at the goal line in the final minute, which could have set the Jets up for another comeback win. Luther had one pass go off his hands and failed to locate the ball on a deep throw, though.
The other wide receiver to see action was Alex Erickson and he had a nice 19-yard catch and run over the middle just before half time to set up a field goal.
Tight Ends
Rookie Zack Kuntz and Kenny Yeboah started but didn't make much of an impact. They had three short catches between them for 19 yards with Yeboah gaining 10 on one, but it was 3rd-and-15. Yeboah had a false start and allowed a run to be bottled up as the lead blocker from the fullback position while Kuntz had a play where his man shed his block too easily and another where he whiffed on his block.
Undrafted rookie EJ Jenkins also saw action and had two nine-yard catches. On one of these he made a tough reaching grab and was perhaps unlucky not to get a more favorable spot for the first down. He had one missed block.
Offensive Line
Mekhi Becton got the start at left tackle and only lasted seven snaps as the Jets were cautious with his knee on the Canton turf. He looked good in those reps, though. Becton moved his man a few times in the running game and was unthreatened in pass protection.
Adam Pankey started at left guard and then moved to right guard with the second unit. He struggled the most out of all the starters, although he did make a block on the touchdown run.
At center, rookie Joe Tippmann played the whole game as it seems likely the plan is to give him as many reps as possible to accelerate the learning curve. He didn't have many negatives other than a wide snap late on and a short yardage play where he allowed his man to make the play.
He didn't allow any clean pressure and had some good positives as a run blocker, although the Jets didn't have much running game success. This was one of his best blocks as he made the reach block, moving his feet to gain leverage and seal his man off: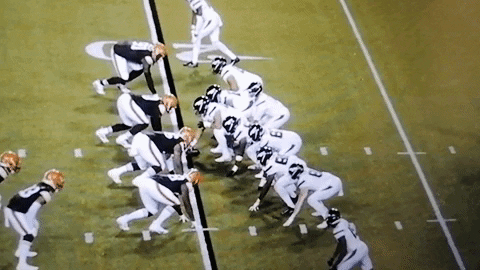 At right guard, Trystan Colon started and missed a couple of second level blocks as well as committing a false start penalty.
The starting right tackle was Max Mitchell, who did well in pass protection, anchoring well against one rush, but also missed his block at the point of attack on a play where the runner cut back and could have had a big gain going to the left. He also didn't sustain his block on the outside once, but did have one good block on the edge.
Tippmann and Pankey stayed in with the twos as Greg Senat moved to right tackle, Chris Glaser went in at left guard and rookie Carter Warren went in at left tackle. All three immediately got beaten for a bad pressure on their first series before settling down somewhat.
Senat didn't make many more mistakes but Glaser and Warren still had a few more negatives, especially in the running game. Warren had one excellent short yardage block to show some promise but also got beaten really badly once in pass protection.
The last man in was undrafted rookie Brent Laing who took over at left guard with Glaser moving to the right side. He was blown up on a failed short yardage run and allowed two late pressures.
Running Backs
Rookie Israel Abanikanda impressed with his speed to the edge on his 10-yard touchdown run but otherwise the Jets didn't have much running game success. Apart from that touchdown run, he and the other two backs (undrafted rookie Travis Dye and recent addition Damarea Crockett) combined for just 36 yards on 21 carries.
All three were targeted once in the passing game too, but Abanikanda was the only one with a catch, for five yards.
Dye didn't have much success but did have one impressive moment, even though he didn't even get back to the line of scrimmage on the play: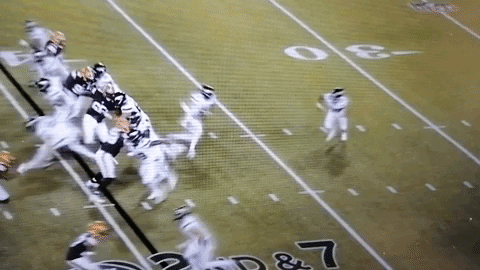 You'd mostly have to put the lack of success down to poor blocking from the Jets. Crockett did pick up a first down on a short yardage run but then he was also stuffed on one run and fumbled after a big hit.
Quarterbacks
Zach Wilson showed some promise in this game, unleashing a huge bomb to Taylor for the game's biggest play. It was too much of a small sample size to make much more of a judgment but he looked confident compared to last season. His two drives ended when he slipped as he tried to scramble, which was eerily reminiscent of how he got hurt in preseason last year, and on an off-target third down pass.
The number two was Tim Boyle, who posted modest stats. His best throw was probably over the middle to Erickson. He had a wide misfire on fourth down to end one of his drives.
Finally, Chris Streveler was unable to replicate the magic from the last preseason as his comeback bid fell short - although arguably the Jets probably would have won if they made the right call on the potential Luther interference. Although he had one first down scramble, Streveler was way off-target with one pass intercepted and three others almost picked.
We'll be back with more on the defense later...