In-depth Analysis: Jets-Bucs (Part 2 - Defense)
Over the course of yesterday and today, we've been breaking down the performance of every player that took the field in the Jets' preseason game against the Bucs. We'll continue now with the defense and look at offense later on.
Defensive Tackles
Veteran Al Woods saw his first action this week and, although he only played six snaps, he showed his strength against the run when he bearhugged the ball carrier from behind as he plowed up the middle looking to fall forwards and basically suplexed him into the backfield to limit the gain to two yards.
Main rotation players Solomon Thomas and Quinton Jefferson each got some playing time with Thomas getting downhill to stuff a run and disrupting inside on a couple of plays that set up pressure for the edge rushers. Jefferson was controlled at the point of attack a couple of times but disrupted one run with penetration and had this awesome highlight on the first play of the game.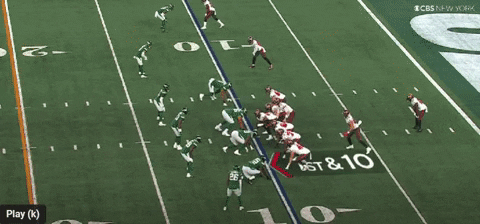 On the face of it, Tanzel Smart seemed to have a good game. His five tackles included one play blown up in the backfield and his penetration helped blow up another run and created a sack for his teammate. However, he was routinely controlled at the point of attack or driven off the line, including on a fourth down conversion. He also had a missed tackle and got blocked out of the play on a screen pass.
Marquiss Spencer and Bruce Hector also struggled to hold up at the line. Hector also had a missed tackle but penetrated well on one run and drew a holding penalty. Spencer had one pressure and got some penetration in a short yardage scenario.
Defensive Ends
Even with their starters not playing, the defensive line continues to dominate for the Jets, led this week by newcomer Jayln Holmes who had two sacks. Those came on a coverage sack and a protection bust and he was driven off the line and then missed the tackle in the hole on a short yardage conversion but he also got downhill well to stuff a run and penetrated well to blow this play up.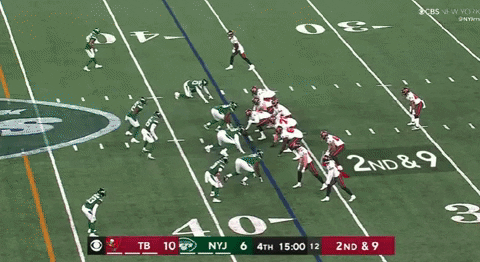 Holmes and Micheal Clemons, who made the start, each saw time playing "inside" in pass rush packages with Clemons driven off the line when the Bucs ran it on 2nd-and-20. He was active though, nearly getting to the quarterback three times and getting downhill to stuff a run. He did miss a tackle, though.
The other starter was Jermaine Johnson, who register a pressure off the edge on one play but didn't make much of an impact overall.
Bryce Huff continues to make the most of his opportunities to generate pressure, getting upfield twice as the defensive tackles got a good interior push, forcing the quarterback into his pressure. One of these saw Huff credited with a sack and forced fumble as the ball was knocked loose on a pass attempt. He also got home on a stunt inside. There was another example of what keeps him from getting more reps on 4th-and-1 though.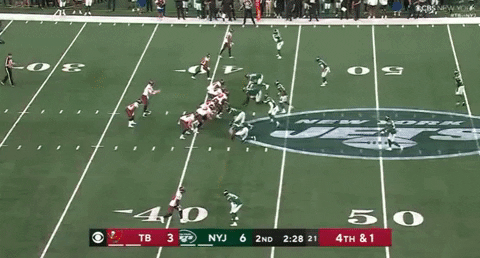 Will McDonald continues to be fun to watch, although he didn't record a tackle or a hit this week. He was a real handful off the edge again, with the only thing preventing him from getting to the quarterback whenever he went to the spin move being how quickly the Bucs got the ball out. He did chase the quarterback from the pocket by getting upfield once too.
Deslin Alexandre and Pita Taumoepenu were the other two ends to get reps. Alexandre didn't make much impact but did get into the backfield nicely on a swim move as the Jets blew up a 4th down run. Taumoepenu flushed the quarterback from the pocket once, although he escaped to run for positive yardage. He also got sealed off twice against the run and overran one play.
Linebackers
Jamien Sherwood got the start again wearing the headset at the Mike position which is necessary for the operation of the second unit but may not be all that helpful in preparing him to play alongside the starters as the third linebacker. Clearly it's a less demanding role to play as the strongside linebacker while CJ Mosley directs traffic but it would be easier to have confidence that the Jets have enough at that position if Sherwood had been able to show how effective he can be. In this game, he didn't make much of an impact, giving up a third down conversion in zone coverage as the receiver found space in between Sherwood and a defensive back.
Zaire Barnes made a few plays as he ended up with four tackles and a quarterback hit but he was blocked out on a screen pass and failed to make the stop short of the marker when he overpursued in space on a 3rd-and-long pass.
Samuel Eguavoen and Nick Vigil saw plenty of action together with Eguavoen in on two stops in the backfield and one at the line. He also made a third down stop on a screen pass shy of the marker. He did miss a couple of tackles though. Vigil had five tackles, including on a completion right near the marker on third down, and also stretched a run out wide to the sideline. However, he was blocked out of a play at the second level.
Undrafted rookies Caleb Johnson and Claudin Cherelus also saw action. Cherelus got downhill in pursuit well to get in on a run stop near the line but also showed some hesitation at the second level to lead to a run gaining good yardage and missed a tackle in the backfield. Johnson was in on two stops near the line of scrimmage but also got dominated at the second level once.
Cornerbacks
It was an eventful game for Jimmy Moreland, who had some ups and downs. He had seven tackles, including two behind the line, but also missed a couple of tackles and gave up a first down when he was too far off his man in zone coverage and then later let his man sneak behind him in zone coverage because he didn't drop deep enough. That may be an area he needs to focus on getting right this weekend.
Craig James also had a challenging day as he gave up a few first downs down the field, missed a tackle and was blocked out of the play on a screen pass. He did have a quarterback knockdown coming unblocked off the edge.
Undrafted rookie Derrick Langford also had a tough time as he gave up a touchdown on a deep throw he was actually in decent position for but allowed himself to be outmuscled at the catch-point so he couldn't time his jump. He also had two defensive penalties, one of which was a bad mistake as he unnecessarily hit the receiver with his helmet after the ball was gone. He did break up one pass near the goal line though.
Bryce Hall also saw action and the pass was dropped on his only target, although he was in pretty tight coverage. It feels like Hall is an outside bet to make the team this year because Moreland and James are better special teams options.
Speaking of better special teams options, Brandin Echols -- who will of course miss the opener through suspension -- saw action and a miscommunication between him and James allowed a receiver to get open underneath but the pass was dropped.
The newest Jet, Nehemiah Shelton, saw brief action and was credited with an assist on a run stop near the line.
Safeties
For the most part, the Jets' safeties did a phenomenal job of coming up to make tackles in Saturday night's game.
Ashtyn Davis and Trey Dean combined for 16 tackles and were in on several stops near the line between them, including a handful that went for a loss. Davis, who also made the stop shy of the marker on a 3rd down play, has arguably never looked as good. Dean did have one negative, as he had a defensive penalty on a play where his man made a downfield catch, but he's been impressively active.
In his first action of the preseason, Adrian Amos also came up fast to blow up a run in the flat and made a third down stop shy of the marker on the outside.
Not to be outdone, Dane Cruikshank also blew up a run in the flat and made a tackle near the line on the outside. He was the nearest man on a downfield completion though.
The only safety who didn't really show out was Marquis Waters, who was too far off in zone coverage on a third down conversion, had a bad missed tackle in the backfield on 4th-and-1 and gave up a deep completion down the seam, although he was draped all over the receiver.
We'll be back with more on the offense later...