In-depth Analysis: Jets-Bucs (Part 3 - Offense)
Over the course of today and yesterday, we've been breaking down the performance of every player that took the field in the Jets' preseason game against the Bucs. We'll wrap up now with the offense.
Wide Receivers
After last week where the receivers didn't get many decent looks, the Jets at least made an effort to get them involved this week.
Jason Brownlee led the way with 50 yards on four catches and also drew a fourth down pass interference call. Brownlee impressed by getting open for a third down conversion, stiff-arming a cornerback to get to the marker on a short pass and on this play: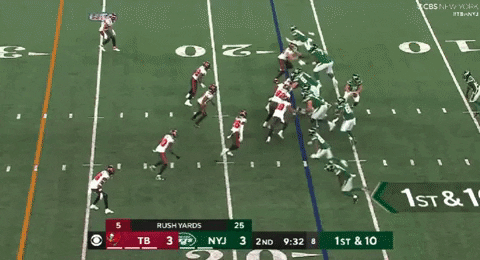 Brownlee might be in a competition with Xavier Gipson for a roster spot. Gipson hasn't been that productive so far but did have two catches this week, including one for a first down, although he looked a bit tentative after the catch, unlike Brownlee. He also had a couple of nice returns.
Both gave a good effort as blockers with Brownlee making a nice downfield block to enable Zach Wilson to gain more yards on his long scramble. Gipson also had a good block on a tight end screen and one on an outside run where he just about managed to seal his man off on a down block even though he eventually ended up on his back. It's clear the Jets like both so this spot could come down to little things like that.
Irvin Charles may also still have a shot because the team used him on the starting kick coverage unit and as one of the primary gunners. He only had one catch on five targets but it was a big one.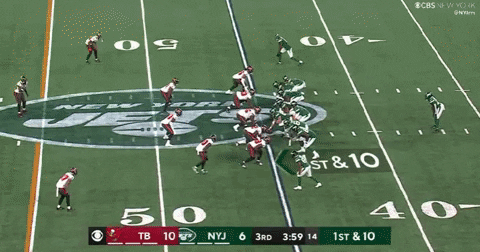 It wasn't all Charles' fault that he didn't make any other catches (or that his jet sweep carry was blown up for a loss). Near the end of the game, he had a step deep but the pass was badly underthrown and broken up. Then on the next play he didn't seem to see the ball which was again way underthrown.
At the other end of the scale, it's hard to imagine anyone having more of a nightmare in their rookie preseason campaign than TJ Luther has. The Jets have thrown to him five times and he's yet to make a catch. In this game one pass was intercepted off his hands and the other was a third down drop.
Alex Erickson and Jerome Kapp didn't get much run but each made a nice play for a first down. Erickson slipped out of a tackle and turned it upfield while Kapp caught a short pass and used his size and strength to drag a defensive player for a first down.
Starters Mecole Hardman and Allen Lazard got some run early but we didn't learn a great deal about them. Hardman's two short catches netted just seven yards. Lazard did have a nice catch and run for 16 and a good block on one play but also had a pass thrown behind him that was off his hands.
Tight Ends
Zach Kuntz was the only tight end to register a catch this week (he had three for 18 yards, including a first down in the flat). However, he perhaps did himself more harm than good by getting called for holding on the outside twice to negate two outside runs.
When the Jets review the film, they might actually cut Kuntz some slack because he also had a couple of positive blocks, kicking his man to the outside on and outside run and again on one off tackle run, although he was moved off his spot on that one and barely held his opponent off.
EJ Jenkins and Tyler Conklin were also called for holds on outside runs, but Conklin did have a couple of good blocks. CJ Uzomah allowed his man to shed his block for a run stuff though.
Kenny Yeboah was unsuccessfully targeted once but had a good downfield block on the Wilson scramble.
Offensive Line
The big story this week was Mekhi Becton who looked comfortable and dominant as the second team tackle. Calls for his workload to be ramped up so he can compete to start will now increase. Becton had a few dominant blocks at the second level and wasn't responsible for any pressure with one viral moment seeing him burying and shoving down his man on the rush. Perhaps his best block, though, saw him block down on the man on his inside shoulder and effortlessly driving him laterally five yards to wash down the right side and create a nice lane.
Max Mitchell and Billy Turner are starting at tackle for now, but it could be Duane Brown and Becton taking over from or at least splitting reps with them soon. Turner, playing on the right this week, had a good driving block on a short yardage play to put his man on the ground but Mitchell was less consistent as he miss a couple of run blocks and was called for a hold when Wilson rolled out.
There was concern this week for rookie Joe Tippmann, who started at left guard and then moved to center before exiting with a knee injury. We'll wait for updates on him but while he was out there he did a solid job of preventing pressure, although he missed a screen block and got shoved into the runner on a rushing play. He had a good block at the second level on one play and sealed his man off well at the point of attack on another.
At center, Connor McGovern missed a block at the point of attack and another in space but he held up well in pass protection.
At the right guard spot, Wes Schweitzer started and held up well and did a solid job of driving off the line and getting to the second level.
Trystan Colon probably ended up playing more snaps at center than planned but he held up well in pass protection and had one good reach block. He missed his block on a screen though.
Chris Glaser saw action at left guard and had a good pulling block on one play. He allowed an interior pressure that led to an interception though.
Greg Senat and Grant Hermanns both really struggled in pass protection at tackle, allowing several pressures between them including one that led to a sack although this was negated by a defensive penalty. Each also had a run block where they drove their man off the line too, though.
Adam Pankey played right guard this week as the Jets continue to plug him in wherever they need a body. He gave up a pressure on a stunt that led to an interception, although this was also negated by a penalty. He had a good block at the point of attack on one play but failed to sustain his block when pulling to the right on another play.
Finally, undrafted rookie Brent Laing saw action as the third team left guard again. He failed to sustain his block on one play and allowed a pressure.
Running Backs
After a monster game last week, the Jets' running backs struggled to have an impact this week, as Bam Knight and Travis Dye each lost a fumble and dropped a pass.
Knight did show some burst on a few runs and took a short pass upfield for a first down on 2nd-and-12 to end up with 53 yards on 12 touches but Dye had just eight yards on four touches.
Izzy Abanikanda had more success with 28 yards on his first three carries but he was stopped on the next carry and knocked out of the game with a thigh contusion.
One thing worth noting about these three backs, which again underlines the reasoning behind the Dalvin Cook signing, is that all three stayed in to pass protect a couple of times and each of them gave up a pressure. In the case of Abanikanda and Knight these two plays were very similar as they originally picked up the blitz well but then allowed their man to get up and into the quarterback's face. Clearly they all have a lot to learn in this area and the Jets and Aaron Rodgers are not keen for that learning to take place in-season.
Finally, Nick Bawden had a big pancake block in the hole, although it created such carnage that the runner had to bounce outside and a holding penalty was called. He blocked well on this run though.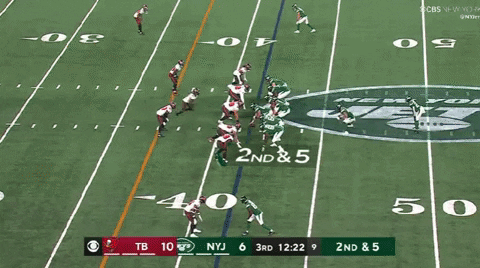 Quarterbacks
Zach Wilson perhaps wasn't as good this week, but he still put up a good statline which has to be a good sign. Despite throwing behind Lazard over the middle, he completed nine of his first 11 passes and added in a spectacular 35-yard scramble where he initially looked to take off up the middle, perhaps a beat too late because there was initially plenty of room, but then he smartly span outside and turned it upfield down the sideline.
His best throw was probably the pass where he his Brownlee in stride, which was an easy one but perfect placement. He hit on two tight window third down conversions to Lazard and Brownlee too, though.
In the second half, Tim Boyle looked a bit overmatched and fell into some bad habits when under pressure, which he was quite a lot once the third unit was in. He had a couple of nice throws, but two passes were intercepted - although one was negated by a flag.
His worst crime might have been the underthrow on the late deep ball to Charles, which would have potentially given the Jets a chance to score and then go for two to win the game.