In-depth Analysis: Jets-Eagles Preseason Week 1 - Defense
The Jets' win last night was overshadowed by the Zach Wilson injury but we're still going to break down how every Jets player performed today, starting with the defense.
Defensive Tackles - Off to a good Smart
It would have been interesting to get some idea of how the run defense was going to perform this season, but the Eagles opted to go no-huddle and didn't run the ball until they got to the two-yard line on their second drive. By then, most of the defensive starters were out of the game. It did take them three attempts to punch it in from there though.
Quinnen Williams - Started and, despite not registering any stats, looked pretty good with two pressures in brief action. Played a team-low six defensive snaps.
Sheldon Rankins - Started and played into the second quarter but did not register any pressure or negative plays.
Tanzel Smart - His 37 snaps off the bench were the most of any defensive lineman and he was productive with six tackles and two sacks. Both sacks were in clean-up but he did have this impressive hit off a spin move.
Smart otherwise had some negatives as he was dragged for extra yards, juked in the open field, sealed off at the line and missed a tackle. He did draw a holding penalty at one point but this was a weak call.
Solomon Thomas - The first guy off the bench, Thomas was in on two run stuffs and got good penetration on another play. He did jump offside once though.
Nathan Shepherd - Was in for 19 snaps off the bench and credited with one quarterback hit. Helped to bottle up a few runs but was driven off the line on the Eagles' second touchdown.
Jonathan Marshall - Only saw action with the third unit and recorded his only tackle on a run that went for a first down anyway. Was blocked out of a handful of plays, while holding up at the point of attack a couple of times, including on one short yardage stop.
Edges - Micheal Jawdropping
Bryce Huff - Started but did not record any statistics in 19 snaps. He got around the edge a few times, once to draw a hold that negated a touchdown and once to force the quarterback to step up leading to a sack. He missed the tackle on another opportunity to record a sack and was blocked out of one running play on the edge.
Jacob Martin - Started and did not register any stats in 10 snaps. He had one pressure.
Micheal Clemons - Saw plenty of playing time, mostly working as an end on the second unit and a tackle on the third unit. He had a sack and three run stuffs on plays that went for three yards or less in an impressive first performance. Clemons had three more pressures including on the last play which he blew up with an impressive bull rush.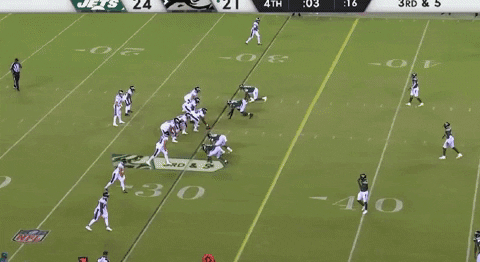 Jermaine Johnson - Officially his only tackle was a run stop on a short gain that went for a first down anyway. However, he should also have had a sack. He chased the quarterback out of bounds for no gain as he rolled out. Unfortunately, Quincy Williams' late hit on the play bizarrely meant that he got credit for the sack even though the runner was already out of bounds, albeit that 15 yards were tacked onto the end of the play.
Tim Ward - Ward's best moment saw him cause a pressure on a bull rush that led to a sack for his teammate. He also tackled the quarterback from behind for a short gain on a scramble and had two tackles against the run. Ward overpursued on a third down run and was blown off the line on fourth down.
Jabari Zuniga - A solid performance from Zuniga who had six tackles, a sack and a quarterback hit, plus a few more pressures. His sack was a coverage sack and he had a missed tackle and was driven off the line on a short yardage play. However, he was in on a handful of run stops and flattened his man on this bull rush off the edge to help collapse the pocket.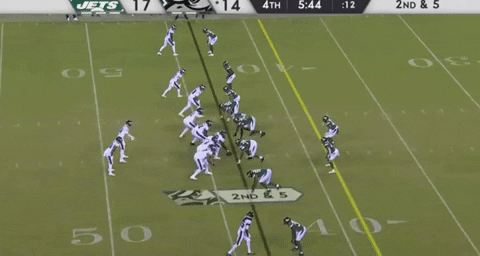 Bradlee Anae - Was in on 30 snaps but didn't record any statistics. He nearly got to the quarterback a couple of times and helped stretch out and bottle up a couple of runs but was badly fooled on a fourth down keeper.
Did not play:
Carl Lawson
John Franklin-Myers
Vinny Curry
Linebackers - Kwon but not forgotten
Quincy Williams - Williams was arguably lucky not to be ejected after a vicious helmet-to-helmet hit on Jalen Hurts, who was already out of bounds. As noted, he got credit for a sack on that play and had two other tackles, one on a run stop and one on a short pass. He was blocked out of the play on a screen pass and may have been out of position in coverage on the first touchdown.
Kwon Alexander - Only played nine snaps but was credited with two tackles, one on a pass underneath and one on a scramble. He had no negative plays.
Del'Shawn Phillips - Phillips actually wore the headset with the starting defense and led the team with seven tackles as he played in all four quarters. He gave up a few first downs in coverage, was blocked out of a few plays and missed a tackle while also noticeably taking himself out of two plays by being too overaggressive and getting sealed on the outside. One of his best plays saw him aggressively take out a guard on a short yardage stop.
Jamien Sherwood - Looked good off the bench with six tackles and a fumble recovery on the last play of the game. He was in on a fourth down stop and met the runner in the hole on 3rd-and-1 for another stop. There was also a third down play in the flat where although he missed the tackle, he forced the runner to spin into traffic where he was stopped short.
Hamsah Nasirildeen - Only played 17 snaps and was credited with two tackles, including one run stuff. He was blocked out of a play at the second level once.
Marcell Harris - Despite being listed as a starter on the Jets' first unofficial depth chart, Harris worked with the third unit and played 16 snaps. He was credited with three tackles, all within the space of four plays, but was pancaked by a pulling lineman on another play.
Kai Nacua - Only played seven snaps, but made an impact by forcing a fumble down the field on the game's final play. He was blocked out of one play at the second level.
DQ Thomas - Was in on four tackles in the fourth quarter, including one short of the marker on third down. It was notable that he was a beat slow to react a few times, causing him to get to the ball late. He was unlucky on one play in coverage though, as his tipped pass landed straight in the receiver's lap.
Did not play:
CJ Mosley
Cornerbacks - Running Wild
Ahmad Gardner - Started and played 15 snaps but wasn't directly involved in any plays. The opening play was a sail concept roll-out and it's possible he should have dropped deeper because Phillips appeared to have the intermediate option covered and Will Parks couldn't get across in time to prevent the deeper target making a 28-yard catch. It's difficult to say who was actually at fault there though.
Bryce Hall - Started and again wasn't directly involved in any plays. Again, he may have been at fault on the first touchdown if he should have passed off the receiver to the safety and then picked up the tight end outside, but this is impossible to know for sure.
Deuce Carter - The Jets opened up in base, so Carter did not start but was working with the ones. He had two tackles but was beaten on a third down conversion and whiffed on a tackle downfield.
Javelin Guidry - Backed up Carter in the slot and had a good open field tackle just short of the marker on third down.
Isaiah Dunn - Dunn had good physical coverage downfield on an incompletion and made a clean-up tackle in the flat on third down. However, he gave up a big first down in zone coverage and dropped a potential pick-six at the Eagles' 10-yard line.
Luq Barcoo - Barcoo gave up a big first down on 3rd-and-13 in the fourth quarter and was also beaten one other time on a pass that was dropped. He missed a tackle near the line, but that was a positive play as it forced the runner to cut back into traffic.
Rachad Wildgoose - Ended up with five tackles, including a few close to the line of scrimmage, a nice hit down the field and an open field stop to keep the clock running on the last drive. He missed a tackle on the final play, but this kept the receiver contained and led to him fumbling. He may have been at fault on one blown coverage.
Justin Hardee - Did a decent job in press coverage on a deep incompletion, but also got beaten on a pass that was dropped, gave up a fourth down conversion in coverage and dropped a possible interception.
Did not play:
Brandin Echols
DJ Reed
Safeties - Do you Riley want to hurt me?
Jordan Whitehead - Started and didn't exactly cover himself in glory on the first drive when the receiver bounced off his hit at the five yard line to score. Although Whitehead was the closest defender on this play, it looked like someone else's mistake. He recovered nicely to make a pass deflection in the end zone on the next drive, but this was another blown coverage and would likely have been punished by a better quarterback.
Will Parks - Interestingly, Parks was the other starter, as he continues to look like he's in the lead for the third safety role. He was credited with two tackles, including a stop on a short pass to the flat. The receiver dropped a catchable pass on Parks' only coverage target and, as noted, he couldn't get across in time to prevent the first big play.
Jason Pinnock - Didn't record any stats in 27 snaps off the bench. He seemed to be involved in a few blown coverages in the zone defense.
Ashtyn Davis - Was also involved in the afore-mentioned blown coverages, although again it's not clear who was at fault. He had two tackles including an assist on a run stop. Was targeted on two incompletions - one where he was in position to make the play at the marker and one where the quarterback misfired with the receiver open.
Elijah Riley - Was in on four tackles and had a defensive holding penalty as he lost leverage at the line. He seemed to possibly be the player at fault on the Eagles' go-ahead touchdown as he bit on the intial action and then couldn't find anyone to cover.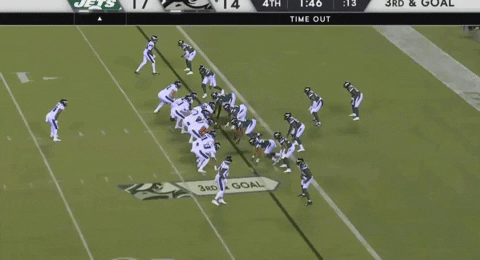 Tony Adams - Saw action on 25 snaps but his only tackle on defense was underneath after a short pass.
Did not play:
Lamarcus Joyner
Don't go away because we'll have our offensive review in a few hours.