In-depth Analysis: Jets-Eagles Preseason Week 1 - Offense
The Jets' win last night was overshadowed by the Zach Wilson injury but we're still breaking down how every Jets player performed today, continuing with the offense.
Quarterbacks - How the hell am I supposed to know who Chris is?
Zach Wilson - Some troubling plays here, as he was late on the interception to Corey Davis, allowing the linebacker to step in front, and missed an open Garrett Wilson on the outside. The play on which the injury happened was a poor decision too. He had a couple of nice third down throws, though.
Mike White - Completed just 10-of-20 passes but avoided any major mistakes and led the team to a field goal and a touchdown in his five drives. He also had two three-and-outs. He wasn't very accurate but had a few nice passes over the middle and another one outside that was negated by a flag. His biggest potential mistake saw a pass deflected into the air as a defensive lineman read it and dropped off. He also could potentially have had a touchdown to Garrett Wilson but he saw him late and threw to the back of the end zone instead.
Chris Streveler - Despite not having any live practice reps in camp, Streveler came in and did a good job as a game manager. It was all short, quick passing but he was efficient with 6-of-9 completed and two runs of 23 and eight yards. He also had two short touchdowns with a third that was dropped.
Did not play:
Joe Flacco
Running Backs - Summer Breece
Ace Carter - Started, but wasn't very productive with four touches and 12 yards. Nevertheless, he had a couple of nice cuts on a short gain and decent yardage on a screen pass.
Breece Hall - Only averaged three yards per carry off the bench but showed some shiftiness on a couple of short runs. He twice moved the chains on 3rd-and-1, showing good vision and quick feet on this play: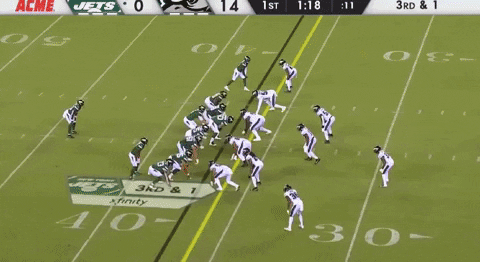 La'Mical Perine - Surprisingly racked up 51 yards on 10 carries, whereas every other running back combined for just 33 yards on 14 carries. Despite this, he still left yards on the field as he tripped on one play, failed to elude a tackler in the open field on a 3rd-and-long draw play and got stuffed on a short yardage run. He had a couple of first down runs, including a well blocked 14-yarder.
Zonovan Knight - The rookie didn't gain many yards but ran hard off the bench, with a second effort getting him extra yardage on three of his six carries, including his touchdown run.
Tevin Coleman - Only played on special teams (one snap as a kick returner).
Did not play:
Ty Johnson
Nick Bawden
Tight Ends - Uncaged Animal
Tyler Conklin - Started and led the team with three catches, including a first down underneath from Wilson. In the running game, he failed to sustain his block on one play but had a good short yardage block.
CJ Uzomah - His only target was a high throw at the back of the end zone. Missed a cut block and got beaten once by his man in the running game. Only played 11 snaps.
Jeremy Ruckert - Scored a go-ahead touchdown in the fourth quarter as the Jets schemed him open from the goal line on fourth down. His only other catch was a dump-off for a short gain. As a blocker, he had one decent cut block but got stood up near the goal line.
Kenny Yeboah - Made a tough catch with a defender draped all over him but it was just a two-yard gain. His other target was incomplete. As a blocker he gave up a pressure in pass protection. He was lined up on the line when Denzel Mims was called for illegal formation, so this may have been Yeboah's error.
Lawrence Cager - Impressed with three nice catches - a 16-yarder in tight coverage on the outside and two short catch-and-runs for 29 and 11. The first was negated by a penalty.
Trevon Wesco - Was only in on nine snaps. Came up just shy of the marker on a 3rd-and-8 dump-off.
Wide Receivers - Know Your Mims
Elijah Moore - Only played nine snaps but shined on one play as his slick 3rd-and-4 route got him open for a nine-yard conversion early.
Corey Davis - Was the target - and made the tackle - on Wilson's interception. This was totally on Wilson, who released the ball a beat too late. He had one missed block in the running game.
Braxton Berrios - Only played six snaps and wasn't targeted on offense.
Denzel Mims - Had a team-high five targets as the Jets still appear to be showcasing him. Two were overthrown and one was dropped but he had two first down catches in the third quarter, including this one which showcased some route-running improvement: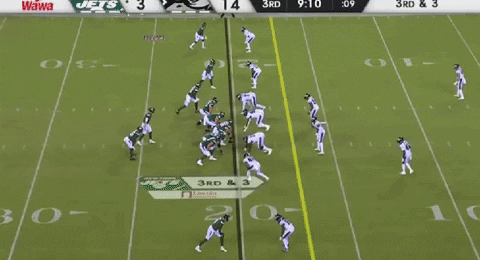 Mims was called for an illegal formation penalty as he lined up on the line with Kenny Yeboah already on the line on that side, then dropped a high pass in the flat on the very next snap.
Garrett Wilson - The rookie had a couple of first down catches; one on the outside on third down and the other over the middle. He was also open on another play where Zach Wilson missed him in the flat and potentially open for a red zone touchdown but White didn't see him in time.
Jeff Smith - Smith had a 20-yard gain on a nice White throw down the middle. His only other target was underthrown in the red zone.
Calvin Jackson - Had the winning touchdown as he got open nicely on a two-way go at the back of the end zone. His only other catch was screen pass for a short gain and one other target was overthrown.
Rashard Davis - After a rough day on special teams, Davis had one good moment on offense, showing good concentration to come up with a falling grab on a tipped pass for 14.
Irvin Charles - The Jets tried to find him in the end zone on three plays inside the five yard line but all three were unsuccessful. He got away with a push-off on one and another saw him high-point the catch, only to lose the ball as he landed. He had a good downfield block on one run, though.
Tarik Black - Got into the game pretty early but his only target was well overthrown.
Keshunn Abram - Was only on the field for nine snaps and juggled and dropped a short pass on his only target.
Offensive Line - Max Power
As a group, the Jets' pass protection was solid, as they only allowed three hits and no sacks on the day, but their run blocking was inconsistent.
Chuma Edoga - Started at left tackle and got beaten around the edge for one pressure. Also whiffed on a second level block.
Laken Tomlinson - Didn't have a major impact in his 20 snaps as he
allowed one run to be bottled up but just about got enough of his man on a screen block and locked onto a block nicely at the second level. He allowed a red zone pressure on a stunt: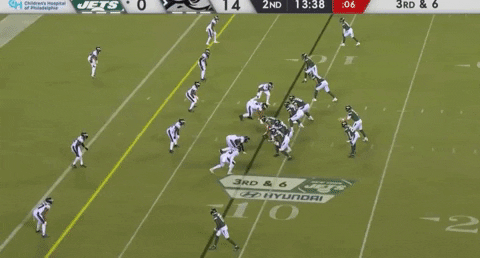 Connor McGovern - Avoided any major errors but his man got off his block to get in on one play and he allowed another run to be bottled up. He was also trucked by a bull rushing defender, although this didn't lead to direct pressure.
Alijah Vera-Tucker - Had a decent run block on an early play but his man beat him to penetrate into the backfield to blow up a run.
Max Mitchell - Started at right tackle and stayed in with the second unit to end up with a team-high 48 offensive snaps. Had a couple of solid run blocks, but was beaten for a pressure a couple of times and allowed his man to spin off his block to make a play against the run.
Dan Feeney - Continues to work at guard rather than center with the second unit. Got bull rushed for a pressure in pass protection and was stood up on one run. Had one good driving run block.
Ross Pierschbacher - Played as the second team center. Was stood up on one play and there was another where White tripped after handling the exchange under center.
Nate Herbig - Played guard with the second unit but then move to center with the threes. Had a couple of good blocks at the point of attack but was also shoved back into the runner on one play.
Grant Hermanns - Came in to play left tackle with the second unit. Had a couple of good run blocks on a kickout and a peel to the second level. He held up quite well in pass protection, but allowed a late pressure on one play. He was also stood up on one run, so the running back ran into his back.
Isaiah Williams - Saw time at guard with the third unit and impressed with a driving block and an interior kickout in the running game.
Derrick Kelly - Came into the game at left tackle with the threes and allowed penetration on one run.
Caleb Benenoch - Saw action on 16 snaps as the third team right tackle, but didn't make much of an impact.
Chris Glaser - Played left guard with the third unit and had three plays where his man got off his block and one where he allowed penetration. He did have a good block at the point of attack on one play though.
Did not play:
Conor McDermott
George Fant
Mekhi Becton
Don't go away because we'll have our special teams review in a few hours.