In-depth Analysis: Jets-Falcons Preseason Week 2 - Defense
Last night's game took on a familiar pattern with the Jets dominated early but then coming back to win in the second half. Once again most of the defensive starters were rested, but how did everyone else perform?
Defensive Tackles - Smart Hulk
Solomon Thomas - Started and played 20 snaps but didn't register any stats. He had good penetration on one run and almost got to the quarterback a couple of times but missed a tackle in the hole and was driven off the line once.
Nathan Shepherd - Started and, unlike Thomas, was in the game deep into the fourth quarter. He twice made the tackle on runs that went for a short gain. He was blocked off at the point of attack a few times and called for a defensive hold.
Tanzel Smart - Actually led the Jets in defensive snaps and made some positive contributions despite an early offsides penalty. Was credited with three tackles, including one for loss and penetrated to affect a few other plays, including one where his bull rush led to a holding penalty. On one play, he was in the backfield so fast, he almost tackled the quarterback before the hand-off. However, he was driven off the line a few times by double teams.
Jonathan Marshall - He's definitely improved since last year when he was overmatched on nearly every snap, especially against the run, although he is still controlled at the point of attack at times. In this game, he flashed big time with a sack and then a big hit to blow up a screen pass for a loss on the very next play. However, he made a couple of plays which were arguably just as good. He ran down a screen pass from behind to make a downfield tackle and penetrated, shed the block and stuffed the run in the hole.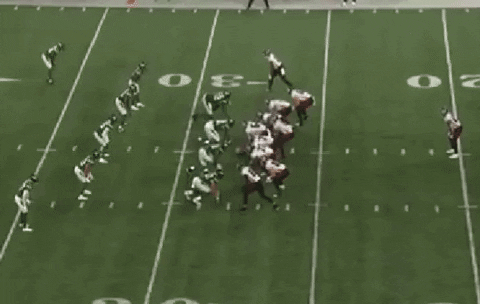 Did not play:
Quinnen Williams
Sheldon Rankins
Edges - Anae further questions?
Micheal Clemons - Clemons started and was only credited with three tackles - all on run stuffs - but this doesn't tell the whole story. He drew two holding penalties, set the edge well a few times to force runners back inside and nearly got to the quarterback a few times. There were a few plays in the second half where he either lined up inside or shot inside at the snap and got sealed off or driven back but otherwise it was another high-energy performance from the player who is arguably the Jets' most exciting rookie right now.
Jermaine Johnson - Johnson also started and you'd perhaps want to see more from him. He didn't register any tackles, but did chase the quarterback from the pocket for a pressure. He was driven downhill by a double team at one point, but did have one encouraging play where he got upfield penetration to force a run back inside.
Jabari Zuniga - Also had a quiet day with one unblocked pressure and a run stop on the outside. He also drew a holding penalty and didn't have any obvious negatives.
Bradlee Anae - Stepped up with a big strip sack that he ran back for the decisive touchdown but that wasn't all he did. He only had one other tackle and one other quarterback hit but he was the Jets' best pass rusher on the day, getting close to the quarterback a handful of times including one that led to a holding penalty. He also held up quite well in the trenches, taking on a double team on one play and penetrating well on a couple of others. He was sealed off once against the run.
Did not play:
Carl Lawson
John Franklin-Myers
Vinny Curry
Bryce Huff
Josh Martin
Linebackers - Sherwood you can't be serious
Quincy Williams - One of just a couple of potential starters to see action, Williams was in for 12 snaps and got sealed off on one play but was in a good position in coverage on another.
Kwon Alexander - Also started, but only played six snaps and didn't have a material impact.
Jamien Sherwood - Started, wore the defensive headset and again impressed with four tackles and a pass deflection. In the first quarter he had three great plays where he stuffed a run in the hole, made a third down stop underneath and pursued a run out to the sideline. One concern was that the zone defense was picked apart while he was in the game and he seemed to be involved in a few coverage mix-ups.
Del'Shawn Phillips - Led the Jets with six defensive tackles but only one of these was close to the line of scrimmage. He had a couple of pressures and almost had a forced fumble and recovery but the runner was ruled down. Phillips gave up a first down in coverage where he was actually in a pretty good position and had a couple of missed tackles in the second half.
Hamsah Nasirildeen - Was in on a few run stops and credited with three tackles, but blocked out of a few plays. He forced one run back inside well and had a goal line stop, although this was an offensive penalty anyway.
Kai Nacua - Wasn't credited with a tackle, but did have two missed tackles in the backfield where he slowed up the runner and a teammate finished off the play.
DQ Thomas - Was in on a few run stops and a third down stop but also got blocked out of the play on a screen pass that went for a first down. Didn't seem as slow out of the blocks this week.
Did not play:
CJ Mosley
Marcell Harris
Cornerbacks - Hall Shook Up
Bryce Hall - Hall had a rough game from the get-go as Kyle Pitts burned him on a double move for 52 yards. In the end, he gave up 90 yards and a touchdown on four targets and that could have been more if the receiver's knee didn't touch down on a play where he almost missed the tackle. He also had a defensive penalty. Hall was in on one run stop.
Ahmad Gardner - Got the start and once again wasn't directly involved much. Hall's struggles probably give him the starting job by default though. He was credited with one tackle down the field, but the only time he was targeted was more of a throw away near the sideline. It did look like maybe the receiver had half a step on him there, though.
Deuce Carter - Again didn't start because the Jets opened up in base, something they might do on a regular basis this year. He did get first team reps, though. He was only in for six snaps and had one tackle. He also had a bad missed tackle, but luckily the receiver was already ruled down.
Javelin Guidry - Was in good position on a couple of incomplete passes, but also missed a tackle in the hole on one red zone run.
Isaiah Dunn - Dunn was in good position on a couple of incomplete passes and drew an offensive pass interference penalty. He did give up a 20-yard catch but this was on 2nd-and-28 as he was playing soft in zone coverage.
Brandin Echols - In his first preseason appearance, Echols was in a good position on one incompletion and had a touchdown-saving tackle near the pylon. He gave up a first down in zone coverage and slipped on a blitz, allowing the quarterback to escape and run for a first down.
Rachad Wildgoose - Had a facemask penalty and one play where he was blocked out of the play on a quarterback keeper but was in on a tackle for a short gain on another keeper and made a tackle for loss against the run. He was also in good position on a fourth down incompletion in the red zone.
Justin Hardee - Had one play where he was sealed to the inside on a quarterback run, but also blitzed off the edge on the play where Marshall picked up his sack. On one red zone run, he slipped as the runner cut back and it looked like a potential touchdown, but he just managed to trip the runner in the hole.
Did not play:
DJ Reed
Safeties - Parks worse than his bite
Lamarcus Joyner - Made the start and seemed to be at fault when Anthony Firkser leaked out downfield for a 40-yard catch. Was only in for 12 snaps.
Jason Pinnock - Got the start this week and gave up an early first down in coverage. Later on, was in a good position on a third down incompletion. Was credited with just one tackle.
Will Parks - Made two great plays at the line of scrimmage in limited action off the bench; one against the run and a nice hit on a screen pass.
Ashtyn Davis - Had two defensive tackles, both down the field, and gave up a first down in coverage. Seemed to be too deep in zone coverage at times.
Elijah Riley - Had two defensive tackles, including an assist on a stop near the line of scrimmage but didn't make much of an impact. Was blocked off at the second level on a quarterback keeper.
Tony Adams - Was credited with four tackles, including a stop on the edge on 3rd-and-1 and another in the hole. He was blocked out of one play in the edge.
Did not play:
Jordan Whitehead
Don't go away because we'll have our offensive review in a few hours.